Disclosure: I hold no positions in Glu Mobile, but do intend to short it at the appropriate time.
Decisions an investor make are usually based on company fundamentals, technical chart analysis, and future growth prospects. However one piece that is often overlooked is the morality of the investment. If a company is selling a product that has the potential to promote and influence morally "wrong" human behavior, that should be considered in the overall investment thesis as well.
Glu Mobile is a perfect example:
Per the standard company description found on public investment websites:
"Glu Mobile Inc. develops and publishes a portfolio of action/adventure and casual games for the users of smartphones and tablet devices. The company develops games based on its own brands, including Blood & Glory, Big Time Gangsta, Contract Killer, Contract Killer: Zombies, Deer Hunter, Eternity Warriors, Frontline Commando, Gun Bros, Samurai vs. Zombies Defense, and Stardom, as well as third-party licensed brands. Glu Mobile sells its products through direct-to-consumer digital storefronts. The company was formerly known as Sorrent, Inc."
As you might notice by the title of many of these mobile games, they are filled with violence. In fact, one of the top downloaded games is Deer Hunter.
If you take a look at this game (https://play.google.com/store/search?q=gluu%20mobile&c=apps&hl=en) among others they offer, the violence is quite intense.
In the particular case of Deer Hunter, this game allows you to slaughter, with high powered weaponry, exotic animals that are already greatly threatened in the real world, and many near extinction. Why a company would choose to create such a product in today's world is beyond my comprehension.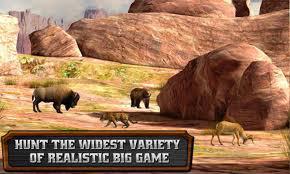 Surely an investor must consider this regardless of the potential profit that may be made by investing in this company, allowing them to create more of these type of products.
I believe these type of products will lead to the demise of the company, regardless of current fundamental and technical positive analysis, and it should be shorted aggressively on any significant advance.
I will follow up this article with a short recommendation when the time is right.
Disclosure: I have no positions in any stocks mentioned, and no plans to initiate any positions within the next 72 hours.