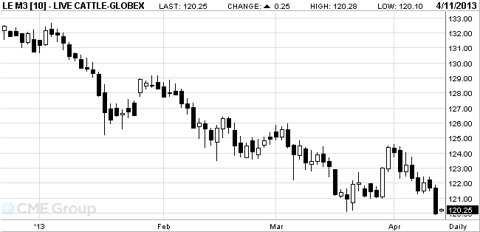 I wrote an article on March 17th asking why Live Cattle were making new lows which you can check out here seekingalpha.com/instablog/6143431-robert-edwards/1658911-why-is-live-cattle-making-new-lows. Well, at that time I indicated that it was too soon to be buying. But with the recent sell-off from $125 down to $120, I believe it is now time to buy June Live Cattle as it approaches $119. The above chart shows that we consolidated as we dropped around $125 support, then at $123, later around $121 and if we make new lows shortly, we should find support around $119. On further weakness one can buy a contract just above $119 and then average down with a second contract if required. Even if Live Cattle is going to move lower, we should see consolidation and sideways trading between $119 and $121 for several days. Just as $120 support recently allowed for a rally to $125, I believe support from $118 to $119 will provide support for another rally of $5 off the low. Dips from now on should be bought and a day trader should be able to scalp several ticks from the long side over the next few weeks.
August Live Cattle are trading at almost identical prices to the June and more longer term position traders may prefer to trade the August contract rather than the June. Also Lean Hogs are about to bottom as well, which I have written on recently. Thus one might want to play the meat ETN called COW. One could purchase COW as it approaches the recent low around 25.50.
Disclosure: I have no positions in any stocks mentioned, but may initiate a long position in COW over the next 72 hours.
Additional disclosure: I plan to go long June and August Live Cattle on any further weakness.