At the bottom of this page you will find a daily chart of Cliffs Natural Resources (CLF) that shows where we have traded in the last three months. Click on the chart below to study it in detail. What you will see is that on March 27th the stock got slammed down to 18 for the first time. It then went sideways for 6 days before rallying to 21 three days later. The next low was April 15th when 18 support was broken. The stock went sideways for 6 days again before rallying to nearly 22 just 2 days later. Eventually CLF hit a high of 23.75 on May 13th but then hit a low on May 16th, just under 20. That low of 20 has held during another 6 days of sideways action counting all the bars through Friday, May24th. The question I now ask is, "Will CLF now start a $3 to $5 upward move from a significant low that was followed by 6 days of sideways movement, just like it did the two previous times?" The street.com website indicated a possible head and shoulders pattern with 20 being a critical level that must hold. I believe since 20 support did hold during the last 6 trading days, we will now move higher. CLF should now move up to retest and possibly take out the resistance at 23 and hopefully move up to 25. Every day recently CLF has had one or more significant rallies during the day which shows short-covering continues. Although rallies are getting sold into, the dips are being bought up and as a scalper I have made money on this stock every day recently buying on dips and selling out on rallies. I now bought in size in hopes that when the market begins trading on Tuesday, we can start a move higher to retest and hopefully take out resistance levels.
Friday, May 24th marked the same 6 days of sideways action following a low, and it repeated the same candlestick pattern which I have named a "flagpole". Look at the pattern formed on May 24th, in the chart below and you can compare it with the flagpoles made on the 6th day of sideways action on April 5th and April 23rd. The first two times the flagpole was a precursor to a rally. We will see if Friday's action results in a rally as well.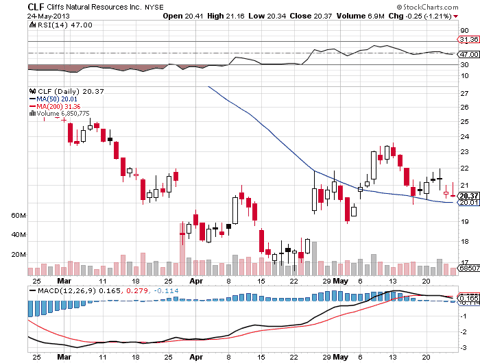 Disclosure: I am long CLF.