(click to enlarge)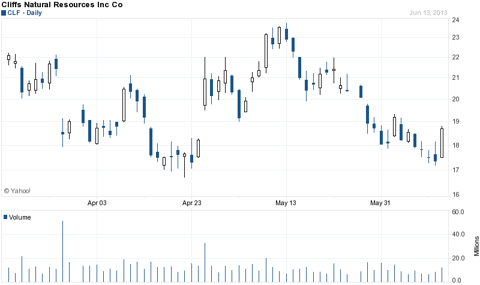 Click to enlarge
They have been killing the miners. Raymond James came out Friday, 6/7/13 and slammed coal stocks. Walter Energy (NYSE:WLT) made new 52 week lows and fell further this week. However, Cliffs Natural Resources (NYSE:CLF), which has sizeable coal mines in addition to iron ore, did not make a new 52 week low either last Friday or with lower prices this week. On Wednesday's close, 6/12/13, we bounced off 17.20 to close 17.37, down 13 cents. A new 52 week low was missed by just 58 cents. On Wednesday it formed what I call a flagpole (a name I came up with myself). The last time we did a similar flagpole formation (May 24th) I wrote an article explaining the formation. But it failed to rally the next day as expected and support at $20 was broken to the downside. I decided this time to make sure we went up, and then write the instablog. Today, CLF not only rallied, after stopping at 18.49 and falling back to 17.90, it actually made a new high of 18.79 and closed 18.70, above the critical 18.50 resistance level. I am now calling for a bottom in CLF and looking for a rally above $20 and into initial resistance at $21 to $22. The stock was helped by positive broker comments stating that the worry over soft iron ore prices was overdone! Duh! About time, already!
Maybe Cliffs Natural Resources (CLF) is part of a bigger story. The Brazil ETF (NYSEARCA:EWZ) was at a 4 year low and may have also put in a meaningful low today. Walter Energy (WLT) fell from 100 down to 11 during the great recession of 2008. WLT rallied all the way back up to 140 in January 2011 and stayed up there till May 2011. Now the stock has fallen to just under 14, not that far from the 11 price low of 2008. Things will improve for WLT and CLF in the future, and don't be surprised to see WLT at 80 to 100 again, if not 140, and don't be surprised to see CLF at 60 to 80, if not 100. But for now, these stocks are hated. No one wants to go out on a limb and say anything good about material and mining companies. These stocks have been beaten down to ridiculous levels. But I believe all the bad news has been already factored in when it comes to the hated coal, iron ore, copper, and gold stocks. During the second half of 2013 and all of 2014, these hated stocks should become wall street darlings as they should show some of the largest gains.
Disclosure: I am long CLF.