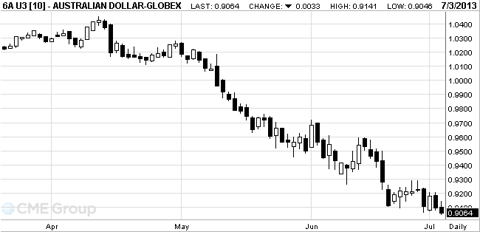 Above is a chart of the September Australian Dollar just before midnight eastern time, of July 2, 2013. We just made a new 52-week low of .9044. My trading method tells me to buy every new low of this currency when it hits a price ending in 00 or 50 so my system just bought again at .9050. If we should fall further tonight or tomorrow to .9000 then I will be buying another contract there. This method has worked quite well ever since the Sept. Australian Dollar traded down to .9700. Recently the speed of the descent has slowed markedly, which is partially due to the fact we are approaching the big magical round number of .9000 and partially due to the fact this drop has gone on for several weeks straight without a meaningful correction. This week we are falling for the 8th out of the last 9 weeks, which is making this contrarian investor quite bullish and hopeful a meaningful countertrend rally is just around the corner.
I have been writing bullish articles on the Australian dollar for a month now, and you can read my last article by clicking here. During this drop I have only played from the long side, and even though the market keeps falling lower and lower, I have profited by several thousands of dollars. The secret to my success is the fact that I scalp for small gains of 4 to 10 ticks several times a day, while swing trading by buying every new low and then taking profits when a profit of 50 cents to a dollar is achieved. Going against the down trend has worked because throughout the drop there are bottom pickers that are buying and there are short sellers who are taking profits, so there is plenty of two-way action to allow the longs to take quick profits. As we drop to lower and lower prices, the relative strength index (RSI) falls lower and lower, to prices under 30, identifying the fact that this market is oversold. We have already taken out the lows of 2012 and 2011, so surely we will make the final low of 2013 very soon.
This is a seasonally bullish time for the Australian Dollar
If you had gone to the Moore Research Center, Inc. website recently at www.mrci.com, they were displaying a bullish September Australian dollar trade that has worked 14 out of the last 15 years. You go long at the close of June 1st and liquidate at the close of business on July 26th. The average gain is 2.17 or $2173 for the 14 winning years. The one losing year was the year 2002, and the loss was $3340. That leaves a 15 year average yearly gain of $1805.
Had one bought this year in 2013, one would have gotten long from .9684, so one would be losing over $6,000 on the trade. This large drawdown far exceeds previous drawdowns. It probably is too late for the market to come all the way back and turn this year's trade into a winner. However, it might significantly rally between now and July 26th and significantly reduce the ultimate loss experienced. The worst drawdown of the last 15 years, was $3,510 loss in the year 2009. The market did indeed rally back and the became a net gain of $880. The next biggest drawdown was the year 2002, and that year the worst drawdown was on the last day of the trade, causing the one losing year of $3,340. The next biggest drawdown occurred in 1998, and that year a loss of $2670 eventually ended in a gain of $140. In 2010 a loss of $2,320 eventually became a gain of $6,820. In 2004 a loss of $2,130 became a final gain of $620.
The largest gain in the last 15 years of trading this seasonal, was 2012, when a net gain of $7,470 was realized and the trade never had a drawdown (it was always making money from day one). Four of the fifteen years never had any drawdown. The biggest turnaround year was the year 2010, where that loss of $2,670 ended up being the 2nd largest gain, a whopping $6,820. That is a turnaround of $9,490 once the low was scored. That gives me hope that the more than $6,000 drawdown so far in 2013, can be greatly reduced, and we could in fact end up with a very small loss or even a gain this year.
In Conclusion
I will continue to buy all new lows in the September Australian dollar, regardless of how low we trade. As we drop to lower and lower prices, it gets more and more dangerous to be short, and safer and safer to be long. Eventually the trend will indeed turn up and I will be positioned to take advantage of the big gain. In the meantime, I will watch to see how the bullish seasonal trade ends up on July 26, 2013. I have a feeling that we will probably start a significant rally soon that will reduce this year's loss from over $6,000 and counting, to maybe a thousand or two. Who knows, we might still get this trade profitable this year. In 2010 there was a $9,490 rally once the bottom was hit. If that big of a turnaround occurred this year, the trade would turn out to be a gain of over $3,000, assuming we stop going down at .9000.
Disclosure: I have no positions in any stocks mentioned, and no plans to initiate any positions within the next 72 hours.