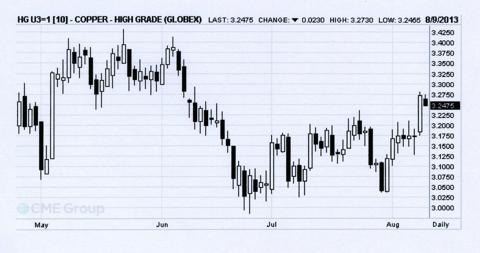 Look at the chart above. It is the daily chart of September Copper. The chart begins in late April 2013. Initially, there was a dip to a low of about $3.07 and then a sharp rally to $3.40. The price of $3.40 was rejected three times, creating a triple top. The fall in June caused a hard break down to major support at $3.00. Once the price of $3.40 was achieved, the bears became firmly in control and by the time we dropped to $3.00, the bears were getting rich and the bulls were licking their wounds. No matter where one shorted, eventually the shorts were rewarded, when the low of $3.00 was hit. No matter where the bulls bought in, they were all losers by late June 2013. Although September Copper managed to rally back to $3.20 in July, again the shorts won out when we returned to just under $3.04 in late July. Copper is in a long term downtrend and so short trades continue to be preferred.
How To Get Short At Good Prices
If you follow my recent articles on the Australian Dollar, you know that I was successfully buying every time we made a new low. Well, in Copper, one wants to go short every time we make a new high and cross a price increment of 2 1/2 cents. So, looking again at the above chart, one should notice that the second candlestick bar topped at $3.30. Thus, after making a low at $3.07, when we rally back above $3.30, I would sell short September Copper at $3.3250. That happens to be exactly where we stopped. The next day we traded under $3.30, allowing for a small profit. The following day we traded to $3.3550 so one would have gone short at $3.35, the next higher price that was exactly 2 1/2 cents higher than before. That day we came back to close around $3.32, allowing for an instant profit. The very next day we rallied first to $3.3750 for the first time where one should go short. We then kept going and hit just above $3.40 and that is where a 2nd contract would be shorted. The next day we fell down to $3.3250 making both contracts profitable. The next couple days we attempted rallies back to $3.40 but they failed, causing a bigger correction to just under $3.25. Once that low was in, one could start over shorting at $3.30, $3.3250, $3.35, $3.3750 and $3.40, and every time one got short, the contract was profitable the following day. This pattern continued until we topped out and fell to the $3.00 low.
Beginning in July we rallied strongly off the bottom all the way to $3.1750 in a single day, causing the formation of a large white candlestick. That is where one should have gone short and the low the following day was 5 cents lower, allowing for a nice profit. The following day we again topped out in the $3.1750 area and we quickly fell all the way to $3.0250. On the next rally we quickly overcame the $3.1750 resistance by stopping at $3.20 with another long white candlestick. That was a perfect short that allowed for nice profits for about 6 days. We would then get a rally to the next higher increment of $3.2250 where one should have again gotten short. Four days later copper fell to just under $3.04 allowing for a fabulous profit opportunity on that short. Thus today, August 8, 2013, I was anxious to short copper when we hit $3.25 intraday, the next 2 1/2 cent increment above the recent $3.2250 top. I took quick profits on the short and watched for a retest. Soon we hit and overcame the $3.25 resistance, so I knew to expect a quick rally to $3.2750 where I shorted again. Throughout the day today we topped again at $32780 and ultimately 32795. I tried to short every time we traded above $3.27. The last candlestick is the night Globex session black candle that shows we have already fallen back to $32475, so anyone who shorted at $3.25 and $32750 today were able to get out at a profit the following day.
I don't know of any books or reference materials who teach this method but I challenge anyone to come up with a better method of day trading September Copper futures over the last several months. I will continue to short September Copper again as we approach $3.2750, and again at $3.30, $3.3250, $3.35, $3.3750 and $3.40. After reading this article and traders see how easy this method is, maybe someone will decide to join me in the fun!