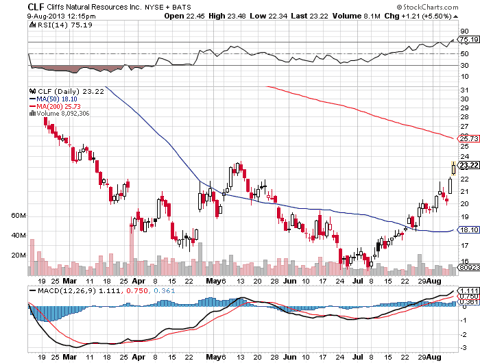 My last article on CLF you can find here. We were in the $19 price level when that article came out and I was saying to buy. Today we hit a high of $23.48. In my last article I explained how I was holding on to some shares that I purchased above $20 (with some shares as high priced as $23). Today I was able to sell all those old shares at a nice profit. I also sold out of the shares I bought yesterday based on the fact that we closed above $22, and I was pretty sure we would retest the $23.75 resistance level today or Monday (it happened today). Looking at the chart above, I am now formulating my next move. Here is what I will be doing.
CLF Is A Trading Stock Only
The mistake I made in May, was trusting this stock and believing that I could accumulate a core position. That was pure fallacy. Even though I was correct about the fundamental picture; the pause in Chinese purchases of iron ore was only temporary. When the price fell low enough, they began to aggressively rebuild their stockpiles. It took until this week for the street to realize they were wrong about their negative view on iron ore prices. They were too pessimistic about current and future iron ore prices. They probably still are. The news out of China yesterday could be a game changer and CLF could be trading at $50 by Christmas. Or maybe not. In any case, I will play it very close to the vest and will not be holding a core position. I will trade from the long side, scalping a few points at a time, all the time averaging down very carefully, and occasionally holding overnight. But I am done trying to hold onto any core position on this "skanky" stock. I made up the word "skanky" to describe a stock that is so volatile, you cannot hold it long-term due to wild retracement swings lower that are not justified on fundamental grounds, but happen due to technical noise. CLF has a very large short interest that does lend itself to short covering rallies, but also it tends to fall quick and hard when shorts reposition themselves. Therefore, I will buy lightly and will never be fully invested, so I will not get caught again in a long term trade that ties up trading capital for 3 months or more. The next time I realize I made an error, I will immediately cut my position in half, to free up capital to add on further weakness.
I Will Be Buying All Dips For The Next Couple Days
Since CLF is a skanky stock, it runs on momentum and pure adrenaline. If it is not making progress to the upside, it will start falling. It will either go up or down, but never sideways for long. If you look at the chart above, you will notice that the week of May 6, 2013, the daily tops in CLF were 23.06, 23.34, 23.42 and finally 23.59 and then the stock rolled over and made a new multi year low at 15.41. The bulls should again get a warning to exit during the current rally just as they did in May. If the high of the day is marginally higher, or 2-3 days go by without making a new high, and a retest of the recent high fails to make a new high or is very marginal, then one must exit all long positions. The moment this stock quits making new highs, it will begin making new lows.
Since we are just 2 years removed from a price of $95 in CLF, it is not hard to imagine this stock trading at $40, $50, $60 or higher, if the fundamental picture continues to improve. In any case, it is highly likely that the low of $15.41 will not be tested any time soon, and any dip under $20 should be bought aggressively. For now, we will watch to see if we can get through resistance at $23.75 and $25 or not. If $25 is taken out, then $30 to $35 is the next target. If $25 holds the stock back for awhile, then expect a dip back to $20 to $22 possibly, but probably nothing lower than that. The good news for this stock has just begun.
Disclosure: I am long CLF.