This Is The second article I wrote today on DUST. You can find my earlier article here. I decided to write again to make some comments about the DUST inverse triple ETF proxy for the gold miners GDX. Take a look at the Daily Chart of DUST.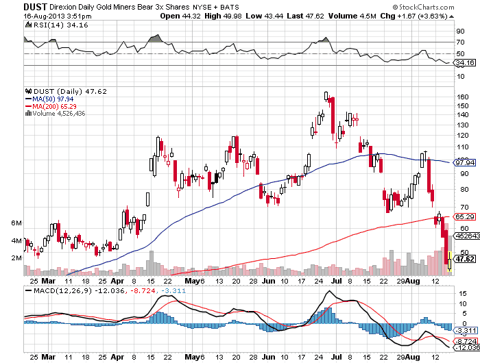 We have not closed yet so the last price of 47.62 may not be the close. We just completed three down days, one up day, two down days, and finally an up day is looking good for today, Friday, August 16, 2013. I felt it was unlikely today would be a down day because it would mean 6 out of 7 down days for DUST. Three down days followed by one up day and another three down days, I could not even find on the chart and I went back a year.
DUST should get some support at $40
Looking at the chart, it is amazing the amount this ETF has fallen in such a short time. Just seven weeks ago the high of $166.50 was hit on DUST, and today we hit a low of $43.44. What is important to understand, is that DUST did not go straight down, and will not go straight down, even though this week looks absolutely horrific if you were long like I got to be especially the last couple days.
The first sell off from the $166.50 top, stopped in just three days at $109, a drop of $57.50 from the top. Then we rallied $34 to $143. The retracement of $34 was 59% of the $57.50 drop that just occurred. Then we fell again and stopped at $67, a drop of $76, that was followed by a $40 rally to $107.00. This $40 retracement rally represents 52.6% of the $76 fall to the recent $67 low.
Now we have started another fall from $107 that so far has bottomed at $43.50, a drop of $63.50 and counting. If we drop a bit farther on Monday, say to $40, then we should bounce about 50 to 60% of the fall of $67, to about $73 to $80. If GDX tops here around the $31 resistance then, it is quite feasible that buying this week from $45 to $70, with an average price of $55 to $60, one could still hold for a profit if we stop rallying in gold. Although gold continued higher today to the $1375 to $1380 area, there is significant resistance at $1400 to $1415. I would expect gold to face significant headwinds in the near future and begin a small correction that should turn GDX south. GDX stock is 29% off the $24 low at today's high of nearly $31, and nearly 38% off the $22.50 low of the year.
Even After This Week's Action, I Prefer DUST over NUGT
One reason I still favor playing DUST over NUGT is that the long-term trend in GDX remains down, despite the short covering rally we got this week. If Goldman Sachs and others are correct in their predictions that the price of gold is lower in 2014 and still lower in 2015, then DUST might eventually make new highs and might soar to over $200 at some point. Several sources have reported that the true value of gold is closer to $800 when one subtracts out the hype. In any case, after the bloodbath we had earlier this year, I cannot imagine how we just rally straight up in gold from here, without at least retesting $1250 if not $1200 in gold, at some future point. Even if gold stabilizes in this area, the miners are going to have a difficult time making money due to political, environmental, and energy costs that continue increasing out of control and will weigh on profits for years to come. It is just days ago that several mining companies had large write-offs. The fundamental picture for mining profits has not improved much over the past week. We are seeing a technical bounce, that is occurring in August, a seasonally strong month for gold. The Egypt unrest also helped gold catch a bid, and the dollar has been faltering a bit. However, the seeds for a gold sell off have already been sewn and it is just a matter of time before DUST finds its footing.
Also, it is much safer playing DUST at $40 than playing at $80 or $100. If I am long with 100 shares at $60 in DUST, I can buy 200 shares for the same money at $30. Then instead of having to get $45 as the breakeven, $40 will be enough. Another example, suppose I own 100 shares of DUST at $60, 200 shares at $30, and 300 shares at $20. My average price is $30. By scale trading, DUST only has to rally back 1/3 of the way instead of half way, to break even. When NUGT does the 1 for 10 reverse split next week, it could mark a top, as who wants to buy NUGT for $90. Again, we have been down 7 weeks from the all time 166.50 DUST high, and on a time basis we could be looking at the very bottom for awhile. The April 17, 2013 high of $119.63, counting to the June 6, 2013 low of 71, was also seven weeks. In less than three weeks after that low we hit the all time high of 166.50 in DUST on June 26, 2013. I am hopeful that in the next three weeks, we could be back to $73 to $80, if not much higher.
Disclosure: I am long DUST.