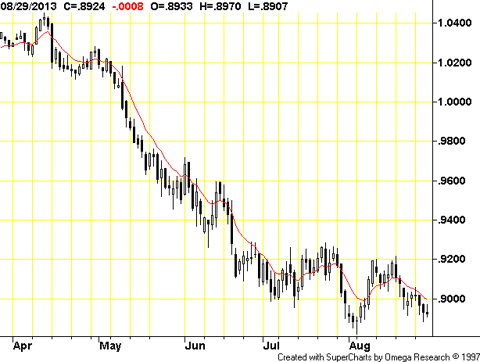 Recently the Australian Dollar has gone sideways to slightly lower and I have been lightly buying on dips. Due to the fact the Aussie has been in a funk and has been the weakest of currencies lately, I have mostly scalped from the long side, taking profits after small moves of 5 to 6 ticks. You will notice from the chart above that the December Austrlian Dollar has gone down four days in a row, and but each down day has been quite modest at -1, -49, -37 and -8 ticks. The last time we went down five days in a row was a month ago, from July 29th thru August 2nd. That was when we made the three year low of 8823 in the December Australian Dollar futures. The five day down move to new lows, resulted in a five day up moved of 386 ticks off the bottom. I am looking for a similar up move again, that should start today or Monday in the Aussie.
Even A Stopped Clock Is Right Twice A Day
If you go to the dailyfx.com website you will find under the technical analysis tab, another tab titled sentiment. Click on that and you will see the Speculative Sentiment Index. Here they track small trader speculative Forex positions with the assumption that a majority of small traders are on the wrong side of the market, a majority of the time. So if the small specs are bullish as they are now (78% long) then you want to be short. If you click here, you can read the current comments written by David Rodriquez, one of their key strategists. They are looking for a breakout to new lows. Although I do give the opinion of the dailyfx staff a great deal of weight, I just do not see the Australian making anything but a marginal new low, and that should be followed by a swift significant rally. Thus, I prefer to play the Aussie dollar from the long side, especially since it remains extremely oversold, and on a 4 day down close streak. Odds favor an up close today, and I just picked up a contract 12 ticks in the minus. If we should close down today for a 5th down day, I would look for an up week for a majority of next week. Despite the fact small speculators are holding record long positions in the Aussie dollar, this is probably one of the few times they get it right.
Fundamentals Are Not So Bearish Anymore
The earlier down swing in the Australian Dollar was caused by lowering of interest rates in the currency and perceived weakness in Asia. Recently Asia has shown some signs of bottoming if not some signs of strength in their economy. Also, the perceived chances of the Australian Central Bank lowering interest rates further, are much lower than they were a couple months ago, based on the low option premiums and lack of volatility priced in. The Australian Dollar may eventually move lower, but it is unlikely that would occur without a significant rally first. The Aussie has fallen to the lowest levels in three years and we should see more consolidation and retracement prior to making a significant move lower, in my opinion.