Back on July 27th, I mentioned how things were improving for Cliffs Natural Resources (NYSE:CLF) and Walter Energy (NYSE:WLT), just click here. Now look at the chart of Walter Energy shown below: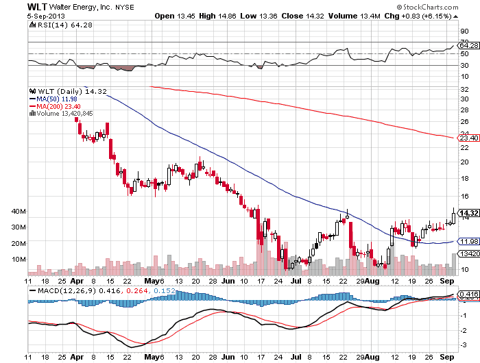 Walter Energy struggled to get above the $13.85 area for 3 1/2 weeks, but today it finally broke to the upside and closed above $14. This could foretell good things for not only Walter Energy (WLT), but another coal stock, Cliffs Natural Resources (CLF), as well. Now look at the chart of CLF: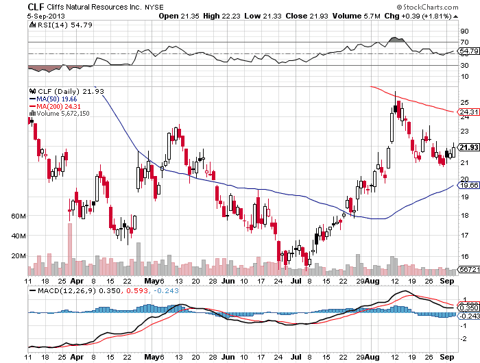 I have been investing in Cliffs Natural Resources (CLF), an extremely heavily shorted iron ore and metallurgical coal stock, since March of this year. I rode it through the bottom around $15.50 and up to the recent high approaching $26. The stock has now traded down in consolidation mode for three weeks, to just under $21, only to show some life and rally today back above $22, and to close at $21.93. I am hopeful that CLF can get some traction here along with the other coal stocks and retest the $26 resistance level before trading to $30 or higher. It is now four weeks since we hit the most recent high. I believe we will either rally up starting immediately, or we will continue sideways to lower for another four weeks, to complete an 8 week correction like what already occurred from May 10th to July 8th, earlier this year. Walter Energy could be starting a major move higher, thanks to the breakout today above $14. Hopefully a little of the good karma from WLT will rub off on CLF and it will also catch fire and rally. I have been day trading from the long side in this stock but would like to be able to swing trade this stock for a few days or weeks if it would just find an excuse to rally and force short sellers to cover.
Disclosure: I am long CLF.