In my last article you can find here, I predicted DUST would go down, up, down, down, or just 3 straight down. It did the former. Thanks to the FED not tapering today, DUST has now done a mini crash and in one day it has wiped out gains of the 15 previous days! Remarkable! Take a look at the chart: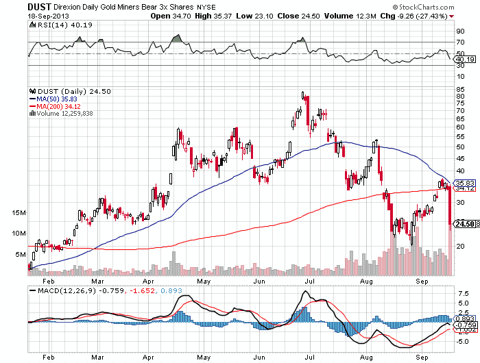 WARNING: If you have not read my article regarding dangers of trading triple ETFs like DUST & NUGT, click here.
If you follow the Stock Talk comments I make during the day, I was reading signs to say gold, GDX, and NUGT would boom after the announcement on tapering. However, I felt there would probably be some taper and some dip to get in lower. With no taper, it boomed and looking back, I should had gone with the momentum for just today and bought NUGT the moment it hit 61 and taken easy money. No one is perfect, and one major flaw that I have as a trader, I often skip the "easy money" trade. I am such a contrarian, I start fading the good news almost the very moment it comes out. Today, I started buying DUST a bit early. Playing really small and catching a late day bounce, I did ok but I should have rode the NUGT happy train rally for the remainder of the day. The problem is that I have a bias that favors DUST over NUGT and it is hard for me to buy NUGT except at the lowest of prices. After the big gap I was afraid to chase it. Despite today's rally, NUGT is still locked in a death spiral, down from $1885. Despite the rally in gold, the yellow metal has resistance just ahead at $1375 & $1400 and nothing fundamentally has changed. No taper today but it is just a delay. Ultimately a taper will occur. It has to. Today's "non-taper" decision by the FED is short-term bullish for gold, and long-term bearish. I doubt the party will last even to the end of this week.
I Choose To Buy DUST On Dips Until The Cows Come In
Be warned that I am buying early and picking a bottom in DUST. If you are still bullish NUGT, you can probably still make money by holding a bit longer. Go ahead if you like.
But after today's selloff, I would rather be long DUST under $25 than I want to be long NUGT above $70. I will continue buying early and often. I will take profits on small rallies and reposition lower and lower. I can't tell you how happy I am to be able to purchase DUST shares below $25 again.
When I want protection I will buy gold futures to hedge, as a major rally in gold is the only thing that can hurt my DUST position.
Where Do We Go From Here?
Just look at what DUST did in the past. First of all, DUST is down 3 of the last 4 days, so it should be quite bouncy and profitably purchased on dips for the rest of the week. Also,back when DUST closed under $25 for the first time in months, back on August 15th, we went up the following two days. Then we fell 4 of the next 5 days and made the major bottom at $20.10. Next came the recent rally to a high of $37.25 that was accomplished in just 12 days.
I was counting on a minor taper that would drop us down to $29 in DUST and then we could rally back towards $45. But with today's smackdown, one must play more defensively and reduce the target to $30, which we should see within the next couple weeks. Thursday could be lower, especially early in the day, but there is a good chance we can hit $27 by Friday. If we roll over after that we could trade down to $20 or even $17 at worst, but then should work on a rally back to $30.
GDX has rallied back to the mid 28s today and now has resistance at $29, $30 and major resistance above $31. Here is the chart: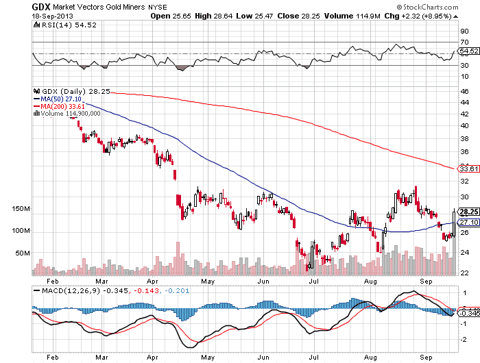 Disclosure: I am long DUST.