Sorry folks about not getting an article out over the weekend but I made a commitment to help someone that ended up requiring working all weekend to complete the task. Anyway, here is the update.
My Prediction Accuracy Is Usually 85%; NEVER 100%
I predicted a DUST rally after the Fed "no taper" decision and I was correct. Then I decided to do a 2-day counter-trend pop in NUGT, and dip in DUST today for which I was wrong. I am glad I was wrong because some had to have been wondering if I was human. I was getting so lucky on my guesses. This is a reminder that they are only probabilities. They usually work but sometimes they do not.
Strong Hands Win While Weak Hands Lose
If you are desperately emailing me wanting assurance that NUGT or DUST will rally in the next couple days, then you are trading too big. If you are trading too big, then you will get frightened out of your position and take your loss right before the turn. If you can't sleep at night, you are trading too big & need to read this. I survive because I trade in and out and constantly reposition while keeping my trading size manageable. Since I am in NUGT now and losing a little money, I will focus on that market until we rally high enough to get my and our money back.
The Weekly GDX Chart Helps Us Calculate Our Risks
It is prudent to look at the weekly chart of GDX going back a year and a half to see where we are, and maybe we can then figure out where we might be going. The weekly GDX chart is shown here: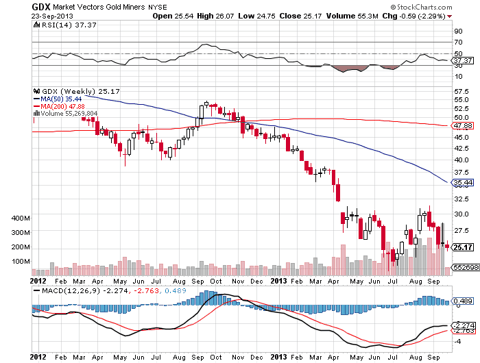 The weekly chart shows how the value of the gold miner ETF (GDX) has fallen from 54.69 high to a July low of 22.21, in less than a year. That is a drop of almost 60%. Thus a lot of bad news is priced in and any further drops in gold mining stocks should occur very slowly with many bounces in between. From a value standpoint, GDX is looking very attractive and that is why I decided to try buying the leveraged miner ETF (NUGT) shares last Friday and today. The above chart shows that we are trying to make an inverted (upside down) head and shoulders pattern in GDX which is quite bullish. The left shoulder was formed in April and May, and the head was formed in July when the major low occurred. After rallying back to 30, we are now dipping down to form the right shoulder of the pattern. If we then rally back to 30, the pattern will be complete. By busting through the 30 price resistance after that (breaking the neckline), then the pattern will be confirmed and we could rally as high as 37.50 or 40 in GDX, which would translate to price potential of 125 to 130 in NUGT. If we are indeed forming the right shoulder, we must bottom soon, and remain above the 22.22 low. An ideal stopping point on this current dip would be 23.75 to 24 at worst, or a low of 41.50 to 43 in NUGT. Closing today near 51 in NUGT, that is a bit of pain, with potential for a whole lot of gain.
What I care about most, is not how much money I can make on the trade. I focus on what happens if I do ride through the bottom, carrying my NUGT shares to as low as 41.50. Will I be able to get out at breakeven in a reasonable time after that. To that I would say, probabilities are quite high that GDX should minimally trade above 30 again, translating to a price of 63+ in NUGT, and it should occur within the next 30 to 45 days. One should space their buys so that they sill have money to purchase NUGT shares as low as 42 or 43. If one is too heavily invested already, the worst thing one can usually do is panic and sell out on a low. However, on some strength back to today's highs for instance, one might want to lighten up and sell half their position. Add the loss to the remaining shares and use the freed up cash to purchase more on any further dips this week (a win/win strategy I believe in).
One final thought before we move on. Look closely at the right side of the chart and one can see we are starting the fifth straight down week. When we made the July bottom, it took a 5 week down pattern to get to the low. Since this is the 5th week again, the weekly chart projects a bottom in GDX and NUGT coming by this Friday, September 27, 2013. After we bottom, I would expect a 3-4 week rally and possibly as long as 7 weeks in GDX & NUGT.
Now Look At The Daily GDX Chart To Try And Time The Market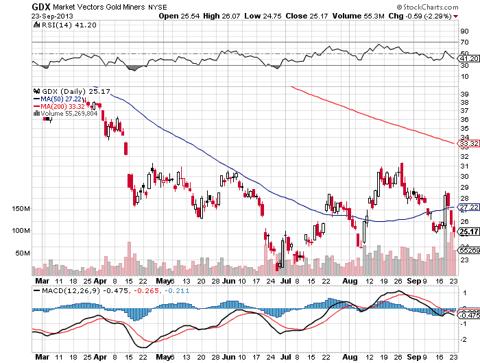 When the FED did not taper last Wednesday, we popped big last Wednesday making a large white candle. When this occurs, the market loves to get a lot of traders buying into that strength and then it falls the next day and the bulls get trapped and hang their shares. It often happens that the market then loses all of the upward spike and a bit more, running stops and causing the bulls to give up at the bottom. That did happen today when we traded below the recent GDX low price of 25.08. Now that the stop have been run below 25.08, we can turn up at any time. Or we might keep falling to the next major support at 24. If 24 is the bottom, that will be a 4% plunge in GDX and a 12% plunge in NUGT, so NUGT could hit 45. I will be surprised in reality if NUGT trades much below 48 as we should start bouncing and going mostly sideways as we prepare to start the next big rally. Looking at the June 28th spike bottom, we rallied one additional day and then fell 6 days. Then we moved out of the lows for good. Since last Wednesday's big white candle in GDX & NUGT, we have fallen back 3 days. That would mean Thursday is the bottom. If you factor in the extra up day back in July, we move the bottom back a day to this Friday. Now the daily chart and the weekly chart are calling for the same Friday low of Sept. 27th.
Disclaimer:
Past results may not accurately predict future price movement and the bottom of GDX may take longer to form than expected. Trading triple leveraged ETFs like NUGT and DUST are dangerous and traders can and do lose money. That is why one must employ sound trading practices to include money management and cost averaging to keep risks to a minimum.
Disclosure: I am long NUGT.