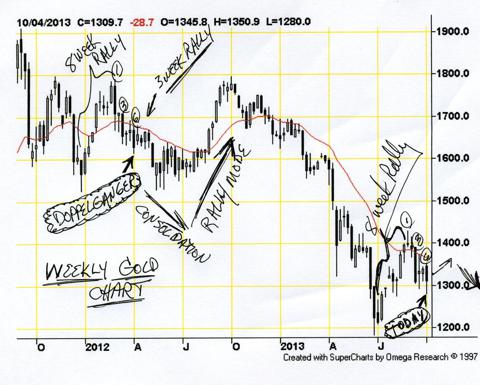 If you look at the above weekly continuation gold futures chart going back the last couple years, I have identified a pattern quite similar to the current pattern that gold made this very week. They say that every person has a double, someone that looks just them, a doppelganger or ghost, if you will. Well, the same is true with chart patterns. They are often repeated patterns that were seen previously. This week's gold pattern does indeed appear to have a near perfect match, a true doppelganger. Just look at what occurred the first week of April 2012, and compare it to the current action the first week of October 2013. In both instances, the down weeks in gold were the 6th down week following an 8 week rally off a major low in gold. The black real body engulfs the real bodies of the previous two weeks.
This Portends Three Weeks Of Rally In Gold
With the matching of these weekly chart patterns, one would expect for there to be a three week rally beginning now in gold, to correspond to the three week rally that followed in April 2012. After this three week rally, gold could begin a slow grind sideways to a bit lower, that will take us to the end of the year. But the low of $1180 should hold, and in fact $1225 should be the lowest price gold trades for the remainder of 2013. Then beginning the first quarter of 2014, I would expect a rally to take us towards $1500 in gold, ending the end of March 2014. Closing at around $1310 on Friday, there is only $85 of downside risk and potential for gold to rally $190 to the upside if $1500 is reached. This is a favorable risk reward ratio since the potential to rally is twice as much as the potential to fall, if I am correct in my evaluation.
In review, I am looking for a gold futures rally towards $1350 over the next 3 weeks, overtaking the 50 day moving average of $1343. Then gold could retrace to a low of $1225 through the end of December, only to begin a first quarter rally that takes us towards $1500 resistance. If gold does rally over the next three weeks, it should help provide some support to gold miners (NYSEARCA:GDX) and the triple leveraged gold miner ETF (NYSEARCA:NUGT). Here is a chart of GDX: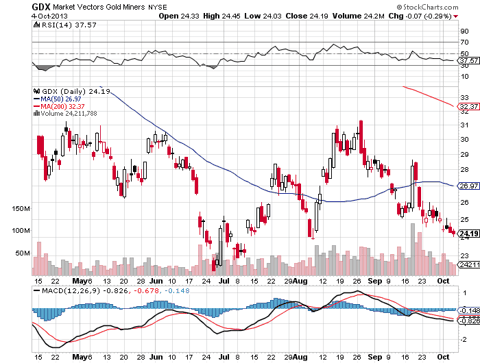 If you look at the above daily chart of GDX, one notices that we are very near major support at $24. In August we hit $24 and then turned abruptly back towards resistance at $28 and continued to a higher high than in July, hitting major resistance at $31. If $25 made support that could bring a rally to $28.50 a couple weeks ago when the Fed decided not to taper, then $24 should really be repulsed with a move higher. The last pop occurred after 3 weeks of down move, matching the 3 weeks of down move that occurred at the end of June. Since the Sept. 18th pop, GDX has fallen 2 1/2 weeks, which is just a couple days shy of another 3 weeks down. Surely GDX turns higher by the middle of the coming week, at the very latest. A pop in gold, GDX and NUGT would coincide with worries that should intensify this coming week, about the upcoming debt ceiling raise deadline of Oct. 17th. The House vote today to pay back salaries to furloughed government workers will ease some of the pressure on getting the shutdown solved quickly, and make a default in less than two weeks more likely. Although the initial impact of the shutdown has been negative for gold, GDX & NUGT, it could change drastically this coming week. A quick 2-3 day pop in GDX back to $26, $27 or even $28, is not only possible, but very likely based on the sharp reversals seen in July, August and September. A pop to $26 (7 1/2% gain), to $27, (11 1/2%), or a move to $28 (15 1/2% gain) are all likely short-term targets. With a Friday close in NUGT of $45.06, factoring in triple moves up of 22%, 34% or 45%, you would see prices of $55, $60, or $65.25. I will finish with a chart of NUGT: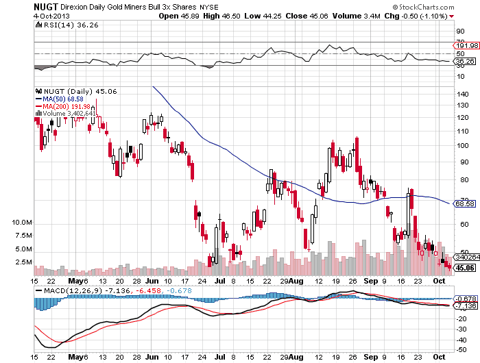 Again, if you have not read my article about the dangers of trading triple leveraged ETFs like DUST & NUGT, please click here.
Conclusion:
I called for a bottom in GDX a week ago and even though a bullish pattern should have developed, the turn up from the lows has been delayed for a week based on some bearish fundamentals related to the government shutdown and some technical damage that occurred when large traders "ran the stops" in gold below $1300. Well, we are back above $1300 in gold and I believe for the next three weeks we should build on those gains towards a minimum move to $1350. I am looking for corresponding strength in gold mining stocks of GDX and NUGT. So far the reaction to the regular stock market has been quite muted but that could change this coming week. Traders getting out of S&P and Dow stocks will be looking for someplace to hide and gold mining stocks could do just the trick!
Disclosure: I am long NUGT.
Additional disclosure: Also long GDX