(click to enlarge)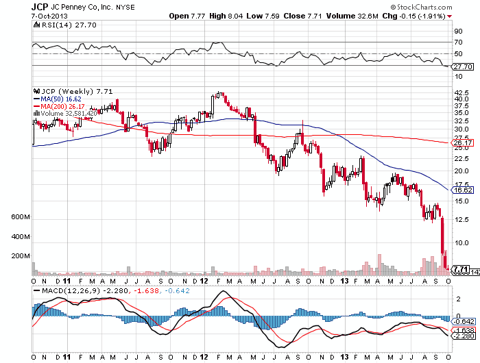 Click to enlarge
Above is a weekly chart of J.C. Penney going back 3 years. This company has been a bull trap for long-term investors the last couple years, but there have been some decent rallies off of new lows for swing traders. I have identified the following four profit opportunities in the last year and a half. First, one could have bought the July 2012 low of $19.06, and caught the Sept. 2012 rally to $32.55, caught the November 2012 low of $15.69, rode it back up to a Feb. 2013 high of $23.10, caught the April low of $13.55, rode it back up to the May high of $19.63, bought the August low of $12.12 and caught the small Sept. rally to $14.59.
More Bearish News On JCP Gets Factored In Daily!
The above four identified rallies off the low, were 71%, 47%, 45% and 20%. The kickback percentages are dropping as each rally is less than the previous one, thanks to increased shorts in the stock. This is not a good sign. Nearly every available share is shorted. Big name fund managers have thrown in the towel, and a recent share dilution has killed the stock down to single digits! The down move has recently accelerated and that is what has caught my attention. Stopping at $19, $15.50, $13.50 and $12, one would expect to have seen some support at $10. But instead, the stock has plunged from $12, to now under $8, in a little over 2 weeks. No bottom is in sight!
Today I Read A Bearish Article & Decide To Buy JCP
Today, October 7, 2013, I saw an article (click here) where $7 was being called a ceiling instead of a floor. Read the article, and you will see how the writer concluded $7 was fair value for JCP, when and if, it returns to profitability. Liquidation of the company in bankruptcy, thanks to extensive real estate holdings, should net $4 to $5 a share. At $7.75 per share we are not that far away from $7.50 which should provide some support, at least initially.
Expect To See Support At $7.50 & Every 50 Cents Lower In JCP
After reading the bearish article I looked at the intraday chart of JCP going back 2 weeks, and decided to buy some JCP in the pre-market at $7.76 and added down to $7.61. I then sold in the $7.90s towards the high of day of $8.04. I bought back on the close at $7.73 and $7.70 and will look for support at $7.50 and again at $7.00. I am buying very small and spacing my buy orders as I am definitely catching a falling knife. The stock has shown no indication of bottoming and could keep falling another $1 or $2 before finding real support. However, because all the bears who are short will eventually have to buy the shares back to take profits, we should start a short covering rally in the near future. With the recent stock sales, that caused the recent nosedive below $10 due to equity dilution, bankruptcy should be put off for at least another year, and a lot of good things can happen in a year. So much bearishness is being factored in, and it has fallen so hard and fast recently, a decent bounce should not be far off. We only got a one day bounce off of $10 support on the way down, but I feel that we could easily bounce back to $9.50 to $10 if we can find support at $7 to $7.50. Today I just bought to get my feet wet and to have a reason to study the intraday price action, but I intend to begin buying more aggressively as we move to lower levels.
When I looked at the intraday charts going back the last month, I noticed how early weakness (usually to new lows) was purchased and over 80% of the time, resulted in a bounce of at least 25 cents and a short term move to positive territory. Since we were gapping down this morning, I assumed we would eventually snap back and I was correct. The high of the day was $8.04, 18 cents in the positive. Closing today at $7.71, I would expect a rally to $7.85 or higher tomorrow, even if we fall further towards $7.50 in the pre-market or in early trading. Although I believe $7 will be a short-term floor (unlike the article), I will space my buy orders so I have cash to keep adding all the way down to $5. If one is buying 1000 shares of JCP to accumulate for a nice swing trade, one should only buy 200 shares every 50 cents we drop, or double that if day-trading. This stock has shown no indication yet of bottoming but is an excellent scalping stock with lots of liquidity and wild movement. For a catching falling knife expert like myself, it is a great stock to trade for fun, even if I won't play large enough to make any serious cash. Here is a daily chart of JCP.
(click to enlarge)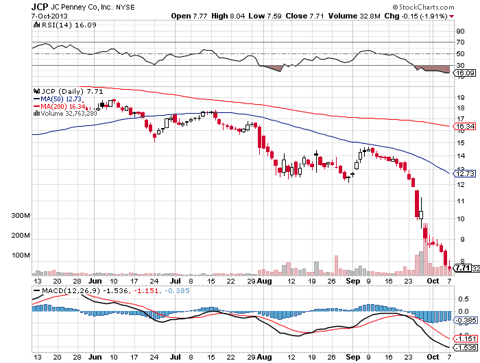 Click to enlarge
You will notice that in late July, JCP tried to bottom for a few days at $14, but it would fall another $1.50 down to $12.50 before finding serious support and eventually bottomed at $12.12. Well, last week we tried bottoming a few days round $8.50, but support broke down and we should now stop $1.50 lower than that, which means $7 should provide support that could last 3 or 4 weeks. We might eventually break down to $6.60 but should get rallies back towards $9 to $10 before moving lower again.
Conclusion
Trading JCP is exceedingly dangerous if one is going "all in". But buying a few shares on dips can be a lot of fun and can be profitable if one buys very small and spaces out their buys. Towards $7, one should expect to see some support and $2 plus rally off the lows. It is much safer owning JCP with a 7 handle, compared to where one might have owned it earlier this year or last. We are close to a spot where downward momentum will end and sideways to higher prices will ensue.
Disclosure: I am long JCP.