If you have not read my last article, click here. This article is a continuation of that article with three more days of data to digest. In the previous article, I explained that gold would either consolidate for a couple days and then move back down, or it would consolidate for a couple days and then explode higher. I saw the explosion occurring on Tuesday, October 22, 2013. I predicted the upward pop which we did indeed get today. December Gold has now closed 1342 area, and should test resistance at 1355 shortly, while GDX has popped to 26 and is poised to move higher still. Amazing now that just last week we hit 1251 in gold and they were calling for 100 to 150 lower prices still. Lets begin with the current GDX chart shown below: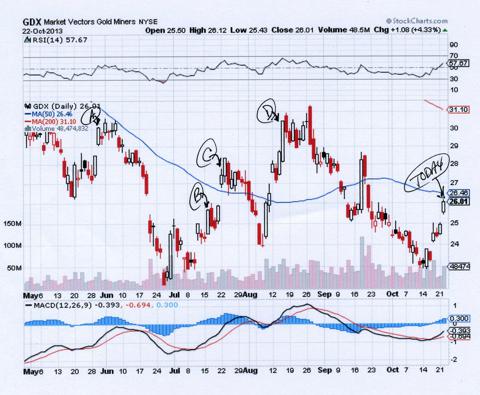 At the far right, you see the white candlestick that was formed today. With the delayed announcement of the Sept. jobs number that came at 8:30 a.m. EST today, gold popped strongly when the number came in at 148,000 new jobs created, as the market expected 180,000. This delays tapering by the FED, and demands maintaining QE (quantitative easing) indefinitely. Marc Faber is in fact calling for monthly FED QE to be increased from $85 billion of bond buying, to $200 billion, or maybe $1 trillion, click here. To see where we might go from here, I look at previous rallies and compare the price action.
Which Past Candle Is Our Doppelganger, Our Guide?
My bias is to select the candlestick marked "B" above, July 16, 2013, as the guide doppelganger candlestick. We are currently on the sixth trading day out of the bottom, just like in July, and in both instances, the third and sixth days are big up days. If we follow the script from July 16th, we are in for a couple days of consolidation before we move strongly up for three more days. But "B" may not be the best guide for current action. In July the rally was somewhat subdued, and currently we are surging higher.
We might be closer to the candle formed on August 15th, marked "D" on the above chart. In August we were on a runaway freight train out of the bottom and burned out quickly. If we are following "D". we are already near the top and will just consolidate sideways for several days and will then roll over.
Another choice is July 22nd, marked "C". If that is the guide, we are in for another strong day on Wednesday, and then we top out, go sideways for several days, and then roll over. I don't like the choice of "C" because it is the 10th trading day off the bottom, instead of the 6th, like "B", "D", and "today".
Finally, we could be looking at the candle of May 30th, marked as "A". If it is our guide, we go down tomorrow in an inside day and then consolidate for a week before rolling over.
Our Near Term Strategy
What all four choices have in common, is that we are going to need to consolidate gains for a day or two. In three instances the consolidation lasts about a week and then we roll over. In example "B", after a couple days of consolidation, we explode higher. Looking at today's action, we made a large gap between yesterday's close of 24.93, and today's low of 25.43. That gap should provide some very short-term support, so we may not be able to trade lower than 25.50, but definitely not lower than 25.00 for the next day or two. We should therefore buy dips in GDX & NUGT for a few days and look for the market to bounce back towards the recent highs. My goal is to wait for a dip to 25.50 in GDX to buy some NUGT, around 51 to 51.50. If GDX falls toward 25.00, then I might be able to buy NUGT as low as 48.50. For now, the target low to pick up some NUGT shares should be in the buying zone of 48.50 to 51.50, with the intention to sell out on rallies at 54 to 55. I would give it about a 65% chance we don't make it to 60 in NUGT without first trading down to 51 or 50. That is why I decided to let go of my core shares today in the high 54s, in hopes I can buy them back a bit lower.
A Balanced Approach
We just rode through a massive selloff in NUGT. It initially looked prudent to buy NUGT first at 60 and then down to 50. But the bottom fell out of GDX, forcing NUGT to the 37s. We were even forced to brace ourselves for a dip in NUGT down to 30 or lower. Fortunately, we did not have to endure that much pain. If one is unable to aggressively day trade like myself, one must be able to protect themselves in other ways. One excellent choice, is to play both NUGT & DUST at the same time. Almost every day, one can make money playing DUST or NUGT or both. Lets take a look at both charts. The first chart is NUGT, see below.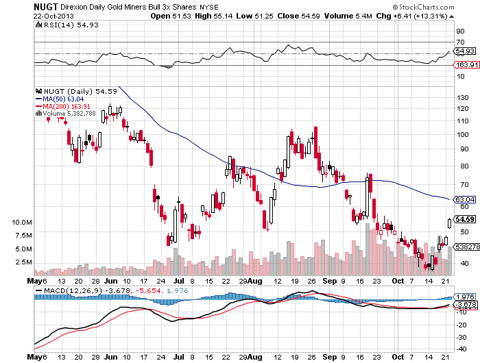 On this chart, I want to buy shares into the gap from 51 down to 48, with the intention of taking profits at 54 to 55 if we double top. If we can break out again to the upside, we could take profits at 60 to 65. Now we can look at the DUST chart, see below: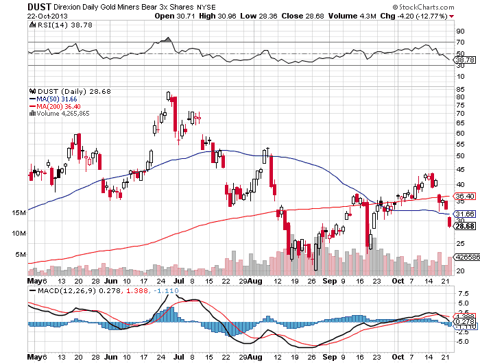 DUST has a lot of support from 25 down to 22, and I will be wanting to start accumulating shares in the buy area. From the very bottom of 20.10, hit on August 27th, we rallied about 12 days, swung lower for 4 days, then rallied 17 days. We have now dipped about 7 days and are due for a short-term bounce. DUST remember has never had to be propped up like NUGT has. Even today's hard selloff just brings you down to the bottom of a channel line that can be drawn from the 20.10 low, the 23.10 low of Sept. 18th (the No Taper Fed day) and today's low. As we top out shortly in NUGT, it will be time to play DUST in earnest.
With NUGT now trading for about double the price of DUST, I will start balancing 200 shares of DUST against 100 shares of NUGT. If I had $20,000 to play, I would play 100 shares of NUGT on dips there, while buying 200 shares of DUST on dips. That leaves an additional $9,000 to buy extra DUST or NUGT based on which kind of a day we are having, bullish or bearish. If I start out playing 100 NUGT, I can easily buy 200 DUST to completely counteract the trade (spread off) or buy additional DUST to change my direction from up to down. Then when the market stabilizes, I can take profits in DUST and use the proceeds to buy more NUGT to average down the NUGT price bought previously. If I can break even on NUGT, the profits made on DUST are mine to keep. For those not day trading, they can still employ this strategy, they will just swing trade for a couple days. Again, anytime something goes wrong, cash is available to spread off even, or reverse directions by buying even more protection to the point where the opposite direction is favored.
During the recent selloff in NUGT, it would have been great had I been long some DUST to balance out the NUGT losses. In fact, I might have begun favoring DUST to the point I was actually making money on the drop without having to aggressively day trade to reposition. Then when highs in DUST above 40 were reached, I could have taken profits in DUST and then used the cash to purchase extra NUGT shares below 40. By keeping money set back to play DUST and NUGT at the same time, it guarantees that you will never be "all in" a leveraged vehicle, going just one way.
One Final Thought
I have one small margin trading account that I primarily use to trade futures. Because I normally keep less than $25,000 in the account so I don't overtrade futures, I cannot use it to day trade stocks. However, 2 to 3 days per week I will buy 500 to 1000 shares of stock to hold overnight, using excess equity or margin in the account. In the premarket or early in the day, I try to take profits of $100 to $200. I only invest the money when I have high odds of success. I average earning $400 to $500 per week in the account, just doing this simple overnight trick. Also I sometimes sell out of the money put options that expire in a few days, when I am bullish as well, trying to earn an extra $200 to $300 per week. This is a nice use of cash sitting around waiting to be used as margin for futures contracts. Having $12,000 to $15000 in an account that does not day trade can still earn $500 per week. I try to minimally withdraw $2,000 per month out of this account, but often withdraw more when I have a good month. I have sent back so much money out of the account, it is the market's money I am risking and not my own, which relieves stress when playing futures. I scalp futures for a few ticks at a time and rarely hold a futures position overnight. Thus I trade futures in the account by day, and stocks overnight.
Disclosure: I have no positions in any stocks mentioned, but may initiate a long position in NUGT over the next 72 hours.
Additional disclosure: I also plan to initiate a long position in DUST in the near future.