On October 7, 2013, I wrote an article explaining how J.C. Penney (NYSE:JCP) looks interesting, buying from $7.50 down to $7, click here. I then wrote an article on Oct. 11th suggesting one could sell weekly put options on JCP for income, click here. Lets look at the chart to see how this strategy has fared:
(click to enlarge)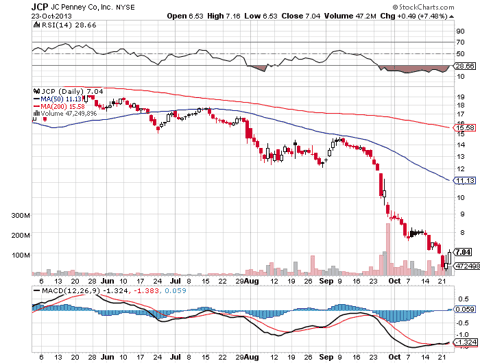 Click to enlarge
Stock trading worked great until last Friday when I loaded up between $7 and $7.10, thinking I was at a major support area. Then an analyst who will go nameless as they don't deserve any credit, in a bear raid market manipulation move, came out Monday, Oct 21st, with a $1 price target and stated bankruptcy rumors aren't true but could scare interested parties into becoming a self-fulfilling prophecy. I knew that was definitely the mark of a major bottom and loaded up in the $6.40s. I took profits on the low shares in the mid $6.80s and today took profits on the $7.00 area shares at $7.10 plus.
Regarding options, I have done remarkably well selling puts. On Tuesday of this week, Oct. 22nd, when JCP was trading 6.56, I sold some 6.00 strike puts for 25 cents, that expire on Friday, Nov. 1st. With the move back above $7 today, the puts are now worth 13 cents so I am up 11 cents on the trade in just 24 hours.
Where Is J.C. Penney Headed Next?
To see where JCP is headed next, I simply made the following observation. When we broke the recent support level of $12.50 in JCP, we cut through $11 like a hot knife through butter. At $10 we touched it one day, only to rally back to $11 the next. However, after this 2 day visit, $10 was abandoned and we dropped on down to $9. At $9 we touched the $9 mark four days before heading lower. See the pattern? At each round number lower, we are spending more time and consolidating. At $8 we paused for seven days. Yes, we crossed the $8 mark on seven consecutive days. I was short $8 puts which exactly went off worthless. Then last Friday we were only four days into the low $7 area so I bought on the Friday close, expecting to trade for at least another 3 days in the $7 area to match the seven days spent at $8. I was hopeful that we would spend at least ten days at $7 because we are spending more time at each $1 increment as we fall. With today's pop back above $7, I feel confident we should close at $7 or above this Friday, Oct. 25th, to match the two Friday closes we had around the $8 mark.
This is really good news if selling out-of-the money puts. The last three Friday closes are $7.86, $8 and $7. Thus, I remain hopeful we hold support at $7 thru Friday, Oct. 25th. After that we could drop another dollar to $6 next week, but the 25 cents premium will be all pocketed as profit if we close $6 or higher by Friday, Nov. 1st. If we trade below $6 then I could be exercised with an effective purchase price of $5.76. Should be no problem selling those shares for a profit in the short term. I am looking for two weeks of $6 plus closes if not three or four. This stock has $7 of cash value, book value of over $10. Surely $6 or $5 is the bottom for awhile. Based on the fact we rallied $5 to $6 when trading at higher prices on upward corrections, I still see $2.50 to $3 rallies off the low, be it $6 or $5. Time will tell. I hope this sparked some interest in JCP as outright trades or put selling both look promising.
Look At Best Buy Chart To See What JCP May Do In The Future
(click to enlarge)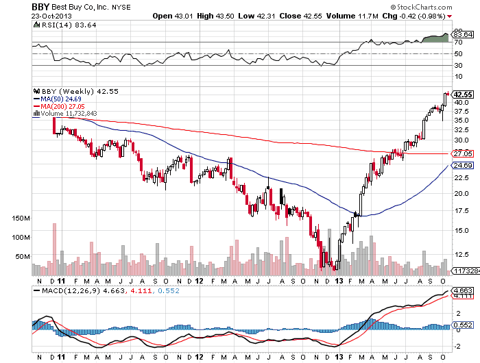 Click to enlarge
This is the weekly chart in Best Buy (NYSE:BBY), a very troubled retailer who turned things around this year. From a low of $11 last December, we are now trading over $42. At $44 it would be a four-fold winner, with a gain of 300% in less than a year.
Disclosure: I am long JCP.
Additional disclosure: I am also short JCP weekly puts for income.