In my last article published over the weekend, click here, I called for a top in gold on Wednesday, Oct. 30, 2013, followed by a two week down cycle. Looks like I was right to be bearish on gold, even if my timing was not exactly perfect. Early Wednesday morning, long before the FED decision was announced, I sent a WARNING message on Stock Talk to use any strength today to liquidate longs in NUGT & GDX. Well, that was prescient advice! And my prediction that the FED decision would be negative for gold, well, it was right on! When the decision did not come out quite as dovish as expected, traders immediately became worried that the taper could happen a bit quicker than the expected March 2014, so they sold gold off quickly to the mid $1330s. DUST popped from $28, on towards $30. I bought some DUST at $28 and rode it up just shy of $30 and took profits. If you followed me on the stock talk where I comment, click here, I then explained that a close above $30 was extremely bullish. I planned to buy in size, on a retracement back to $28, or on a close above $30. I stated that a close above $30 projected $40 and $45 in DUST. Turns out DUST turned back from $30 but then started back up and I was stopped into a long position $29.95 just before DUST hit a daily high of $30.80. No sooner than the top was in, it started selling off and I liquidated just above $30, but began buying dips at $29.50, and every 50 cents lower into a close of $27.23. That last hour GDX rally was ridiculously strong and not justified based on the continued weakness in gold. However this action in GDX & NUGT was not bullish like many wrongfully assumed. This morning, gold is back down hard and GDX will be very weak as expected. Just take a look at the daily gold miner ETF (NYSEARCA:GDX) chart shown below: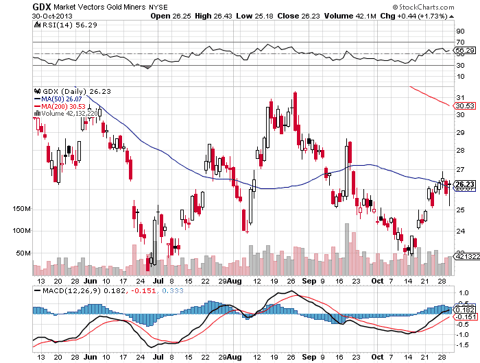 Americanbulls.com is calling yesterday's pattern a very bullish harami cross, click here. But I say Americanbulls.com is wrong. This is a very reliable reversal pattern one sees in a downtrend. Being in a downtrend is the first requirement for identifying the pattern. Unfortunately we are in an uptrend presently in GDX, so one is best to ignore it. No real harm done though since lower prices in GDX will not confirm the bullish pattern and it should have no bearing. So now lets look at the daily triple inverse miner ETF (NYSEARCA:DUST) chart: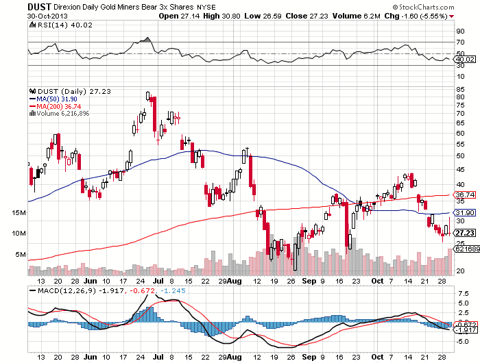 We scored a very bullish flagpole pattern in DUST yesterday. A flagpole is not recognized as a legitimate Japanese candlestick pattern (I created it myself) but it works just the same. It projects higher prices the following day, which apparently will occur today. What is most telling, is the fact that we have been in a hard downtrend in DUST, where virtually every day we have a lower high and lower low. But the last couple days are quite different. The last two days we have had two consecutive higher highs and almost higher lows. Yes, the high of the day on Tuesday, and the low of the day on Tuesday, exceeded what occurred on Monday. And on Wednesday (yesterday) we got another new high, rallying to $30.80. So even though we fell back hard in the last hour, the fact we moved above $30 is quite bullish and cannot be ignored! We did make a slightly new low on Wednesday of 6 cents (pros running stops), but that is negligible and I will treat it as if it also made a higher low since the low was so soundly rejected. With yesterday's action, I got my confirmation that the shift from bullish to bearish in gold, GDX & NUGT has occurred. Folks, it appears to be time to buy DUST!
Disclosure: I am long DUST.