I was bearish gold and the miners in my last two instablogs, found here and here, and encouraged the purchase of the bearish triple leveraged gold miner ETF (NYSEARCA:DUST) over the triple leveraged gold miner ETF (NYSEARCA:NUGT). However, I did not totally trust my own advice and prematurely switched into NUGT and bought Newmont Mining (NYSE:NEM). The reason for my early switch from the bear to the bull camp, was initially the fact that gold was holding solidly above $1300, and appeared to have a bid under the market. But on Thursday's bearish news, gold broke under $1300 to $1295, but quickly traded back towards $1312. At that point, I was convinced things were looking up. Then more bearish news on Friday, killed the gold comeback rally. Still, as we broke down towards $1280 late in the week, the selloff was quite orderly. In addition to gold, the miners showed great relative strength, especially on Friday, when Newmont Mining (NEM) shook off the negative news and actually closed up for the day, along with NUGT.
Another factor that turned me prematurely bullish the miners, was the fact we had important reports to be released late in the week that could support gold and the miners. I was afraid to be short GDX or long DUST, with the excellent chance that news would be supportive to gold. It turns out though, virtually all of the news that came out, was negative to both gold & the miners. On Thursday, 11/07/13, there was a strong GDP report (2.8% vs. 2.0% expected) but the extra .8% was nothing more than inventory restocking which could languish on the shelves. The 4th quarter GDP should be weaker due to the government shutdown and business inventory drawdowns. In Europe, the ECB on Thursday actually lowered rates, which came as a shock (to me at least) since the ECB rarely ever does what is expected. The GDP report pushed the expected quantitative easing taper date up a bit, and the ECB decision helped the dollar strengthen. Undeterred, I bought the triple leveraged gold miner ETF (NUGT) on Thursday at $43.70. Confident that the government shutdown would probably depress the Friday employment numbers, I wanted to buy ahead of the Friday report. But Friday's employment report was strong and not weak at all. This caused gold to sell off on Friday, see the chart:
(click to enlarge)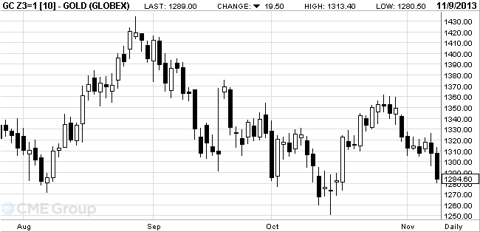 Click to enlarge
To figure out the implications of this large black candlestick breaking solidly under $1300, just look at other black candles that broke support. Counting the 8th candle of September, when we broke support of $1360, we had 3 additional down days before turning higher on the Sept. 18th "no taper" FED decision. Then on the ninth trading day of October we broke under the $1280 gold support area. We would go sideways to lower for 3 days prior to exploding out of the bottom. I again am looking for 3 days of sideways to lower action in gold. Thus, you want to be long by Wednesday, 11/13/14, because on Thursday, we should explode higher in gold.
Back to Friday's trading, NUGT fell to $39 soon after the stock market opened. I would eventually buy NUGT again at $40.04 to average down my $43.70 purchase of Thursday, to $41.87. Thanks to a late day rally, I was able to get out of NUGT at breakeven. But NUGT continued rallying to the very end of the day on Friday, and closed $43.27, up 74 cents for the day. Take a look at the daily NUGT chart:
(click to enlarge)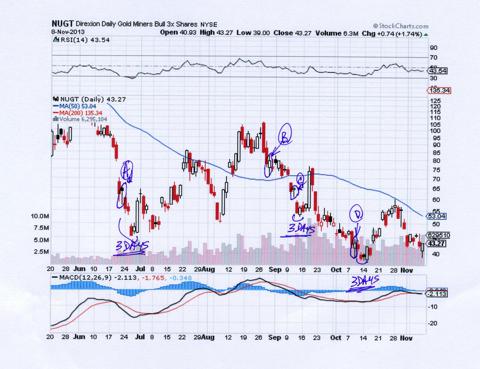 Click to enlarge
On Friday we gapped lower and continued to fall to an extreme low of $39 in NUGT. But then we rallied back to fill the gap and actually close up for the day. To find a similar pattern in the recent past, Friday's doppelganger is 10/09/13, marked as "D" on the above chart. At that time we moved lower for 3 trading days before exploding out of the bottom. Just like in gold, NUGT is projecting a 3 day drop before moving strongly higher. Other examples of similar action is the 6/21/13 bar marked at "A" in the above chart. Also note the action of 9/11/13, marked as "C" in the above chart. Both times we find 3 down days before moving up. For A & C, there was a small up day followed by an explosion up the following day. If we follow this pattern now, Thursday, 11/14/13 may be a small up day and Friday, 11/15/13 is the explosion higher. Whether the explosion higher occurs on Thursday or Friday, I will be set up for the long side by Wednesday's close, 11/13/13. Early next week, I will probably start by gradually selling out of the money NUGT puts, then add NEM and NUGT shares. Late Friday in Stock Talk, I warned that we would probably have to retest Friday's low on Monday, despite the strength we were witnessing. Thus, late in the day I sold 27 strike NEM calls expiring next Friday, for 70 cents, to protect half of my Newmont Mining shares, and bought some DUST in the aftermarket to balance out the rest of my position. I will be cashing out of DUST and buying back the puts, early next week. After a week of confusion, the future path for gold and the miners appears to be quite clear. It will be fun, and hopefully profitable, if the scenario that I am describing, pans out.
Disclosure: I am long NEM.
Additional disclosure: I am long some DUST and short some NEM calls over the weekend, but will be hopefully taking profits on those and then aggressively buying NUGT/GDX/NEM in the next few days, along with selling NUGT puts.