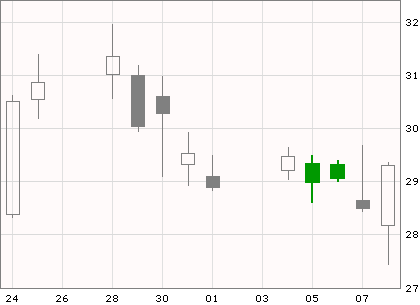 The above chart is from americanbulls.com, click here, which identifies a bullish homing pigeon pattern, marked in the green on the above chart. The buy zone is the middle of the first day's bar, which was $29.19. On Friday we rallied strongly off the early weakness and closed at $29.31, putting americanbulls.com long the stock at $29.19. On any weakness this coming week, this would be a great stock to buy on a retest of Friday's low. Here is the daily chart of AEM: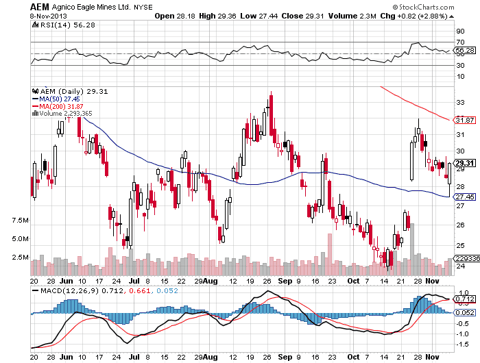 Even on Friday's low, AEM was $3.75 from the recent October lows just under $24. What is amazing is the fact the high of the day, hit near the close, was just 8 cents shy of $2.00. Also, the large gap area that occurred when earnings were announced after the close on Oct 23, 2013, will continue to provide support when trading into the gap area. This should also be an excellent stock to sell out of the money weekly and monthly puts on. I have been buying shares in Newmont Mining and selling puts in that stock as well. Take a quick look at the daily chart of Newmont Mining: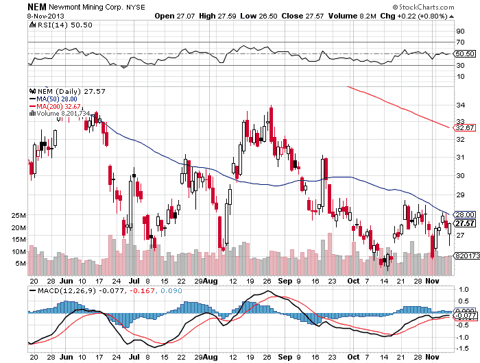 Like AEM, Newmont Mining (NYSE:NEM) rejected lower prices closed near the highs of the day. Unlike AEM, americanbulls.com has been long NEM since November 5th, at a price of $27.35. But what is most amazing about what NEM did can only be seen by looking at the intraday chart of NEM here: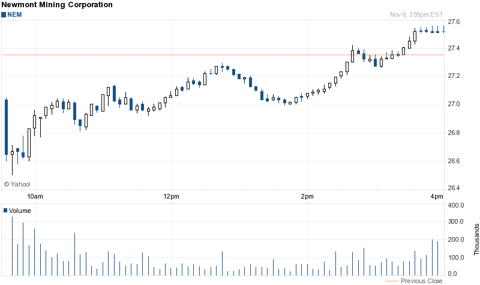 I came into Friday, short a large number of 27 strike puts that I had sold short for 8 to 12 cents, with an average of 11 cents. It was a bit disconcerting to see us fall to a low of $26.50 soon after the opening. But on a rally back up above $27, I was able to balance out the position by selling $27 strike calls, also expiring on Friday, for 16 and 22 cents. Thus as long as NEM went off the board 30 cents above or below $27, then I could break even on the trade. On most Friday's, NEM would have crossed through the $27 price near the close of trading, making both options nearly worthless and allowing option sellers to buy both calls and puts back cheaply, or hold to the close. It appeared for awhile that NEM was going to pin the $27 price. However, on the rally to $27.28, I could tell that NEM was just too strong and on the next dip back to $27, I bought back all calls at 12 cents. I would later buy back the puts for 4 cents and replace them with Newmont stock that carried strongly into the close. It was apparent that if we closed above $27, halfway between the $27 and $28 strikes is the next target. At the end of the day I sold $27 strike calls expiring next Friday for 70 cents, which I plan to buy back next week on weakness. At the end of the day I took profits on the 27 strike puts that expire next Friday, as most of the premium had decayed. I bought into the gold market a bit early this week, but to protect myself in case the reports were bearish (which they were), I sold out of the money puts rather than loading up on shares. Even on a week where the price action went horribly wrong, and against my trades, I still ended up with small net profits.
If I had a few million dollars to invest, I would probably do nothing else than sell weekly puts. Selling out of the money puts is capital intensive, but perfect for someone wanting to make consistent 1 to 2% monthly gains, much better than the interest earned in banks. When I retire in a couple years I plan to specialize in selling weekly puts on as many as 20 to 50 stocks in order to diversify.
Disclosure: I am long NEM.
Additional disclosure: I might also buy AEM this week and/or sell AEM weekly puts. I am short NEM calls against my shares long.