In my last article (click here), I indicated gold and the miners would work lower for three days, Monday thru Wednesday, Nov. 11-13, 2013. I hit it perfectly as gold popped up $18 on Thursday, Nov. 14th, and the gold mining ETF GDX and triple leveraged miner ETF NUGT were up big. bottoming right on schedule. That day Americanbulls.com got long GLD, NUGT, and Newmont Gold (NYSE:NEM), see here.
However on Friday, Nov. 15th, gold managed to rally slightly but the miners gave back much of their gains. Take a look at this daily chart of GDX:
(click to enlarge)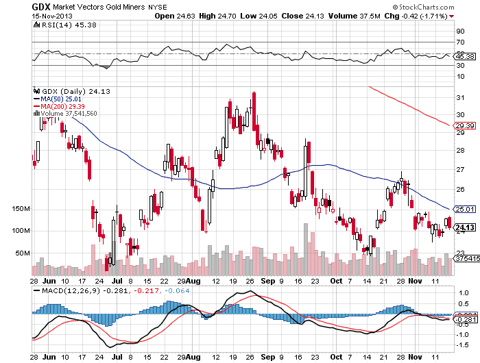 Click to enlarge
Today we did a bearish engulfing pattern which typically suggests a move lower. But today's high was greater than yesterday's high, and although today's low was just slightly lower, we still maintained the Thursday gap that should provide support down to Wednesday's close of 23.91. Also, one can look at the red candlestick on the chart that was formed on October 23rd, right after a nice gap up day. At that time GDX snapped right back and rallied for the next three days. Also, if you look at the gap up days of July 11th & July 16th, each time there were two down days before GDX could continue higher. So the Thursday, Nov. 14th gap up day was followed by a weak Friday and could see some weakness on Monday, then Tuesday could still provide the big rally day we are looking for.
We just got the news that George Soros and other hedge funds were buying GDX but that did not seem to help for today. But after the markets closed, Carter Worth, technical analyst for CNBC, spoke on Options Action with Melissa Lee, and explained why GDX was carving out a long-term bottom, and should be purchased. If you missed the broadcast, be sure and check it out here. As soon as the show came on, buying swept into the miners, causing a 20 cent rally in GDX, 11 cent rally in NEM, and 60 cent rally in NUGT. This could have bullish implications that carry over to Monday morning. I was fortunate that I bought a few NUGT shares 12 cents down from the close, so when we rallied 60 cents up from the close, I was able to dump the NUGT shares I was effectively long after the puts I sold during the day got exercised. Instead of going long 1000 shares of NUGT over the weekend, I am now only long 400. This also frees up cash to buy low priced shares to average down, if there is any weakness on Monday.
NUGT had a $2.99 range on Friday, closing at the bottom of the range. We should rally $1 to $2 above the close sometime on Monday, even if we ultimately fade into the close. No real technical damage was done with Friday's weakness, it was just frustrating to see the miners so weak with gold slightly up on the day. Although we have slipped to as low as 23.50 during the last 11 trading days, GDX has primarily been trading between 24 and 24.90 for these past couple weeks. I would suggest that traders use anticipated strength to lighten up on their positions if allowed to do so in the next couple trading sessions.
If we should close strongly higher on Monday, Nov. 18th, I would expect the rally to continue through Wednesday. If we go sideways to lower on Monday, I would sell out partially on strength, but buy back on weakness, in preparation for a strong Tuesday pop. We have only completed 6 days of trading since the recent 23.50 low in GDX, and have made very slow and measured progress to the upside. We should carry the rally for another 3 to 6 days to complete a time cycle. I can comment more in real time in the Seeking Alpha's Stock Talk thread that runs simultaneously under GDX, GLD, NEM, NUGT & DUST. Hope to see you there.
Disclosure: I am long NUGT.
Additional disclosure: Also long NEM and gold futures