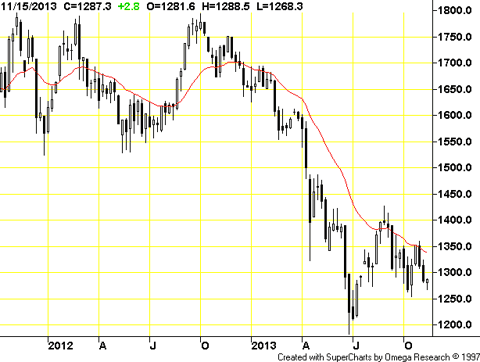 I was just looking at the weekly gold chart and noticed some symmetry. The June low of $1183.20 was a major low in gold, having fallen from just under $1,800 ($1794.80) nearly nine months before. It will be a low that should have some staying power. Now, I know you have heard many pundits touting much lower figures, but I believe the June low is a major low that will hold for at least 15 months, just like the December 2011 low of $1,525 did. Having topped out at $1,911 in September 2011, I am sure falling nearly $400 off the high so quickly, was quite a shock to many a gold bull back in late 2011, similar to the shock the gold bulls of 2013 endured when we finally bottomed in June of this year after a horrific spring.
What is interesting is comparing what happened beginning the first week of 2012, with the action starting the second week of July 2013, each being long white candles. In the beginning of 2012, we would rally for 8 weeks to a high near $1,800 ($1,790). It turns out that starting the second week of July 2013, we also rallied 8 weeks, to a high of $1428. In early 2012, the $265 rally from $1525 to $1790 was 17.4%. In 2013, the $245 rally from $1,183 to $1,428 was a rally of 22.6%. As one would expect, coming from a lower level, the more recent rally was a greater percentage. Beginning the first week of March 2013, we then started a 12 week downtrend back to $1,528.50, losing nearly all of the gain except $3.50. Looking at the first week of September 2013, we also started a down trend and the current week ending 11/22/13, is the 12th week. If the symmetry holds true to form, we should bottom this week and begin a 3 month consolidation period where we trade back and forth in a $100 trading range before ultimately breaking out to the upside. In 2012 gold futures fell from $1,790 to $1,528, a drop of $262, or 14.6% off the high. In 2013, we recently topped out at $1,428 and if we fall an equal percentage of 14.6%, it would project a drop of $208, and a price of $1,220. Today's low was $1,235.80 and we have one more day of trading this week. Last night I wrote an article projecting a bottom by $1,227, and we are right in that zone.
Once we do bottom, which I feel will occur within the next 2 or 3 days, we should quickly bounce back about 4% like we did in 2012. Back then a 4% pop amounted to $62. Today counting from about 1225, it is $49, or we will round it off to $50. Then if we fall back down and the bottom holds again, we could next time shoot for a 6.8% rally to match 2012, which would carry us up about $83 out of the bottom towards $1,300. It makes a lot of sense to consolidate between $1225 and $1325, or $1200 and $1300, about a $100 range for the next several weeks while the market tries to figure out when the Fed starts to taper and the affect it will have on the markets. From how I hear it explained, it appears the taper, when it does start, will occur maybe only 10 billion per month, or quarter, so to drop from $85 billion to zero, it will likely take a couple years. So QE (quantitative easing) is here for a long time, and depending on how weak the economy is, could in fact be increased in the future.
The future does not have to exactly follow the past, but markets do appear to move in cycles, and the 12 week downtrend we are experiencing in gold futures and in the miners has fulfilled all targets and goals and is due for at least an extended sideways consolidation phase of weeks if not 3 months, and is more likely to be resolved to the upside than down. I put my prediction against Goldman Sachs or anyone else making a prediction of future gold price action. None of us really know where prices are headed, but some of us know a bit less than others. Time will tell who exactly that is.