Gold And The Miners Need To Rally Almost Immediately
Just yesterday I wrote an instablog (click here), explaining how the current decline in GDX correlates exactly with the decline in June. If correct, Friday, 11/22/13 was the low mark in GDX for this move, just like 6/26/13 was the low mark previously. Friday did close right down on the low, similar to 6/26/13 when GDX closed just one tick off the lowest price of the day. Closing on the lows while making a solid dark body is a bearish marabozu candle, which can show capitulation (which is what you want to see at a bottom and is therefore bullish).
For an excellent technical article that explains where we currently stand in both gold and silver, a must read is "Gold And Silver - Charts Tell The Story. Decline Not Over" by edgetraderplus, just published on SA (click here). In this article, the writer explains how gold and silver need to immediately move higher beginning Monday. He also explains how one follows the volume trail that helps one discern the actions of smart money. Right now there are clues that smart money is buying, so the market is trying to bottom in here, but it is not yet definitive. My bearish son was so impressed that GDX did not make a new 4 1/2 year low on Friday, in the last few minutes of trading, he decided to buy on the close and added more in the aftermarket. With the 6/26/13 low of $22.21, Thursday's low of $22.23, we can now add the Friday low of $22.25. There are surely a lot of stops just under $22.21 which is an inviting target for big money to hit. So the fact that buying prevented the stops from being hit two days in a row, is quite impressive.
However, if gold is significantly lower come Monday, we will most surely open down on Monday in GDX, below the stops. In that case the stops will trigger on the opening, but that should become the low of the day and we should rally the remainder of the day and likely close up, which would then be quite bullish.
If GDX Makes A New Low, It Should Be By No More Than $.75 to $1.50
In studying the long-term price action of GDX since it was created in May 2006, and major mining stocks over the past ten years, I have noticed a pattern of GDX to make marginal new lows, but only by $.75 to $1.50. For an example, take a look at the following weekly chart that goes back 3 years: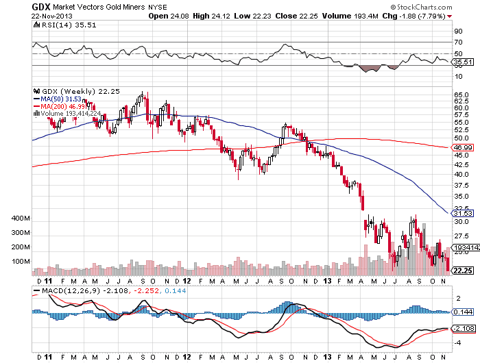 If you look at the far left side, one can see how in early 2011, GDX bottomed at $51.77 during the 4th week of January. This low correlates almost perfectly with the recent $22.21 low of late June 2013. It is hard to see as printing obscures much of the chart, but in 2011 we formed a head and shoulders pattern. The price of GDX climbed for 5 weeks and then fell for 2 weeks, forming the left shoulder. Then it climbed for 3 more weeks, forming the head, with a high price of $63.30 the first week of April 2011. We then fell 5 weeks to complete the head, and coming within 90 cents of the $51.77 low. Then to form the right shoulder, GDX rallied 2 weeks and fell 3 weeks to make a marginal new low at $50.43, an additional $1.43 below the previous low.
Now we can contrast that action with the current action, beginning with the June 26th low of $22.21. Now we rallied 3 weeks and dropped less than 2 weeks to form the left shoulder. Next we rallied 3 weeks to top out at $31.35, but fell 7 weeks to complete the head. While completing the head, the recent low of $22.93, was 72 cents higher than the recent yearly low, quite similar to the 90 cents in 2011. In 2013, we rallied two weeks to form the right shoulder, just like in 2011. In 2011 it took 3 weeks to form the final right shoulder, whereas we have currently fallen for 4 weeks. In 2011 GDX made a new low by $1.43 but so far in 2013, we have held the support by 2 cents. If we should make a marginal new low next week before rallying, it should not be more than $1.50 and I will be surprised if we fall any lower than $21.35 (slightly less than $1 below support) if we should make a new low.
Back in 2011, once a marginal new low of $1.43 was scored, another head and shoulders pattern was formed, but when completing the head, a new low was made by $.67 down to $49.76. Then when forming the final right shoulder, GDX traded down to $48.72, a new low by $1.04. That low would hold for several weeks before ultimately beginning a protracted selloff. What happened was a left shoulder was formed but instead of rallying up to begin forming the head, GDX crashed down and kept falling. Never should the left shoulder completion overshoot to the downside, so as soon as it did it was a major sell signal.
Looking at it again though, a third head and shoulders was formed but a very quick one, as we rallied 2 week and fell a week to form the left shoulder. We rallied 1 1/2 weeks and fell 2 1/2 weeks to form the head, and rallied one week and fell 2 weeks to form the right shoulder. Once the bottom was broken, it initially fell only $1.16 for 2 1/2 weeks while trading back and forth a few times, trying to bottom. GDX did not give the strength easily, even when it was doomed to keep going lower.
What I have shown is that in 2011, GDX completed two complete head and shoulders patterns, similar to the one just completed now in 2013. In 2011, new lows were marginal, and I suspect the same will be true now, if we should drop a bit more early next week. This would also correlate to gold holding major support at $1,220 at $1,200, and/or $1,180. I would say that only a decisive break of $1,180 in gold could derail this analysis. Should that occur, all bets are off and gold miner positions, especially the triple leveraged ETF (NYSEARCA:NUGT) positions, should probably be abandoned immediately. Gold is right now 5% above the $1,180 major long-term support. If tested, GDX could drop 7% to 10% which would bring GDX down to as low as $20. A 10% drop in GDX, correlates to a 30% drop in NUGT, down towards $22.50. But even then, GDX should eventually rally back closer to $27, which would pull NUGT back up to $45. However, that could take 5 to 6 weeks and would not be a pleasant trip. Thus, if we don't immediately start rallying in the next couple days, I plan to liquidate half of my NUGT position at a loss, to raise capital to buy the shares back at lower prices. If accomplished, it should allow me to average down my overall price significantly, making my breakeven price quite attainable. Also by scalping and trading around the position during normal dips and rallies, my breakeven should be lowered even more.
The Onus Is On GDX To Prove It Can Indeed Move Significantly Lower
When trading at such extreme low valuations, under extreme oversold conditions, with sentiment at such negative extremes, the onus is on GDX to prove it can indeed move much lower. I feel that to move lower is a much more difficult feat to accomplish than to rally. If GDX can prove it is up to the task of moving down below $20, then I will declare GDX the victor and will dump out my shares and take my loss at $22 in NUGT, having lost nearly half of my investment since my NUGT shares had an average price of $40 to $41. Short of that, I intend to ride thru any pain but will sell up to half of my position to facilitate lowering my breakeven. I will also aggressively day trade to also make money. Regarding shares I own in Newmont Mining (NYSE:NEM) or GDX, which are not leveraged, I will ride out any down draft until I can liquidate the shares at a profit. I have tried to set out the possible trading parameters that we might encounter going forward.
Disclosure: I am long GDX.
Additional disclosure: Also long NUGT & NEM