To get some perspective on the recent bearishness the gold mining ETF (NYSEARCA:GDX) has suffered, I decided to compare it to what happened in 2008. Below is the weekly GDX chart from 2008.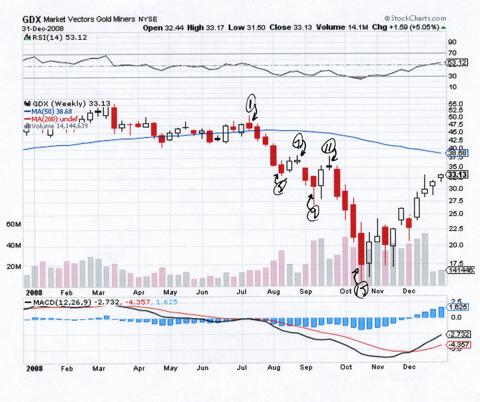 You will notice that from late July 2008 to late October 2008, GDX fell from a high of $50.70 to a low of $15.48, a drop of 69.5% in just 15 weeks. There were up weeks in week 6 & 7, as well as weeks 10 & 11. That is a total of 4 up weeks and 11 down weeks in all. Like now, the sixteenth week did not make a new low, but did retest the bottom before rallying. Now compare 2008 to the current weekly GDX chart below: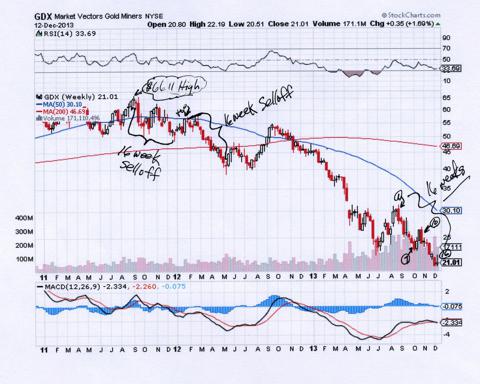 The current bear market that began with a high in GDX of $66.11 in early September 2011, has fallen as low as $20.56, a drop of 68.9% so far. But instead of dropping for just 15 weeks, it has taken 2 years
& 14 weeks (118 weeks total). But concentrate at the right of the chart. After we bottomed in late June at $22.21, we rallied up for 7 weeks to as high as $30.94. That was 16 weeks ago. What has happened for the last 16 weeks? We fell for 7 weeks, got a two week rally, and have now dropped for another 7 weeks. Not counting the current week that is barely up after today's trading, we have only enjoyed two real up weeks out of the last 16, and they occurred in the middle of the current down draft.
I got caught long near the end of the 4th week of this 16 week fiasco, and had to suffer for 3 weeks before the two week rally bailed me out, with GDX rallying to $26.91 and NUGT stopping just under $60. I then started buying again in the mid to low $40s in NUGT in that hard down week #10. This is now week # 16 so the pain has gone on for 7 weeks, but it seems like an eternity. It would appear that when an entity falls basically 14 of 16 weeks and loses a third of its value in the process, a rally is definitely in order. On the chart I marked some earlier selloffs that also lasted 16 weeks.
We are now so oversold that when the RBC Bank technician George Davis called for a move to $1060 this week, (click here and go halfway down the page to find the video), this bear felt that the selloff would not begin until the middle of January 2014 and conclude in February 2014. On a short-term basis he felt we were due for a rally to $1305. When the bears don't feel safe selling into a hole and want to see a significant rally of nearly $100 to get short, you know it has been pretty depressing. It also encourages us to at least wait for that rally to $1305 in gold, before bailing out of our long positions in the miners.
The month of November and early December 2013, has been a very difficult time to play GDX, as Americanbulls.com failed on four of the last 5 trades, counting the current long of a couple days ago. Their system did not take a loss or reverse on today's weakness, and I am hopeful that over the next week GDX moves back up and lets Americanbulls.com take the last trade off at a profit. It is very difficult to find where their system is wrong this often, so they are due for a better streak, and so are we. Although gold and the miners may suffer future carnage before the ultimate bottom is in, on a short-term basis, all downside targets have been met in both price and time.
Disclosure: I am long GDX.
Additional disclosure: Also long NUGT & NEM