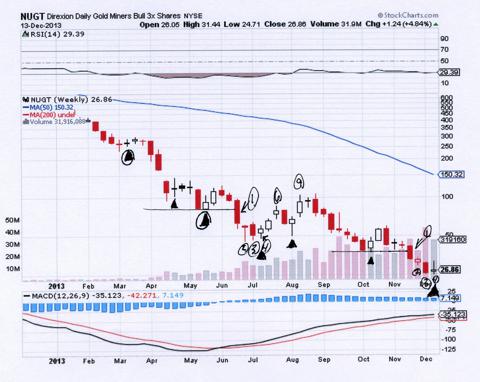 If you click here, you will get an explanation of the Bullish Harami pattern by Investopedia. Looking at the weekly triple leveraged gold mining ETF (NYSEARCA:NUGT) chart above, one will notice that we were in a downtrend with the previous week's candle a long red candle. However, this week we just completed a candle with a small white body that is within the previous range of the red body of the previous week. In Japanese, Harami means pregnant. The small white body (baby) that was formed this week, projects a reversal to the upside. Better yet, the smaller the small white body is, the more likely the reversal. The small white body (baby) as seen in the chart, is quite small as the opening and closing price of the week is nearly the same. If it was any smaller it would be a Doji. This has extremely bullish implications.
Looking at the chart above I made a black triangle under this week's candle. Counting back eight weeks, you will notice I marked another triangle as that was another bullish Harami pattern that projected a rally that did occur the following week. Continue back and you will see many triangles and each Harami pattern projected a rally that did indeed materialize. On weekly charts, one can see that Harami patterns are extremely reliable bullish indicators. This is extremely good news for NUGT holders.
But it gets better. In a previous article posted on December 3, 2013, click here, I explained in the last paragraph that when NUGT breaks down and makes a new low, when it recovers, it rallies high enough to allow the buyers of the last low out at a profit as well as those who bought at the previous low. The following table illustrates this point:
| Previous Low | Current Low | Rally High |
| --- | --- | --- |
| $96 | $81 | $124 |
| $81 | $45.50 | $106 |
| $45.50 | $37.83 | $59.87 |
| $37.83 | $24.71 | ??? $50 ??? |
Anyone who got long at the low of $37.83, even though we have fallen as low as $24.71, if they hold out for the next rally, the previous data would project a rally to $50, if we rally a similar percentage above the previous low, as we have in the past.
Now returning to the chart at the beginning of this instablog article, one will notice that I drew horizontal line below the $81 low NUGT made in May 2013. The third week of June, the low was broken with a long red candle, and I marked that week as week #1 on the chart. The next couple weeks we also dropped, and they were marked as week #2 & #3. Then the next week, marked as #4, NUGT did a bullish weekly Harami pattern. A couple weeks later, in week #6, the rally to $85.70, let anyone out who bought at the last low ($81), and in week #9, finally those who bought at the previous low ($96) could get out on the rally to $103, and two weeks later, again at $106.
Now move along to October and notice that I drew a horizontal line under the $37.83 low. Notice that in the middle of November, the support was broken and I marked that red weekly candle as #1. Again we continued lower for another couple weeks, #2 & #3. Then this week, in week #4, a bullish Harami pattern appeared right on schedule. If we repeat the previous pattern, one would expect a rally above $37.83 within the next couple weeks, and a move to $50 in NUGT, three weeks later.
Disclaimer:
The thoughts and opinions in this article, along with all stock talk posts made by Robert Edwards, are my own. I am merely giving my interpretation of market moves as I see them. I am sharing what I am doing in my own trading. Sometimes I am correct, while other times I am wrong. They are not trading recommendations, but just another opinion that one may consider as one does their own due diligence.
Disclosure: I am long NUGT.
Additional disclosure: Also long NEM & GDX