So the Fed decided to do a small taper and they threw out a carrot of keeping rates low. Just before the report, February gold futures hit $1244, which was $9 above the $1235 1:30 p.m. EST close. When the report hit, gold fell quickly to $1220, but then rebounded within a few cents of the high of the day. It appeared we would stabilize and likely end the day in the low $1230s. The miners looked like they were going to continue to build a base and close with a solid gain. But the dollar started gaining strength in the last hour when the stock indices made new all time highs. When gold fell below $1230, it dropped to a new low of day of $1215.20, pulling the miners down with it. Although Newmont Mining (NYSE:NEM) (outperforming all day) did manage to close up 3 cents for the day, the gold mining ETF (NYSEARCA:GDX) was pummelled and closed $20.86, making new lows on the close and ending just 35 cents above the recent 5 year low of $20.51. With two days left of trading this week, the weekly chart of GDX looks like this: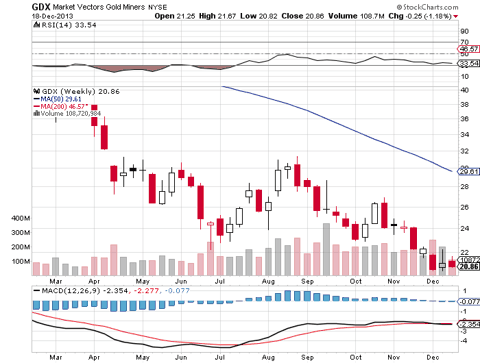 If the gold mining ETF (GDX) gains more than 25 cents over the next two days, we could still have an up week, and continue the base building that was started recently. The bullish weekly Harami pattern projecting higher prices for the next 2-3 weeks, I wrote about in my last article, click here, could still happen, but gold needs to stabilize above $1200, and hopefully $1210. No real damage was done today, but when NUGT went from a high of $29.08, to close $25.97 down $1.23, today was extremely frustrating.
I continue to hold my NUGT/GDX/NEM shares and continue to believe any new low in GDX should be extremely marginal and we should continue to build a base to launch from. End of year tax selling should be ending, and there is no more headline risk for now. Despite today's failure to launch, I still expect a relief rally to occur, now that the Fed has spoken and there is more certainty regarding tapering. Today's late day selloff appears to be overdone.
Disclosure: I am long GDX.
Additional disclosure: Also long NUGT & NEM