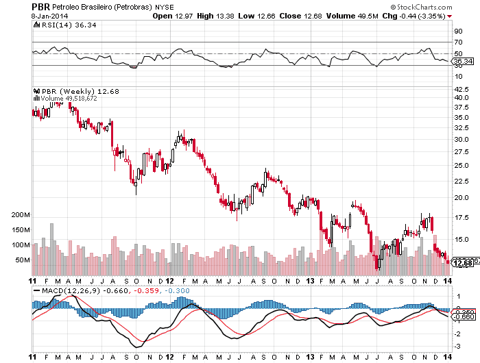 The above weekly chart of Brazilian oil giant Petrobras (NYSE:PBR), shows that we are now quickly approaching the multiyear low of $12.03, set on July 5, 2013. Although this is a classic chart of a falling knife stock that pundits will say you should never try to catch unless you want to get bloody, I say that it shows a lot of promise as a very "catchable" falling knife stock that should be quite rewarding to the brave souls who venture to buy it using patience, skill, and sound money management techniques.
I successfully traded PBR in 2013 and plan to do so again now. I last wrote about PBR on May 7, 2013, click here, where I explain how I was exercised on PBR $16 strike puts which left me effectively long in late February 2013 at $15.65. We bottomed a couple weeks later at $14.24 and I added some additional shares to get my breakeven about $15.00. The next week we zoomed to a high of $17.85 and I was out. In the March 7, 2013 article I said we should hit a high of $19.50. You would have to hold through a low of $15.13 but on May 6, 2013, my target was met when PBR topped at $19.65.
From that high we fell all the way down in 8 weeks to the $12.03 bottom before eventually hitting $17.97 in November 2013. From that high we have now fallen for 7 weeks and I finally purchased a few shares today with an average price of $12.70.
Why Would Any Sane Person Want To Own This Company?
If you check out Seeking Alpha, you can read a couple bullish articles posted recently and a couple bearish. Bottom line, all the negatives are almost completely factored into the stock. I don't know what the eventual outcome will be on the fundamental side, but I know with their major reserves, and adequate financing to cover their debt, they are not going bankrupt anytime soon. Based on my calculations, PBR is probably a couple weeks away from a major bottom again and I don't plan on staying in long enough for any new bad news on the stock, to hurt me. I will very cautiously scale trade in, buying a little every 25 cents the stock drops from here.
Everything that I need to know about PBR is found in the above weekly chart. On October 3, 2011, PBR bottomed at $20.44, but would top out 18 weeks later at $32.10. If one bought PBR when it retested the low, the support broke and they could keep buying down to the June 25, 2012 low of $17.08. When PBR topped 11 weeks later at $24.55, it let the falling knife catchers from the last two bottoms, ($20.44 and $17.08) make money.
The next time the $17.08 bottom was tested, support held at $17.63 and 3 weeks later PBR topped at $20.41. On the retest of support, in February 2013, the support failed to hold and we stopped falling at $14.24. Anyone who bought though at the $17.63 support and again at the $14.24 support, were redeemed when we rallied to $19.65 in May. Again, PBR managed to put in a rally to cover the last two bottoms. It did not make it to $20.41, which would have covered buyers at the last 3 bottoms.
After the $19.65 May 2013 high, if one had purchased PBR at the $14.24 low which did not hold, they could buy more down to the $12.03 bottom in early July 2013. In 3 weeks PBR came back to $14.76, letting the bottom pickers of the last two bottoms ($14.24 and $12.03) get out at a profit. But in October and November 2013, PBR rallied on up to $17.94 & $17.97, letting the bottom picker of three bottoms ago ($17.63) make a profit. The previous two rallies from lows only made the last two bottom pickers whole. This time, 3 bottoms were covered.
What this tells me is that if I buy on the retest of the $12.03 low, it the support holds, I will ride PBR back to the $14 to $15 area and be very happy. But if the bottom falls out, the next low should be no worse than $10 or so. I should then be able to buy down to that $10 low, and then expect a rally high enough to cover the last two bottoms and most likely three. The last two bottoms will be $10 and $12.03. If we cover three bottoms back, then we get a rally above $14.24. Again, if PBR breaks the $12.03 low, the ultimate bottom should come in the next 2-4 weeks. From that low, one can expect a rally to at least above $12.03 and most likely $14.24, based on past experience.
Disclaimer:
The thoughts and opinions in this article, along with all stock talk posts made by Robert Edwards, are my own. I am merely giving my interpretation of market moves as I see them. I am sharing what I am doing in my own trading. Sometimes I am correct, while other times I am wrong. They are not trading recommendations, but just another opinion that one may consider as one does their own due diligence.
Disclosure: I am long PBR.