(click to enlarge)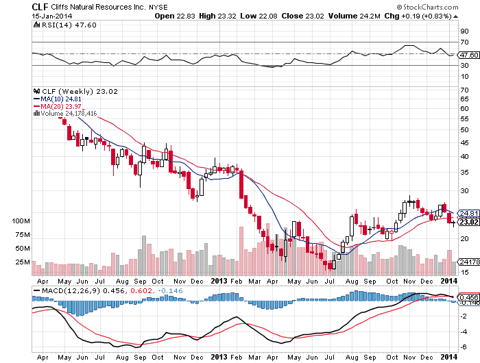 Click to enlarge
Above is a weekly chart of CLF. From the recent top in November 2013, counting from the first big red candle, this is the 8th down week. From August to October we had a similar 8 week selloff from $25 to $20, before a big rally to $28.82. Now that we have fallen a similar 8 weeks from $28.82 to $22, I am looking for a short-term bottom and quick rally to above $30. In May to July there was also an 8 week selloff to the multiyear low. Based on time, we should bottom shortly in CLF.
For some history, in December 2012, Cliffs Natural Resources Inc. (NYSE:CLF) bottomed at $27.40. having fallen from $94 hit at the August 2011 peak. Prices recovered back to above $35 in early 2013. Then in February 2013, Goldman Sachs came out with a bearish call on iron ore prices and CLF fell to a new low. When the price tried to stabilize in the low $20s, GS came out again and slammed the stock, stating iron ore prices were about to fall to a ridiculous low of $65/ton. In April the stock fell to the $16s and would finally bottom in July just above $15. From the lows CLF recovered to a November high of $28.82, but has fallen back again recently.
It turns out iron ore prices hardly spent any time under $110, a far cry from $65. Yet CLF has never recovered back to the $35 price it was trading when GS came out with their bearish 2013 call. On January 14, 2014, GS came out with a bearish iron ore price call for 2014. Thanks to the call, iron ore prices slipped that day just under $130/ton. It was the first time the prices were under $130/ton since August, 2013.
The same day GS came out with their bearish call on the iron ore sector, Deutsche Bank upgraded CLF, so the stock went up instead of down, on January 14th. With today's action on the 15th of January, we have a bullish harami cross pattern and potential buy according to americanbulls.com, if we can get a higher opening and close on Thursday. Here is a daily chart:
(click to enlarge)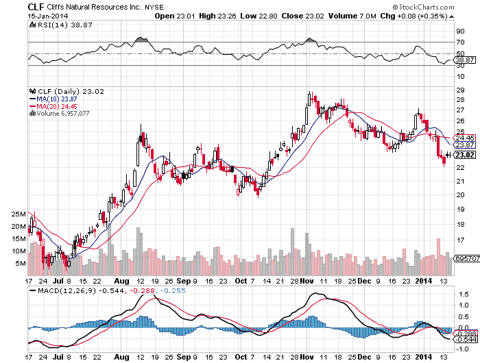 Click to enlarge
CLF mines both iron ore and metallurgical coal, used in steel making. I made money in the stock in 2013 and feel it still offers value in 2014. Now that it has fallen back from its recent highs, I am looking to buy it again from $23, to as low as $20 if it should fall that low. I am hopeful that $22 will be the low on the current downturn, as it represents a typical substantial drop of $6.50 from the recent high. It is proportionate to the amount the stock has fallen on recent selloffs, prior to rallying.
Disclaimer:
The thoughts and opinions in this article, along with all stock talk posts made by Robert Edwards, are my own. I am merely giving my interpretation of market moves as I see them. I am sharing what I am doing in my own trading. Sometimes I am correct, while other times I am wrong. They are not trading recommendations, but just another opinion that one may consider as one does their own due diligence.
Disclosure: I have no positions in any stocks mentioned, but may initiate a long position in CLF over the next 72 hours.