(click to enlarge)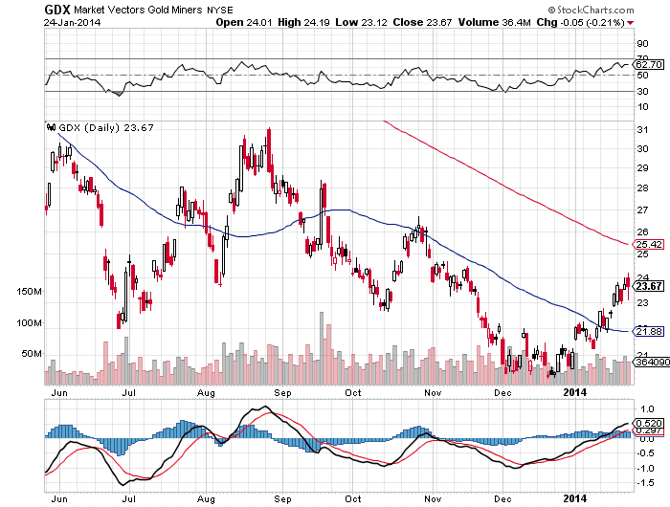 Click to enlarge
The above daily chart of GDX shows how we opened one tick above the previous day's $24.00 high, made a quick top at $24.19, and then fell hard down to $23.12, almost filling the gap left the previous day from $23.09, and then rallied to nearly unchanged into the close, like nothing had happened. I had very high hopes coming into today as February gold had finally broken out above $1268 resistance and looked to usher in a move higher to $1300 in gold that would pull the miners to new heights. However, although gold did open the door to higher prices, it failed to pass through the door and is still standing in the doorway. And while gold was just sitting there, up slightly most of the day with little movement, the miners were reeling.
NUGT Formed A Bearish "Hanging Man" Candlestick Pattern Today
The triple leveraged bullish mining ETF (NYSEARCA:NUGT) rallied a couple dollars to hit a high of $40.17, only to then fall to a low of $35.10, before recovering to close down just 23 cents at $37.65. The candlestick pattern formed something approaching a bearish "hanging man" pattern, which is an early warning sign of an impending top. After a day like today, the market needs to quickly begin a move higher with no repeat of the wild swinging action we saw today. If we don't take out today's high in both NUGT and GDX within the next two days, which is Tuesday, January 28, 2014, then I expect we have seen the high for this move and will start a corrective "b" wave lower.
With the upward momentum that we have achieved recently, and with a new high being scored soon after the opening, it was nearly a given that one would be able to buy into the severe weakness as one can almost always "buy the first dip" off of new highs. Normally, one expects the market to snap back and retest the highs and may actually make a marginal new high before rolling over. When I saw the high today of $24.19 and low of $23.12 in GDX, I expected a snap back of 50% late today or on Monday at the latest. I played for a rally back to $23.65 to $23.70, which we exactly achieved by closing at $23.67.
GDXJ Is Now Underperforming GDX
Adding to my caution is the fact that the Junior mining ETF (NYSEARCA:GDXJ), underperformed GDX the last couple days. During rallies GDXJ should outperform to the upside and during selloffs, it should underperform. The last two days this week, GDXJ underperformed GDX, and that also is an early warning sign. Once GDXJ starts underperforming, it is very difficult to switch to being an overachiever again and usually foretells an impending short-term top. Take a look at the following chart.
(click to enlarge)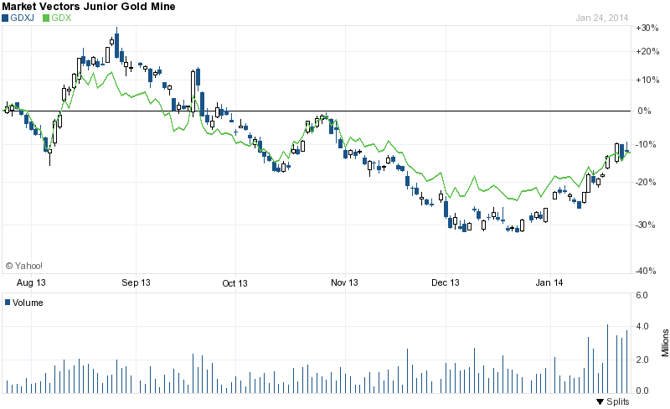 Click to enlarge
Recently GDXJ caught up and got above GDX in the last few bars. Today's weak lower close is not shown, but if it was added, one would see that we have gone from trading above GDX, to now returning below the green GDX line. Back in early November 2013, on that rally, once GDXJ made a long red candle (shown as blue on the chart), closing below the green GDX line, it never overtook GDX again and continued falling harder into the recent low. One needs to closely track GDXJ vs. GDX early next week to see if today was an aberration. If GDXJ continues to underperform, it is a telltale sign we are not moving higher.
April Platinum Fell $34.60 Today While April Gold Closed Up $2
When April gold bottomed at $1182.30 on 12/31/13, it has since managed to rally about $91 to today's high of $1273.20. Meanwhile, April Platinum bottomed at $1315.80 on 12/19/13 and topped so far at $1462 on 1/21/14, a gain of $146. Platinum bottomed before gold and now has topped before gold. Platinum has outshone gold during this rally by popping an extra $55 as traders were placing long Platinum/short Gold spread bets during the rally. Today, traders took profits on that spread causing Platinum to top and plunge nearly $35, as they sold the Platinum side of the spreads. They were buying the gold contracts back which leant support to gold and allowed it to close up $2. Maybe you think gold can rally on its own without Platinum, but believe me it cannot. I do realize there was strike talk in Platinum mines in Africa and today's plunge was just removing the strike premium, you might argue. However, the Platinum chart now looks toppy and has some work to do before moving higher. Also, silver topped out a couple weeks ago and is threatening to fall out the bottom. You can look at those charts on your own, but I will post the daily April gold chart as follows: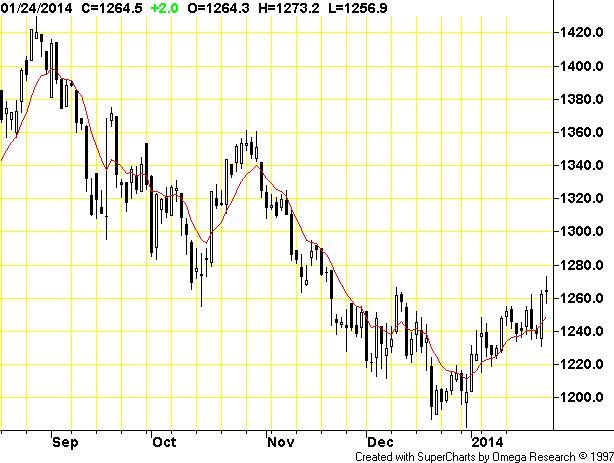 It is interesting to note how similar today's "doji star" candlestick is to that of October 28, 2013 when we reached $1360 on a previous rally. After this pattern in late October, we would not make a new high over the next couple days and rolled over. One needs to closely monitor gold now, over the next couple trading days, to make sure a similar thing does not happen. Again, if gold does not move higher, closing above $1275 by next Tuesday, I would again venture to say the top is in on the present up move. With the Fed decision coming out in midweek, it could be extra difficult to get traders committed enough to the long side to cause an extension of the rally prior to the January Fed decision. I don't plan to be in when the taper or no taper decision is announced.
The Triple Leveraged Bearish Mining ETF (NYSEARCA:DUST) Is Showing Signs Of A Possible Bottom
At americanbulls.com, they sold out of their DUST position in late December at $43.95 and have since remained in cash. However, they tell us that today's "Bullish Meeting Line" pattern hints of a bullish resurgence, and may get a buy signal shortly, click here. Although americanbulls.com is still long GDX and NUGT, along with several individual mining stocks, they noted negative influences with today's action which could soon lead to liquidation of the long positions.
Since I already own some DUST shares that are balanced out with NUGT shares, I plan to use any strength I get in the miners in the next couple days, to unload my NUGT shares at a profit, and then concentrating more on the DUST shares. Odds strongly favor DUST positions or no positions when the Fed speaks, based on history. I don't have a lot of DUST shares and am not worried about holding them through a Fed Announcement. I am not comfortable holding NUGT shares since they have rallied so far from their recent lows.
Conclusion:
I have not become an outright bear, although I did lighten up on my longs into the close. My son and I discussed today's action for much of the day and with the late day rally, my son who sold half his large GDX position earlier in the day, elected to completely liquidate by the end of trading today, getting that 50% kickback on the close. I am very neutral at this time with only slightly more NUGT shares now than DUST. Being neutral, I do not feel comfortable being committed to the long side without seeing signs that we are about to move higher. I especially want to see the bearish signs of Friday, being reversed. If they are not reversed and instead the bearishness is embellished early next week, then I may switch to a bias towards DUST. I have a small position in DUST and can easily balance it out with NUGT shares again, should conditions change.
One change I plan to implement in 2014, is not getting myself committed into a long-term bloody battle, losing equity that I have to make back. I plan to be much more flexible and tend to favor more of a balanced Lefty teeter-totter approach to NUGT and DUST. On almost every trading day, NUGT and DUST switch back and forth as leaders. I hope to be able to better discern the leadership changes on both a daily and weekly basis, and try to follow the winning side.
Disclaimer:
The thoughts and opinions in this article, along with all stock talk posts made by Robert Edwards, are my own. I am merely giving my interpretation of market moves as I see them. I am sharing what I am doing in my own trading. Sometimes I am correct, while other times I am wrong. They are not trading recommendations, but just another opinion that one may consider as one does their own due diligence.
Disclosure: I am long NUGT.
Additional disclosure: Also long DUST.