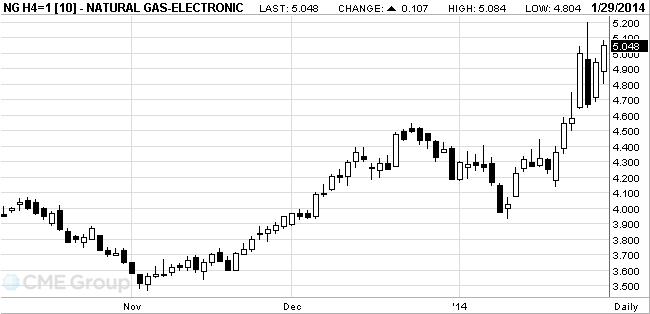 The above daily chart of March Natural Gas is posted in real-time and today's close may vary from where it is currently trading. As February Natural gas quits trading as of today, I have moved to the March contract that is now the lead contract. On Monday of this week, February Nat Gas hit $5.442 before falling back to a low of $4.828 per million BTUs. In the March contract shown above, it hit a high of $5.199 before falling to $4.650 million BTUs. What this action shows is that natural gas does indeed trade both ways.
I Wrongly Thought $5.00 Would Have Been Stronger Resistance
When I wrote an article about the triple leveraged Bearish Natural Gas ETF (NYSEARCA:DGAZ) last Friday, click here, I thought that we would stop at the formidable $5.00 resistance, but we cut right on through in both February and March natural gas. I went long DGAZ at an average price of $5.30, believing in the article that $5.38 or lower was a buy. However, with the spiking of natural gas to $5.20 in March and over $5.40 in February, we bottomed in DGAZ at $4.57. Fortunately we got the Monday selloff in Natural Gas, which caused DGAZ to rally to $5.67 so I could liquidate at a small profit. I realize through this experience that DGAZ can swing much further up, and especially down on spikes, than one would normally anticipate. It is critical that one buys very small and averaged down to keep the average price as low as possible.
It May Now Be Time To Start Accumulating DGAZ
Today, DGAZ made a new low of $4.34 and I went long a small position at $4.39. DGAZ is leveraged and has some slippage so it made a new low even though natural gas did not make a new high today. Here is a chart of DGAZ taken in real-time:
(click to enlarge)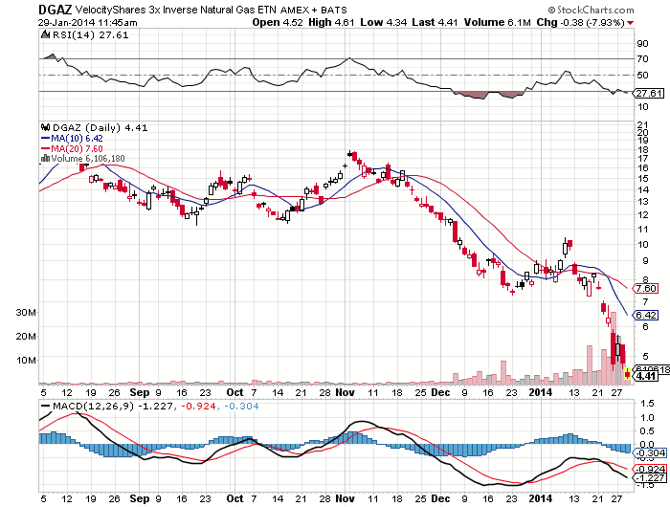 Click to enlarge
Where Are The Expected Resistance Levels In Natural Gas, And What Prices In DGAZ Should Be Support?
When averaging in, it is important to buy a little at first and then add every so many cents that we drop. I am currently looking to add every 20 cents lower from my initial $4.39 buy for my core shares, but may buy additional trading shares to day trade that I will not hold overnight. To see where we might stop on the current rally, it would be good to look at a long-term natural gas chart as follows: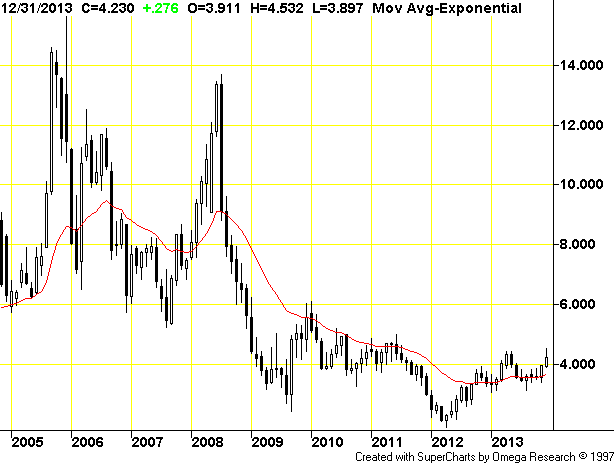 It is apparent from looking at the long-term chart that $6.00 is extremely formidable resistance. A couple weeks ago March Natural gas dipped back under $4.00 after exceeding $4.50, and back in early November it traded at $3.50. We have come a long way to trade above $5.00 in such a short period of time.
I would say that if March Natural Gas spikes to $5.50 to $5.60 area, it should correct from there, as well as a spike to $6.00 to $6.20. From the $5.05 area it presently is trading at, the above target areas are 10% and 20% higher. That means DGAZ would fall 30% and 60% lower from current values. From about $4.40 on DGAZ, it could fall to $3.08 if we get the 10% spike in natural gas, or $1.76 if we should pop another 20% to the $6.00+ area. There should not be a spike so powerful we move from $5.00 to $6.00 in one big swoop. So we can concentrate on the $3.08 target and assume that is the most short-term that DGAZ could fall without a bounce back.
An Optimal Scale Trading Investment Plan For DGAZ
If you have $40,000 to invest, just take the figures below and multiply the share buys by 10. If you have $12,000 to invest, just multiply by 3. I will set up the plan based on a $4,000 total investment.
With $4,000 to invest, I could invest roughly $500 now and on every 20 cent drop, for 8 incremental buys. At $4.40 I could buy 113 shares. As we fall to $420, $4.00, $3.80, $360, $340, $320, and $3.00, I could slowly buy more shares as $500 buys more shares on lower prices. At $3.00 I would be buying 167 shares when I started out with 113 shares. Getting more shares each increment lower, makes the break even lower than the 50% average one would normally expect. The average of $4.40 to $3.00 averages out at $3.70, but one would have an average price of closer to $3.50 if one spends the same $500 on every incremental buy.
With this strategy, it would not take much of a correction to break even and it keeps one from getting nervous on the natural gas spikes as they are programmed into the plan. It also helps to space out the buys so the entire account is not used up initially and no funds are left to make the buys at the bottom. It is the bottom purchases that will make all the money. It is the last buy and not the first buy that will be the big winner. If one has already used up their funds, they will not only not have any money to buy the homerun shares, but they will get nervous at the large mounting losses and tend to bail out at the bottom. To prevent this from happening, one must have a plan and stick to it. I have given you one such plan but you can make your own, based on the price parameters you see for natural gas, going forward.
Disclaimer:
The thoughts and opinions in this article, along with all stock talk posts made by Robert Edwards, are my own. I am merely giving my interpretation of market moves as I see them. I am sharing what I am doing in my own trading. Sometimes I am correct, while other times I am wrong. They are not trading recommendations, but just another opinion that one may consider as one does their own due diligence.
Disclosure: I am long DGAZ.