(click to enlarge)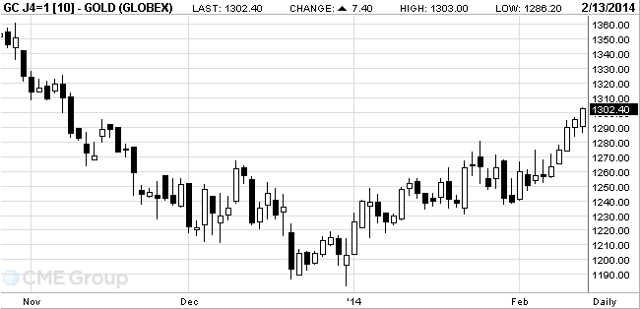 Click to enlarge
Gold Has A Higher Low For Ten Straight Days
The above chart of April Gold Futures shows a higher low of the day for ten consecutive days, and the streak could continue. However, with a close above $1300 finally, it is likely we hit some resistance soon and finally have a $25 to $35 correction back to the $1270 to $1280 area shortly. Click here for a kitco.com article where Charlie Nedoss with LaSalle Futures Group, sees us falling back towards the 100-day moving average of $1271, if we don't continue the current run higher. If we can break $1308, gold could run to as high as $1350. But on a short-term basis, we are getting overbought and more probably will need to consolidate the gains before trying to move higher.
GDX Is Approaching Strong Resistance of $26 to $26.50
(click to enlarge)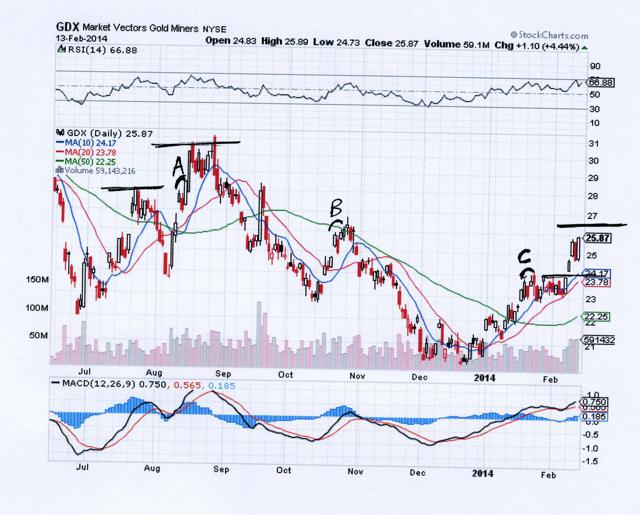 Click to enlarge
Looking at the above daily chart of GDX, one can see that we recently held support at $23 and have now approached $26. In my last article, click here, I indicated that it was too early to go short the miners using the leveraged ETF (NYSEARCA:DUST), and that if we should fall back $1 then it was a buy. Well, we fell back that $1 yesterday, and it was indeed a buy, as we rallied back today and made a marginal new high. The pattern we have seen in the last three days, is a pattern that has occurred in the recent past on other rallies, and I have marked them as "A", "B", and "C" on the chart. If we follow what happened these previous times, we should hit a short-term top in the miners within the next two trading sessions.
If we follow what occurred in August 2013, marked "A" on the above chart, we would quickly thrust higher towards $28 before making a short-term top. If we follow what occurred back in October 2013, marked "B", then we could make a marginal new high to retest the October high of $26.66. If we follow January 2014 action, marked as "C", then $26.00 will probably contain the current rally. Of the three scenarios that I have identified, I favor "B" being the most likely outcome, with a possible rally by Monday of next week to $26.50 to $26.66 and then a sharp correction.
Even though I bought NUGT heavily during the one-day selloff we got yesterday, I took profits a bit early and now have a small position in DUST, anticipating some two-way action as we hit resistance on a short-term basis in both gold and the miners. I will only buy NUGT to balance out the DUST position if it appears we are strongly thrusting through resistance in the $26.50 to $26.66 area on our way to $28.00. Otherwise, I will try to play the short-term countertrend move lower using DUST.
Disclaimer:
The thoughts and opinions in this article, along with all stock talk posts made by Robert Edwards, are my own. I am merely giving my interpretation of market moves as I see them. I am sharing what I am doing in my own trading. Sometimes I am correct, while other times I am wrong. They are not trading recommendations, but just another opinion that one may consider as one does their own due diligence.
Disclosure: I am long DUST.