On Thursday, February 13, 2014, I wrote an article where I predicted a top within two more days of trading in gold and the miners, click here. I am still holding to that prediction, and after a holiday on Monday, February 17, 2014, I am calling for a short-term top in both gold and the miners effective Tuesday, February 18, 2014. The implications of this is to now switch over from owning GDX, GDXJ and NUGT, to buying the leveraged short gold miner ETF (NYSEARCA:DUST).
April Gold Is Poised For A Short-term Top on Tuesday, February 18, 2014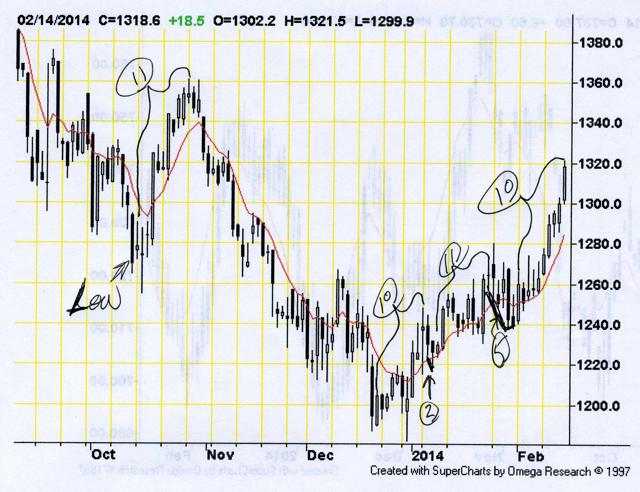 The above daily chart of April 2014 gold futures shows how we had an 11 day rally back in October 2013. Then in late December 2013, we had a 10 day rally, then a 2 day selloff, followed by an 11 day rally, then a 5 day selloff, and now another 10 day rally that is up to date thru Friday, February 14, 2014. Either Friday or more likely Tuesday, the 11th day of the current up move, should be a temporary top, if history is a guide.
Also I want to mention that I am predicting a selloff of $40 to $50 in gold, back towards the $1280 support area. For some time $1280 was resistance and now should become support. If gold should continue higher towards significant resistance in the $1350 to $1360 resistance area, then the initial correction may stop at the $1300 to $1310 area.
Silver Had A Big Up Day On Friday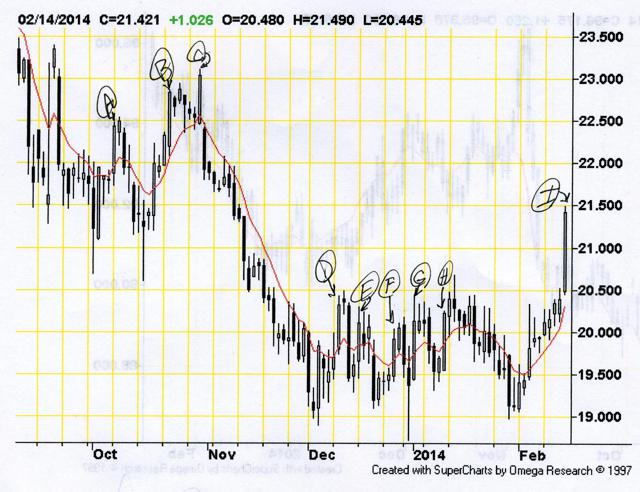 On this daily chart of March Silver futures, I marked several large white Marubozu candles in silver, as "A" thru "I" with Friday being marked "I". You will notice that on Friday, silver exploded above resistance and closed quite strongly. On similar days in the past, especially when resistance was taken out, such as in "A", "B", "C", "D" and "G", silver sold off immediately or after another small day of rallying. Therefore, it appears that Tuesday, February 18, 2014 should be a miner up day with topping action and should then fall back, or Friday already was the top and Tuesday will begin the slide.
The US Dollar Has Been Weak But Is Near Significant Support At 80.00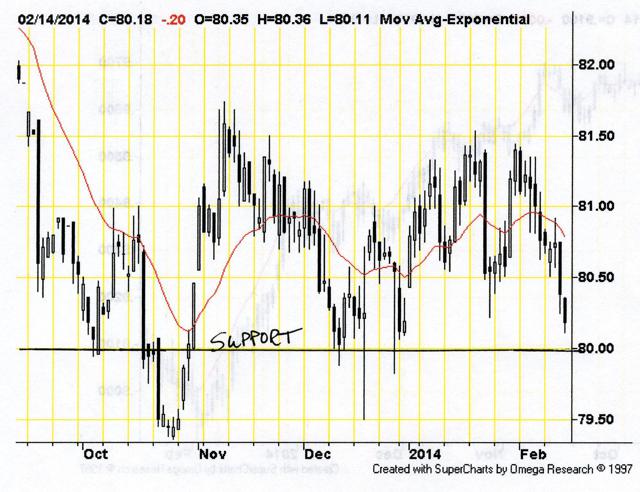 If you check out the daily March 2014 US Dollar futures chart above, you will see how we have weakened over the last couple weeks, which has provided support to the gold market. However, we appear to be just a day away from hitting significant support at the 80.00 level that should cause a rebound in the dollar and help discourage any future rally for a few (or possibly several days) in gold.
The Timing Is Right For The Gold Mining ETF (NYSEARCA:GDX) To Top Out This Coming Week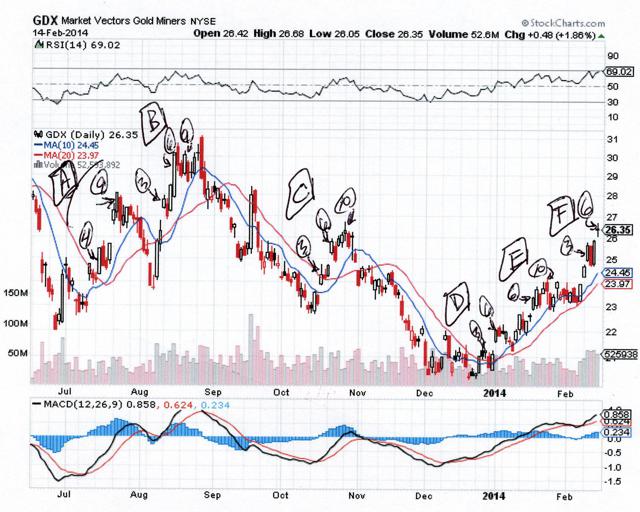 On the above chart, I have marked from "A" through "F", several GDX rallies recently, with the current rally being marked as "F". The rallies marked as "B" and "C" look most like the current rally. The rally marked "B" occurred in August 2013, and had strong days on days 1-3, a correction day on day 4, and two strong days on days 5 and 6. From there we went sideways for just over a week and sold off. The rally marked as "C" had a 3 day rally as well, a down day on day 4, and strong days on day 5 & 6. During that rally, there was only a down day on day 7 and then small rallies on days 8-10 where we topped out at $26.66, just two cents lower than Friday's high of $26.68.
On your own you can check out rallies "A", "D" and "E" and compare those to the current rally marked "F". With some variations, they also show that most of the current upward thrust should be exhausted and now it is a matter of doing the sideways consolidation and topping action, followed by a small or big correction.
I also want to mention that Friday's DOJI pattern could be the beginning of a bearish morning star Japanese candlestick pattern if Tuesday immediately sells off. A similar pattern predicted a short-term top back on the first trading day of July 2013, the final trading day before the big selloff in late December 2013, and the final up day in October 2013, before another major selloff.
Conclusion
For all the reasons listed in this article, along with my previous article, I am quite comfortable with my current small position in DUST and intend to increase the position further if and when I see the selloff materializing as I am predicting this coming week. Like I did on Friday, I may scalp in NUGT for part of the day, but will primarily be playing for a move lower using DUST. Once we correct the current overbought situation, I plan to move back into NUGT.
Disclaimer:
The thoughts and opinions in this article, along with all stock talk posts made by Robert Edwards, are my own. I am merely giving my interpretation of market moves as I see them. I am sharing what I am doing in my own trading. Sometimes I am correct, while other times I am wrong. They are not trading recommendations, but just another opinion that one may consider as one does their own due diligence.
Disclosure: I am long DUST.