I wrote a couple articles (my last one here), where I predicted a top in gold and the miners on Tuesday, February 18, 2014. It looks like I was pretty close to the mark. Tuesday we hit a GDX high of $26.96 in the premarket, and we got the highest close of the current up move. In gold, we hit a short-term high of $1332 in April 2014 gold futures, soon after the Monday Globex night session opened, with prices reflected in Tuesday's trading range. And then right on schedule, both gold and the miners sold off today, Wednesday, 2/19/14. Lets look at the small gold miner ETF (NYSEARCA:GDXJ) chart:
The Junior miner ETF (GDXJ) Fell Like A Rock Today!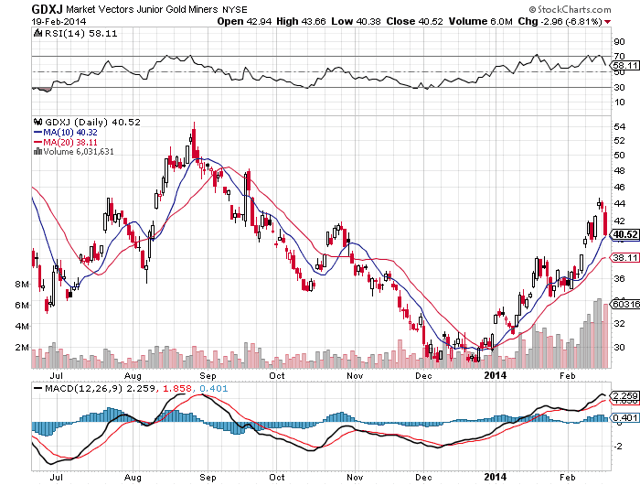 If you have been following my articles, you know that the Junior Miners ETF (GDXJ) goes up more than GDX on rallies, and falls more on dips. Today it fell 6.8% compared to only a drop of 3.1% in GDX. This is very bearish for the short-term future of the mining sector. GDXJ is near the support area of $40 formed in the middle of last week, while GDX is far away from that support area. Take a look again at the GDXJ chart and compare it to the GDX chart below:
Today GDX Filled The Gap Formed On Monday's Pop Higher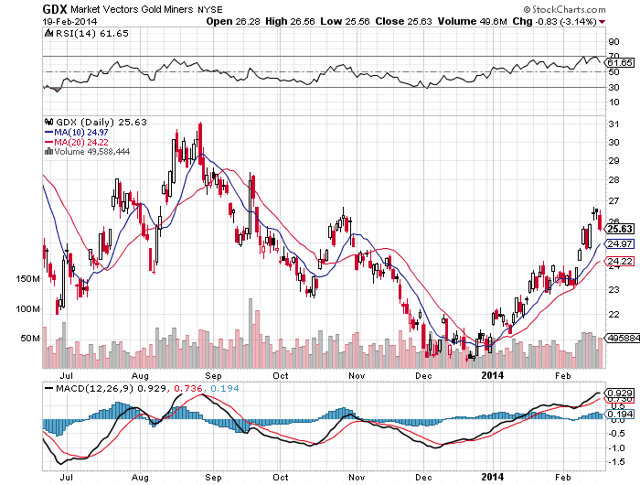 When GDX gapped higher on Monday, there was a gap left from Friday's close of $25.87, to Monday's low of $26.05. This gap still held when Tuesday's low of the day was $26.09. However, one thing that was bearish about trading on both Monday and Tuesday, was the fact we closed lower than the opening price, even though the closing price was higher than the previous day's close. When you close below the opening price, it shows that the bears took the advantage over the bulls, after the balance of trades were completed for the day. Also, Tuesday was an inside day, up, which means it traded within the price range of the previous day, but ultimately closed higher. Statistically, the following day has at least a 2 to 1 chance of closing lower, which it did today. For a change, GDX actually opened lower, and although it rallied to fill the gap, it sold off to close at $25.63, filling and closing below the bottom of the gap (Friday's close of $25.87). This is extremely bearish and is a strong indicator and confirmation that the top is now in, and that all rallies should be sold. In fact, I don't see GDX being able to trade much above $26.00 on Thursday, and if we do test that level, I plan to add to my leveraged bearish miner ETF (NYSEARCA:DUST) position.
Just looking at the chart, there is no support now in GDX until $24.75, and below that, major support at $23.00. DUST closed today at $21.63, up $1.76 (nearly 9%). If GDX would trade down to $24.75, one would get a rally in DUST to $24. One should therefore target a price of $24 to $25 to begin taking profits in DUST. Should GDX fall back towards $23, then DUST could rally close to $29.
Figuring a recent low of $20.18 in GDX, and high of $26.68, we have seen a rally of $6.50 off the low. A Fibonacci retracement of the up move of 23.6 %, 38.2%, 50% or 61.8%, would project a correction in GDX down to $25.15, $24.20, $23.43 or $22.66. For those playing DUST, the four profit targets using these Fibonacci retracement calculations, are: $22.77, $25.25, $27.20 or $29.15.
DUST Should Rally Now Rally For A Few Days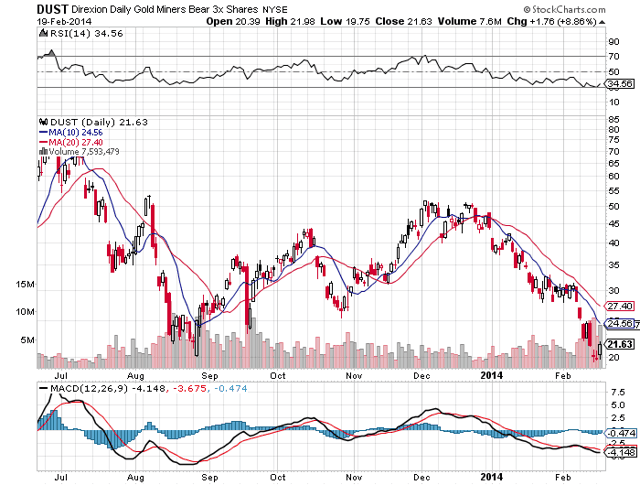 If you look at the above daily chart of the triple leveraged bearish gold miner ETF (DUST), please concentrate on the action of the last 6 days. Counting backwards, one will see that six days ago, we closed down one day in DUST, then up one, then down 3 days to the lowest close of the recent 8 week long down move, and finally an up day today. This is similar to the late October 2013 low where we also closed down a day, retraced up one day, then down 3 days to the bottom, and then an up day out of the low. Back in October 2013, we were significantly higher in DUST just 3 days later. I am looking for a similar 3 day DUST rally now, up towards $25 or possibly $26 maybe.
Americanbulls.com is still short DUST but it appears that if DUST can rally to the $24.50 area, then Americanbulls.com will be forced to cover their short position and switch to going long, based on a previous bullish engulfing pattern formed last week, click here.
Conclusion:
In the very short-term, DUST would appear to be a buy on all dips for the next few days and could easily rally somewhere between $24 to $26 or possibly higher. We rallied nearly 9% today, but I am looking for a further rally of 11 to 19% over the next 3 days.
Disclaimer:
The thoughts and opinions in this article, along with all stock talk posts made by Robert Edwards, are my own. I am merely giving my interpretation of market moves as I see them. I am sharing what I am doing in my own trading. Sometimes I am correct, while other times I am wrong. They are not trading recommendations, but just another opinion that one may consider as one does their own due diligence.
Disclosure: I am long DUST.