I recently wrote an article explaining why I am bullish Cliffs Natural Resources, Inc. (NYSE:CLF) under $20.00, click here. I especially like the stock between $18.50 and $19.00, the area we are trading in today. Take a look at the current chart that includes the intraday action of today, as follows: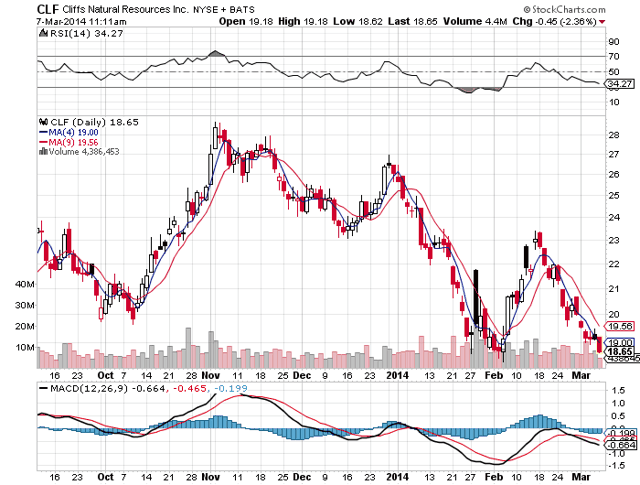 After bottoming at $18.30 on February 5, 2014, CLF rallied into earnings (likely due mostly to short-covering) and hit a high of $23.38 on February 14, 2014. In the past three weeks, the bears have taken control again. We fell three days, rallied one day, fell three days, rallied one day, and now are on day six of a down move that has not seen an up day. To be down 12 out of 14 days is extreme in anyone's book, and even though we could take out the $18.30 support level soon, if they decide to run the stops, a significant rally should be just around the corner. I am very confident that the recent downgrades by Citigroup & Wells Fargo have only helped to provide a golden opportunity to buy this company at a very attractive price. I will continue to scale into the stock for as low as it wants to trade. The lower it goes, the more I intend to make on the rebound. At some point the bears will have to buy to take profits on their shorts and the next short-covering rally could quickly bring us back to $23 or higher, in short order.
Not only is this stock becoming a buy based on being extremely oversold on a technical basis (RSI is at 34.43 and not far from the important 30.00 level) but the fundamentals have also improved dramatically as CLF gets leaner to adjust to lower iron ore prices. CLF is trading at a trailing PE of 7.87 and forward PE for year ending 2015 of 13.14. The forward PE is based on lower iron ore prices that have already been predicted for 2 years and they never came to pass. Since the bears have been way too bearish on iron ore prices over the last 2 years, they might also be too bearish in their forward look. If they are right, that iron ore prices will continue to soften significantly, then CLF is fairly valued and should trade in the current $18 to $24 range. If we maintain current depressed iron ore prices over the next couple years, then the stock is undervalued and should trade in the $24 to $30 range. If iron ore prices should actually improve to where they were 3 or 4 years ago, then CLF should trade in a range of $30 to $40 or higher.
I believe that the downside from here is quite limited, and all one has to wait for is a catalyst to get the stock moving higher. Once the stock begins moving up, short-covering will keep the ball rolling. I don't know what rumor, what news, what change will wake up the market to how undervalued CLF is, but the current bearishness towards CLF is so extreme, it cannot endure for long. It reminds me of how everyone hated gold stocks back in December, and then the calendar changed to 2014 and in less than 3 months, now everyone loves gold and gold stocks. The time to buy gold stocks was back in December when they were despised. You will be hard pressed to find any stock sector more despised than the iron ore companies, and CLF in particular. Now is the moment of opportunity.
Disclaimer:
The thoughts and opinions in this article, along with all stock talk posts made by Robert Edwards, are my own. I am merely giving my interpretation of market moves as I see them. I am sharing what I am doing in my own trading. Sometimes I am correct, while other times I am wrong. They are not trading recommendations, but just another opinion that one may consider as one does their own due diligence.
Disclosure: I am long CLF.