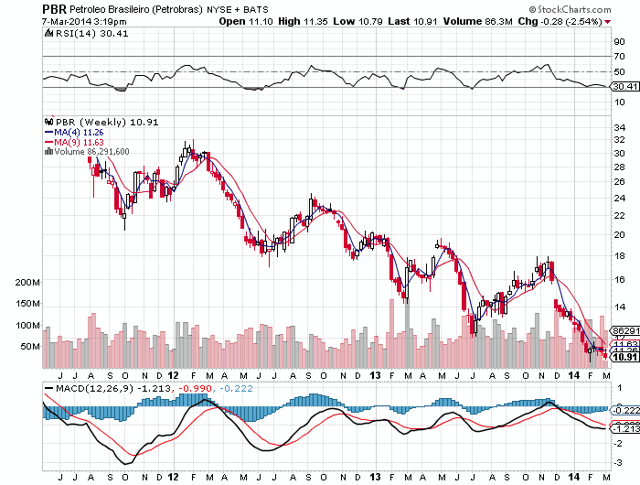 Back on 1/25/14 & 2/01/14, I wrote articles where I identified where long-term support should appear in Petrobras (NYSE:PBR) click here and here. I came up with a major target low in PBR of $10.17. If you review the above weekly chart, you will see that we are very close to that target now at $10.91. I ran the chart about an hour before the close so we might close a little higher or lower than $10.91 for the week, however, the important thing is that we are within less than $1 of our next major target low in PBR, and this should therefore be an excellent place to get long this stock.
To review my previous analysis, I noticed how PBR made a stair-step drop to new lows over several months of trading. As shown in the above chart, one will notice that in early August 2011, PBR stopped falling at $24.13 before bouncing. The next low occurred the first week of October 2011 at $20.44, a new low by 15.3%. Then in late June 2012, PBR bottomed at $17.08, a new low by 16.4%. After bouncing back up, PBR eventually made another new low in the first week of March 2013, at $14.24, a drop of 16.6% below the previous low. Then in July 2013, PBR bottomed at $12.03, a drop of 15.5% from the previous low. If PBR should now make a new low by a similar percentage as it has been doing, say 15.5%, then one would expect a low to occur at $10.17.
You will notice that 4 weeks ago, PBR did bottom at $10.63 but then bounced back to as high as $11.84. However, it has now dropped again below $11.00 and should bottom shortly.
Now we can look at the daily chart to see where we stand currently as follows: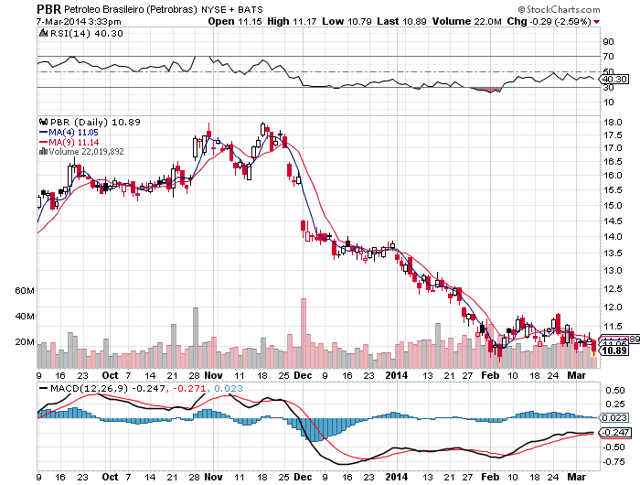 You can see from this chart how just 4 weeks ago, PBR bottomed at $10.63 and then rallied back to $11.79, fell to $11.01 but then rallied to $11.84. The stock has now started down and hit a low today of $10.79 which is only 62 cents away from our $10.17 major bottom target level. We could have bottomed today, or we might bottom on a further retest Monday at the recent $10.63 low. However, if PBR continues to fall, it should stop somewhere around $10.17 down to maybe $10.00, where one would expect to see an initial bounce back above $11.00, and eventually up to $14 or higher. Over the past 5+ weeks, PBR has stopped falling and moved sideways. It can hardly fall more than 2 days in a row before bouncing back and closing up. If we did not bottom today, we should definitely hit a low on Monday, 3/10/14 in PBR. A major long-term low in PBR should occur any day as predicted in the above analysis. It will be fun to see how close $10.17 comes to the actual bottom.
Disclaimer:
The thoughts and opinions in this article, along with all stock talk posts made by Robert Edwards, are my own. I am merely giving my interpretation of market moves as I see them. I am sharing what I am doing in my own trading. Sometimes I am correct, while other times I am wrong. They are not trading recommendations, but just another opinion that one may consider as one does their own due diligence.
Disclosure: I am long PBR.