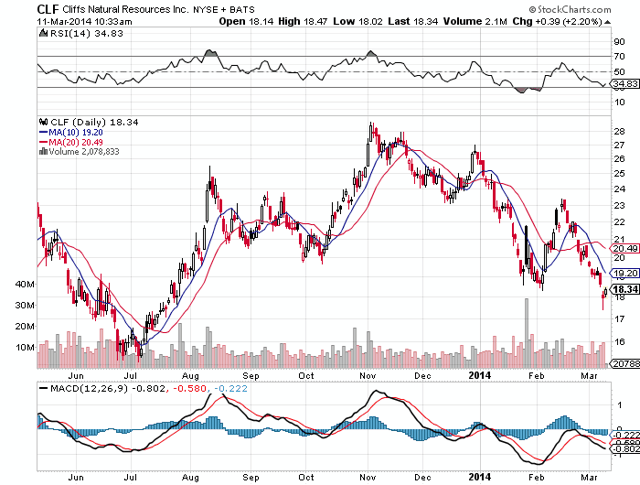 The above daily chart of Cliffs Natural Resources, Inc. (NYSE:CLF) shows that we have not had an up close for 7 straight days, and 13 of the last 15 days. We are indeed quite oversold. However, today we are finally getting an up day and should finally break the negative streak. Yesterday we gapped down on some weak export numbers out of China in what appears to be an exhaustion move as bulls gave up and got out. However, we formed a bullish hammer candle, and today we rallied to $18.55, although the above chart does not show it as it was created before the most recent rally.
Recently CLF was holding support in the $18.50 area, where it had found support in late January, before rallying into earnings above $23. However, yesterday, we broke that support gapping down hard and hitting a low of $17.40. I was hopeful we would close above $18.00 but we only could achieve $17.95. However, it was still significant, since intraday we could hardly get above $17.90. With that close and the thrust today into the gap zone, I am calling the $17.40 low of yesterday a significant bottom. If you look at the chart, you will notice that the action of yesterday, 3/10/14, is quite similar to the action of 6/24/13. Last summer, CLF was caught in a significant downtrend due to downgrades by Goldman Sachs and others and projections of extremely weak iron ore prices in the $60s that never materialized. After bouncing off support at $17 and slightly under $17, CLF finally gapped down on 6/24/13. From there CLF bounced a bit and went sideways for over a week, retesting the lows. However, that low was significant. Today we have also been besieged with dire predictions of weak iron ore prices by Goldman Sachs, and downgrades by several banks. We have the proxy fight going on with Casablanca Capital trying to wrestle control away from the board and fire the CEO, and China is showing some seasonal weakness. It has caused CLF to again get sold off hard. To see how hard it has sold off, take a look at the following chart: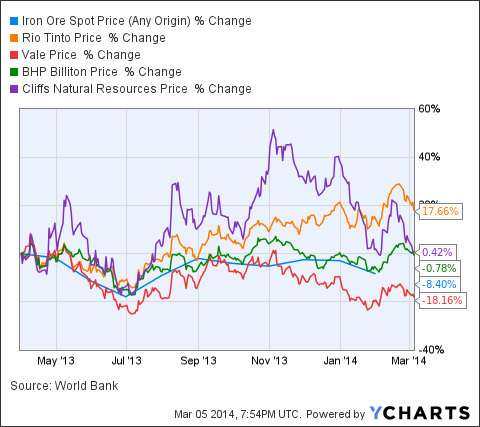 You will see from the this chart that CLF (purple line) has been one of the better performing iron ore stocks in the past year, and it has traded significantly above the iron ore price shown in blue. Recently the iron ore price has slipped a bit off the highs and is currently at about $117. However, CLF has fallen much harder and now is performing worse than Rio Tinto (NYSE:RIO). CLF is trading at a discount to where it was trading in the last several months, as the current selloff i overdone and does not appear to be justified based on the current, as well as any future iron ore price, as I see it. Just as Goldman was too negative about iron ore prices in 2012 and 2013, they are probably too negative on their projections for 2014 and 2015. Goldman loves to come out with their negative predictions in February and March, seasonally weak times for iron ore. Prices tend to firm up in the summer and fall, and I assume that by the end of 2014, iron ore prices will be substantially higher than current prices, and not lower as Goldman predicts. By the end of 2014, if I am right, CLF should be trading above $30, and could approach $35 to $40 in 2015, as their austerity programs take full affect. These projections will have to be raised if the current proxy fight ends successfully for Casablanca Capital and they manage to split up the company. If that occurs, the stock price should be an immediate double, greatly unlocking value for shareholders. Today I noticed an article where someone is suggesting CLF may indeed be open to the idea of listening to Casablanca, click here. I added to my position in CLF in the aftermarket yesterday, and I will continue to add to my position. If we retest the lows, I would strongly urge traders to get some shares in the mid $17s as we should not trade under $18 for very long. This is the moment of opportunity.
Disclaimer:
The thoughts and opinions in this article, along with all stock talk posts made by Robert Edwards, are my own. I am merely giving my interpretation of market moves as I see them. I am sharing what I am doing in my own trading. Sometimes I am correct, while other times I am wrong. They are not trading recommendations, but just another opinion that one may consider as one does their own due diligence.
Disclosure: I am long CLF.