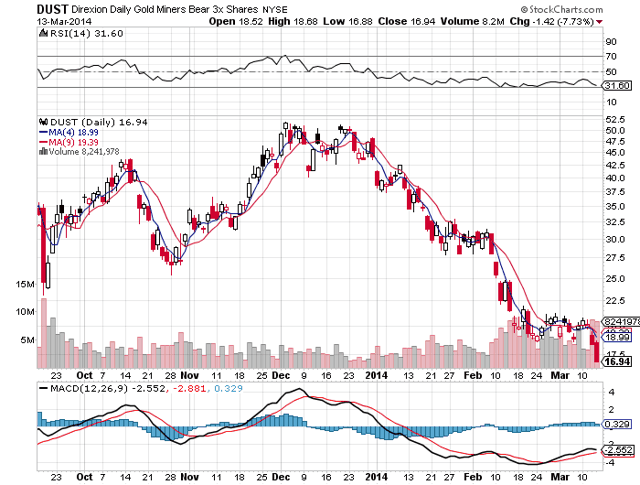 If you read my last article submitted 03/03/14, click here, I was buying DUST to fade the gold miner rally I was seeing that appeared to be losing steam. That worked out well for several days, as GDX went mostly sideways and DUST rallied up to $20.76 on Monday, 03/10/14. Despite the fact Americanbulls.com had chosen to take their loss on their short DUST position and go long on Monday, click here, I elected to liquidate all of my DUST shares at a profit in the aftermarket. I was spooked thinking that since Americanbulls.com (a trend-following system) had now just gone long DUST, it was probably time to liquidate as we were not trending, but were caught in a trading range. Americanbulls.com has been chopped up and losing money on a majority of their gold trades, for several months. When DUST could not add to its gains on Tuesday, I was pleased by my decision to get out.
Then on Wednesday, 3/12/14, April gold futures broke through the $1355 & $1361 resistance, and rallied to above $1370, but GDX could only get back to the $26.90 resistance area. With the breakout, gold could potentially rally to the next resistance levels of $1400 & $1435. The gold mining ETF (NYSEARCA:GDX) could therefore rally to major resistance at $28.00 and might eventually challenge major resistance at $30.00 & $31.00.
On Thursday, 03/13/14, the Ukraine situation heated up, rallying gold and the miners. GDX closed nearly on its high of $27.64. Gold struggled to take out resistance at $1375. I added some DUST shares in the low $18, to the DUST shares I bought the previous day in the mid $18s. But when $18 support was taken out, I did not add any more shares today. DUST eventually closed at $16.94.
What Is Next?
If you check Americanbulls.com, you will see that when they got stopped out of their long position on Wednesday, they went short DUST at $18.50. That turned out to be a good move since GDX broke out to the upside Thursday and DUST made new lows. Lets take a look at the GDX chart now: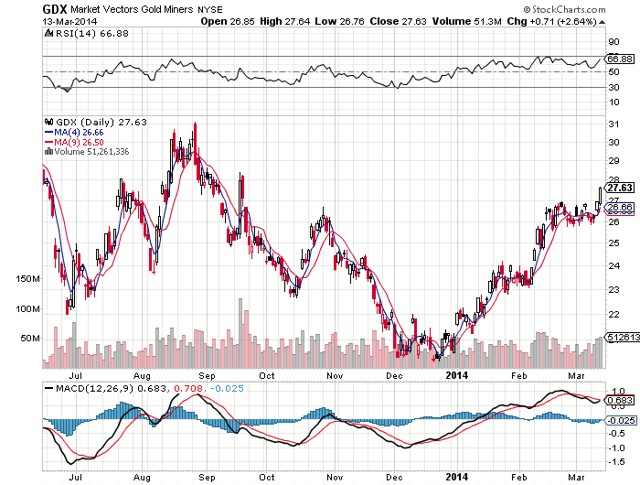 Looking at the chart you should notice that when GDX bottomed at $22 in late June 2013, we got an initial rally to $25, a correction and then a rally to $28. After falling back just under $24, GDX then rallied to $31. Just as the $28 area presented significant resistance last summer, I believe it should now as well, especially since there is a September high of just above $28 that turned GDX lower as well. GDX struggled mightily to take out resistance at $27, and should find significant resistance at $28 as well. We have rallied three days in a row in GDX and it has been over a month since that occurred. I am hopeful that Friday is a correction day down in GDX, although we might make a new high first.
The year of 2014 is sure nothing like the year of 2013 in GDX. Back then, all rallies were followed by severe corrections. But since bottoming at $20.18, in late December 2013, only mild corrections of $1 to $1.30 have been seen in GDX. At $28 or a bit higher, I still expect to see GDX hit significant resistance that causes a significant selloff of as much as $3. The corrections in gold futures have also been quite mild. At some point, either from a high of $1375, $1400, or $1435, I am looking for a $100 correction in gold as well. That correction in gold, when it does come, should cause GDX to correct significantly down, causing the triple leveraged bearish gold mining ETF (NYSEARCA:DUST) to soar higher.
What Are The Chances Of A Gold Mining Correction In The Immediate Future?
A lot depends on Ukraine right now. There is a weekend succession vote that could spark some violence. If things accelerate we might get a further pop in gold and the miners. If a standoff continues and things don't worsen, expect gold and the miners to give up their safe haven premium and go down.
At Kitco.com I found an article by Debbie Carlson entitled, Gold Physical Demand Stays Subdued As Prices Rally, click here. I strongly recommend reading this article carefully. It explains why being long gold and miners right now, is not a slam dunk winning trade. When things calm back down, the rally could disappear almost overnight. Also speculators are already heavily long gold right now and will have to find even more buyers to keep this rally going. The Chinese appear to be waiting for a correction to buy the physical, and India purchases remain constrained by tariffs. Also, more supply will be released into the market in the immediate future, to take advantage of the recent price rise. At some point, although the gold metal house of cards may not collapse, it will surely need to retrace back towards $1300 to build a base before rallying to significantly higher levels.
My view? Well, I disagree with the current consensus view described in the media. Weakness in China is sited in the article as being a bullish factor for gold, but I disagree. Weakness in China should translate in my mind, to fewer gold purchases, and not more. It might be bullish in the very short run, but in the long run, it is surely bearish. Gold bulls should want China to be prosperous to have the means to be able to remove more gold off the market.
Another factor I find interesting is that during the Ukraine crisis, the Euro has rallied against the dollar. If hostilities actually broke out, I see a flight to the safety of the dollar, and not the Euro. If sanctions are brought against Russia, Russia could shut off natural gas to the West, and it could cripple the economies of Europe, further hurting the Euro at the expense of the U.S. dollar. If things get out of control and there is bloodshed, I see all stocks falling in our stock market across the board, including gold stocks. Nothing should be spared. In my opinion, the Euro has rallied so far because the market assumes that Russia is merely posturing, and playing a game to try and achieve some strategic advantage, before a settlement is reached through diplomacy. If diplomacy wins, then things should settle down and gold and the miners should slip back lower. If diplomacy fails however, in my opinion that would be very bullish the U.S. dollar and very bearish gold and the miners and they should get killed. For that reason, I will continue to play DUST rather than NUGT, as the ultimate solution to the Ukraine situation is either a little bearish or extremely bearish, gold and the miners. That is just my opinion and I might be proven wrong. I welcome any counter arguments that will explain to me why I should be bullish miners right now.
Disclaimer:
The thoughts and opinions in this article, along with all stock talk posts made by Robert Edwards, are my own. I am merely giving my interpretation of market moves as I see them. I am sharing what I am doing in my own trading. Sometimes I am correct, while other times I am wrong. They are not trading recommendations, but just another opinion that one may consider as one does their own due diligence.
Disclosure: I am long DUST.