SDOW should be a buy under $30, for a move to $32, then switch to UDOW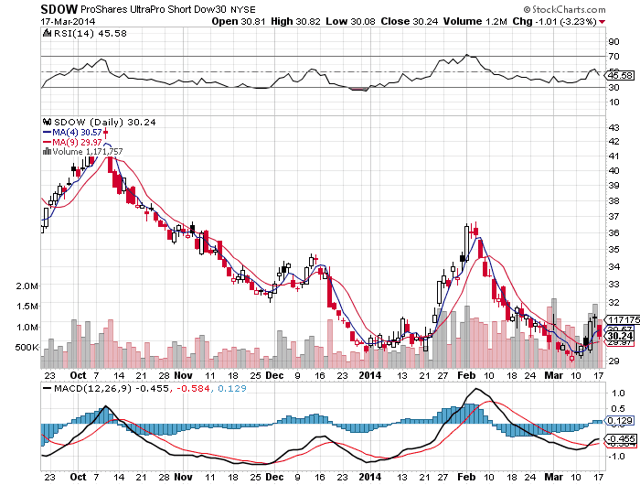 If you look at the above daily chart of the 3X Bearish Dow Jones Industrial Average ETF (NYSEARCA:SDOW), one will notice that last week we rallied five straight days, as the Dow Jones Industrial Average fell all five days. A similar 5 day decline in the DJIA occurred from 11/29/13 thru 12/05/13, with SDOW moving from $32 to close at $34.16. Then SDOW fell for two days and was a buy at under $33 before rallying to a high of $34.77, three days later.
Now comparing that action to the present, all last week, SDOW rallied for the same five days before falling today, 03/17/14. The rally was from a low of $29 to a high of $31.40. With today's selloff, SDOW closed at $30.24 and I am looking to buy into the weakness I expect to see between $29.60 to $30.00 on Tuesday, 03/18/14. We have fallen one day so far, after a 5 day rally in the SDOW and I am looking for another drop in SDOW to buy into. Then I expect the DJIA will fall the rest of the week and make a marginal new low, causing SDOW to rally and make a high towards $32 by Friday of this week. If this occurs as planned, then I will be quite anxious to be switching into UDOW on Friday of this week or Monday of next week.
DUST favored to $18.75 then switch to NUGT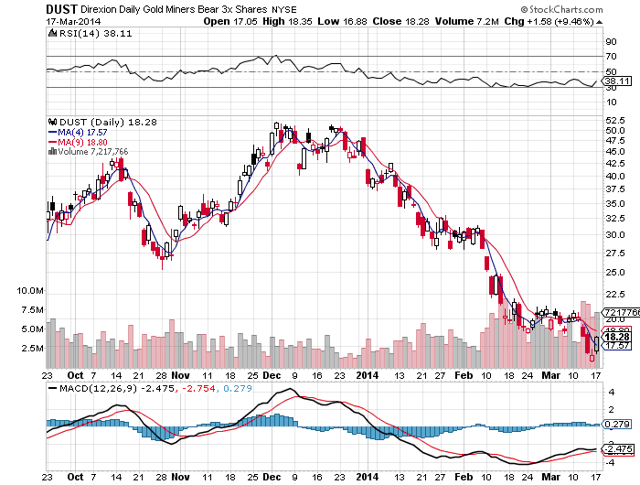 The 3X leveraged bearish gold mining ETF (NYSEARCA:DUST) formed a bullish inverse hammer candle formation on Friday, 03/14/14, and today the formation was confirmed with a strong rally back above $18. The underlying gold mining ETF (NYSEARCA:GDX) stopped dead when it hit major resistance on last Friday's opening. I had been predicting $28 to be major resistance for GDX for some time. However, the bullish momentum in GDX that caused it to rally to $28 will not allow DUST to probably rally much higher than $18.75 to $19.00 before DUST sells off again. The 9 day moving average red line on the above chart, is presently at $18.80 and could provide short-term resistance for DUST. That would translate to a temporary bottom of $26.50 to $26.60 in GDX on Tuesday, 03/18/14. I plan to be taking profits on my DUST shares on Tuesday in the upper $18s and will then be looking for a short-term scalp in NUGT before moving back into DUST by the end of this week or sooner. Below is a chart of the 3X leveraged bullish gold mining ETF (NYSEARCA:NUGT):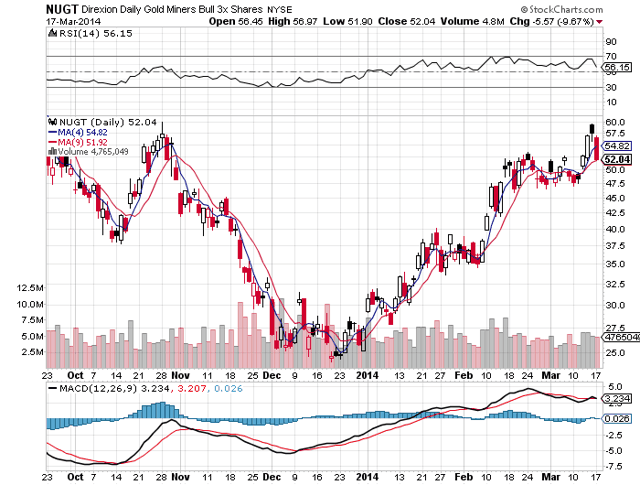 As NUGT falls back into the support zone of $47.00 to $50, I want to do a scale trade buy into NUGT. The support area of $47 to $50 in NUGT is so well established, traders should be buying into that zone once we return there. Once NUGT hits bottom in the next day or two, in that $47 to $50 area, it should bounce back to $52.50 to $53 quite easily, making a nice couple day swing trade. I might then look to switch back into DUST but more on that later.
DGAZ favored over UGAZ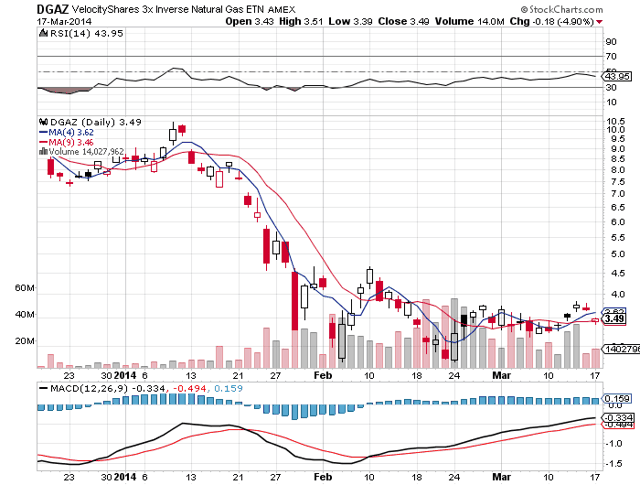 I am looking for a further drop in DGAZ towards the $3.25 area possibly to accumulate shares, to sell in the $3.80 to $4.00 area. To see why I believe we could fall a bit lower in DGAZ and then we should rally, one needs to look at the May Henry Hub Natural Gas Futures Chart as follows: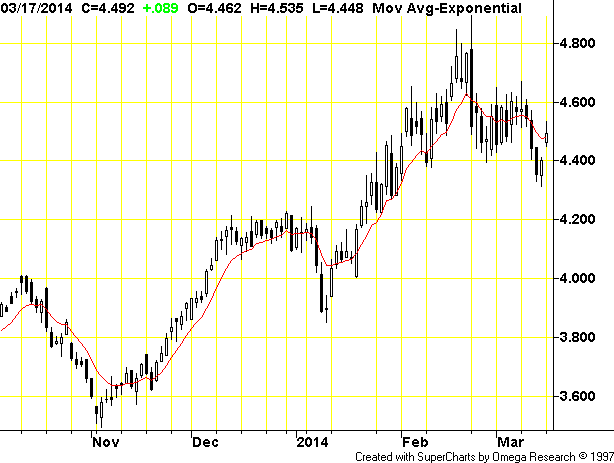 You can see from the above chart that we gapped up today and look to be heading towards major resistance between $4.60 to $4.67. That is an increase of 3 to 3.5% from Monday's close, which translates to about a 10% move lower on DGAZ. With a close today in DGAZ of $3.49, it could fall to the $3.15 to $3.25 area to correspond with where natural gas is expected to trade in the next couple days. If natural gas is rejected when it hits the significant overhead resistance are shown on the chart, I would expect it would then drop down towards $4.20, a drop of about 7% in natural gas, or a pop of about 21% off the $3.20 low of DGAZ. That would translate into a rally target of $3.80 to $4.00 in DGAZ.
Conclusion:
In additional to these three triple leveraged ETF trades, I will also be watching CLF and PBR, two stocks that I have written about extensively recently. After forming a bullish homing pigeon formation on Friday, today Cliffs Natural Resources (NYSE:CLF) was a buy at $18.65 at Americanbulls.com, click here.
Petrobras (NYSE:PBR) is falling down to my $10.17 buy target with today's close at $10.27. I was able to pick up additional shares in the after market this evening at $10.20. PBR has fallen three days in a row and for the last several months, after falling three days in a row, the 4th day is an up day, so I loaded up today in anticipation of Tuesday, 03/18/14, being an up day.
Disclaimer:
The thoughts and opinions in this article, along with all stock talk posts made by Robert Edwards, are my own. I am merely giving my interpretation of market moves as I see them. I am sharing what I am doing in my own trading. Sometimes I am correct, while other times I am wrong. They are not trading recommendations, but just another opinion that one may consider as one does their own due diligence.
Disclosure: I am long DUST.
Additional disclosure: Also long DGAZ, CLF & PBR.