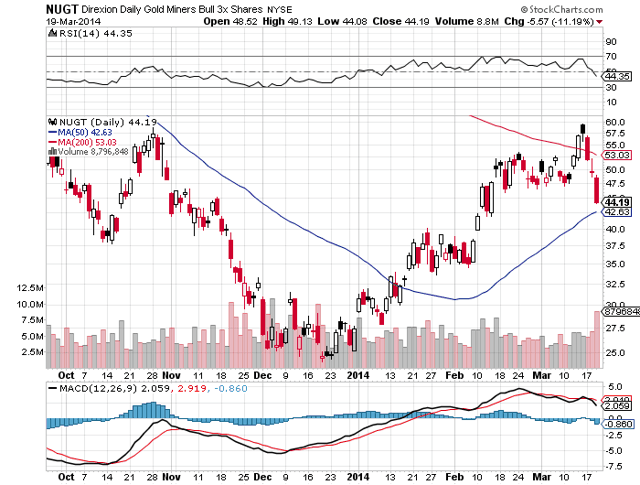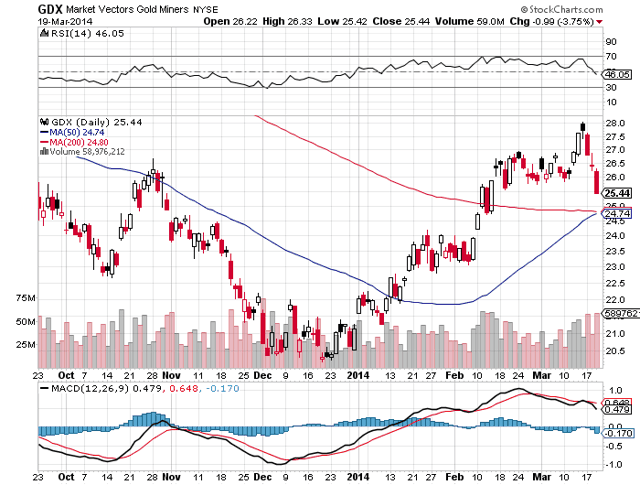 To better predict where the triple leveraged gold mining ETF (NYSEARCA:NUGT) is heading, it is best to study the chart of GDX that NUGT is based on. I was looking for support in GDX to hold in the $25.80 to $26.20 range, which would have translated to a low in NUGT of no worse than $46. Initially on the Fed taper decision today, GDX held support at $25.83 and later at $25.77. GDX bounced a couple times in fact, once back towards $26.10 and another time back towards $26. I was able to pick up shares on the first selloff from $47.50 down to $46.60 in NUGT, and sold them out on the first rally at $47.90. The next time I bought back around $47.10 and continued buying down to $46.15, and dumped those shares on a rally at $47.18. So far, so good. However, I then bought NUGT at $46.50 and $46.25. But this time the GDX broke support and made a new low. GDX would eventually close below the $25.56 low of 2/19/14, at $25.44. Support now lies at $24.72 which also happens to be about where the 50 and 200 day moving averages are about to collide.
I recently suggested buying into the broad support zone in NUGT between $47 & $50, but that support was destroyed today. If GDX does find support on a further drop of about 2 1/3% lower than today's close, NUGT would find support about 7% lower than the $44.19 close of today. That would put support in NUGT at $41.00. If GDX bottoms between the $25.40 to $24.75 area, it should quickly retrace back towards $26.00, causing a rally back to $47 in NUGT. On a rally back to $47 in NUGT I plan to lighten up significantly in my position and am hopeful we will get that snap back rally Thursday or Friday of this week. If GDX trades down to $25 or a bit lower in here, it will have dropped at least $3 from the Friday resistance level at $28. From the low one could expect a bounce of $1.00 to $1.50 in GDX in short order. If NUGT bottoms somewhere between $44 and $41, it should bounce towards $47 and could even pop as high as $50. I would expect to see a two week consolidation now in GDX/NUGT where GDX trades between $24.75 and $26.50 and NUGT trades in a range from $41 to $50. Right now I am 1/3 invested in NUGT with most of my shares added in the low to mid $46s this afternoon. I plan to sell out most of my shares on a rally between $47 and $47.50 which will allow me to get out at break even. As long as $24.75 support holds in GDX and $41 holds in NUGT, then I do not anticipate buying DUST to balance out my position. However, I have a mental stop at $40 on NUGT and if we should start to slip below $40, then I will immediately liquidate the position and/or buy DUST shares, depending on market conditions at that time. As long as NUGT trades above $40 then I will continue to buy on weakness in NUGT down to $41 and sell out on rallies, especially at $47.00 and higher.
April gold futures are bottoming right now above $1325 support and should find further support at $1300 which should keep GDX from slipping below $24.75 and NUGT from going below $41. The market is now becoming oversold in the very short term and could easily bounce back to $26 in GDX and $47 in NUGT even if they are continuing lower. I still prefer being in NUGT over DUST but I wish that I had stayed with my DUST position a couple more days. So far my move into NUGT was a couple days early. We should be in a 2-week range trade beginning tomorrow within the parameters I have identified. I will be aggressively scalping in and out of NUGT to lower my average price and am hopeful there will be some short-term rallies of $1 or more that will allow me to take partial profits at least on my low shares and lighten up. I never anticipated this strong of a reaction to the Fed announcement today and it appears funds were just determined to cash in their recent gains from the long side. Now there must be a significant number of shorts and hopefully buying will show up at these lower levels, forcing the shorts to cover and cause the short-covering rallies that I look forward to selling into.
Disclaimer:
The thoughts and opinions in this article, along with all stock talk posts made by Robert Edwards, are my own. I am merely giving my interpretation of market moves as I see them. I am sharing what I am doing in my own trading. Sometimes I am correct, while other times I am wrong. They are not trading recommendations, but just another opinion that one may consider as one does their own due diligence.
Disclosure: I am long NUGT.