On 1/25/14 & 2/01/14, I wrote instablog articles predicting a low price buying target of $10.17, click here and here, and did a follow-up article on 3/07/14, click here. Since Petrobras (NYSE:PBR) bottomed at $10.20 using regular session prices, or $10.18 using the aftermarket prices, missing my target by 1 to 3 cents, it has now rallied back above $11.70, confirming a temporary bottom is in. Now it is time to try and figure out how high we could climb to before rolling over again.
Well, on a very short-term basis, as in Monday morning's opening, it never hurts that on Fast Money's Friday Halftime Report, Mike Murphy is a buyer of PBR, click here. Now lets take a look at the weekly chart of PBR to get some clues as to where we might want to take profits: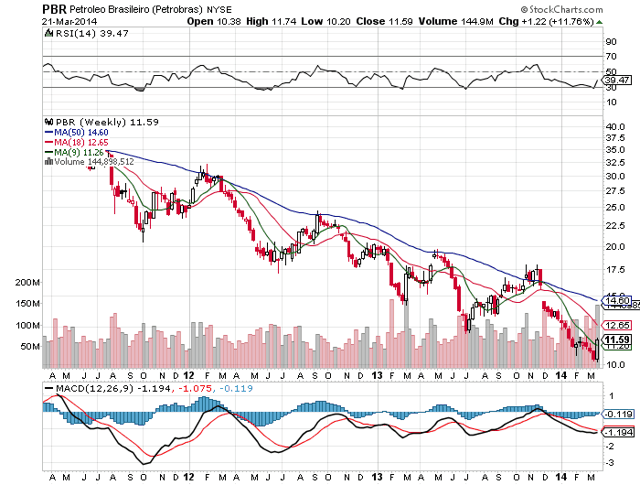 On all previous rallies in PBR off major lows, PBR has always rebounded to the 50 week moving average, shown on the above chart as the blue line. Right now the 50 week moving average is $14.60. Also the last major low of $12.03 resulted in a rebound to $17.97, an increase of 49.4%. A similar rally from the recent low of $10.20, projects a rally to $15.24. I find it hilarious that Barclays is negative on the stock, but still has a one year price target of $20 on the stock. Even the bears must agree that the price PBR is trading at currently is ridiculously low. For an excellent article written by a bear, explaining the fundamental challenges PBR faces in the next few years, click here. For some balance, one might also want to read this article written by a PBR bull, click here. However, technically speaking, this stock now appears to be a winner and a buy on all dips until we move significantly higher.
If you look at the above chart closely, you will see that PBR has a temporary top usually in the second strong week out of the bottom. Since this week we already got a long white candle, I would expect PBR to close up again this coming week, however, it should hit a temporary top sometime late this coming week that should result in a selloff of 50 to 61.8% of the move off the bottom where one should again be able to load up for the next move higher. Based on past action, PBR should now be in an uptrend move that results in a high being set within the next 8 to 16 weeks, before rolling over to possibly make another new low 15.5% lower than the recent $10.20 low. That next low, should it occur, would be $8.62, and the next rally towards $13. But for now, lets enjoy the ride to the upside and try to hold on for a move towards $15.
Disclaimer:
The thoughts and opinions in this article, along with all stock talk posts made by Robert Edwards, are my own. I am merely giving my interpretation of market moves as I see them. I am sharing what I am doing in my own trading. Sometimes I am correct, while other times I am wrong. They are not trading recommendations, but just another opinion that one may consider as one does their own due diligence.
Disclosure: I am long PBR.