Although we got a pop in the US Dollar after the Yellen speech and Fed taper recently, the US Dollar really just moved back towards the middle of its trading range. Check out this article from Kira Brecht at Kitco that has a great US Dollar chart, click here. She concludes that gold is not moving based on the US Dollar and I agree. She also explains that crude oil prices, a good indicator of inflation, are strong, and supportive of gold. She suggests shrugging off the recent selloff in gold and to look for the bull trend to continue. I agree whole-heartedly.
If you have been reading my posts recently, you know that I am long NUGT and looking for a rally back to $26 in GDX that translates to $47 in NUGT. Well, on Friday we just came a bit shy of reaching the $26 GDX target (we topped at $25.94). Gold had bottomed at $1320 and had bounced off the lows over $20 and looked like it was holding support. That all changed today however. Gold broke under support at $1330, $1317 and even $1310. It has some support $1307 to $1308.50 and again at $1300 that should offer some support in the near future. The 200 day moving average in gold is at $1302. Also there is major support at $1275 to $1285. Somewhere in here gold should hold support and retest resistance at $1350. So GDX should likewise bottom shortly as well. Lets take a look at the GDX daily chart: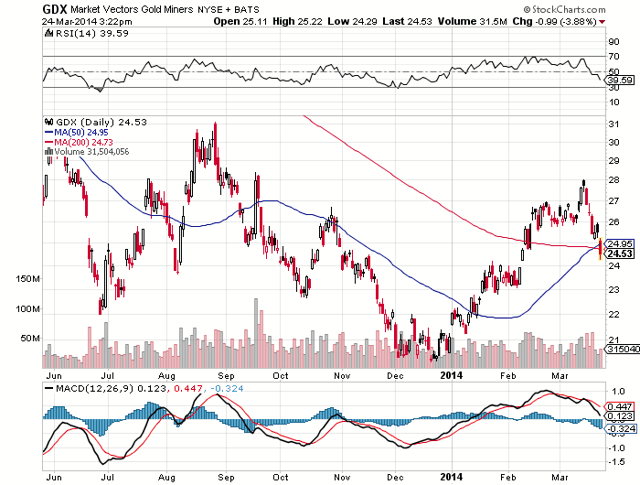 After bottoming at $20, we have rallied recently to a high of $28.00. A 50% correction of that entire move would bring us back to $24.00, not far from today's low of $24.29. If we get a Fibonacci retracement of 61.8%, GDX could retrace back towards major support at $23. But whether GDX stops at $24.29, $24.00, or at $23.00, I am looking for a significant rally back towards recent highs, and quite possibly new highs. If you look at the GDX daily chart shown above, you will notice that the gold mining ETF made a significant bottom at $22 in late June 2013. From there, GDX rallied to the same $28 area where resistance stopped the rally recently. Back in July 2013, the rally from $22 to $28 was accomplished in less than 4 weeks. This time around, it took 12 weeks to rally from $20 to that same $28 target in GDX. Back in July 2013, once the $28 target was achieved, GDX corrected to a low of $23.67, and from there GDX quickly exploded back up above $30 and ultimately $31. So holders of the leveraged bearish gold mining ETFS (DUST & JDST) should not get too complacent. GDX has fallen hard and fast off the $28 resistance like it did last summer. However, back in July 2013, we rallied just as quickly back to the old highs and then continued on to new highs. Do not be surprised if a similar thing happens again.
I remember last December when no one had anything good to say about gold, and they outright hated and despised the miners. A couple weeks ago it had totally changed and everyone loved the miners. In less than 2 weeks, the sentiment has changed again and the bears have come back in force. The media is now getting flooded with negative messages about gold and the miners. That is not by accident. Funds were long into the $28 resistance area, and now they have for the most part already taken their profits or are positioned short. They want to cause the gold mining stocks to get as cheap as they can so they can buy low. When we fall enough, hopefully somewhere between $24.29 and $23 in GDX, we should turn higher quickly and retake my initial target of $26, and then retest the high of $28. Do not be surprised if we happen to keep on going up towards $30 or $31 before we get the next significant correction down.
For the leveraged bullish gold mining ETF (NYSEARCA:NUGT) and leveraged bullish Junior mining ETF (NYSEARCA:JNUG) holders, I won't bother to provide charts as you can base everything off of GDX. You should be able to calculate where NUGT and JNUG will go based on GDX. For instance, if GDX drops to $24, NUGT could fall to $36.75, JNUG could fall to about $20.50. If GDX falls another dollar to $23, a further drop of 4%, then the leveraged ETFs could fall at least 12% more, or to $32 in NUGT and $18 in JNUG. Hopefully we will stop well before hitting these lower levels. If we then rally to $26 in GDX, that is $47 in NUGT, and about $30.50 in JNUG. They are obliterating the Junior miners today so JNUG is a better buy than NUGT going forward. JNUG has fallen more so it should get the bigger bounce when we do rally.
Disclaimer:
The thoughts and opinions in this article, along with all stock talk posts made by Robert Edwards, are my own. I am merely giving my interpretation of market moves as I see them. I am sharing what I am doing in my own trading. Sometimes I am correct, while other times I am wrong. They are not trading recommendations, but just another opinion that one may consider as one does their own due diligence.
Disclosure: I am long NUGT.