Trading Opportunity In Quintiless Transnational Holdings Inc. (NYSE:Q)
I was researching a different stock and ran across a Zachs article telling me my stock was a hold, but that they had three similar stocks that were a strong buy: EVHC, ICLR and Q. I dropped my stock choice and researched the three stocks Zachs was recommending. Of the three, I thought Q was the most interesting. In doing my research I found out this company provides the labs to do drug research for big name pharmacies, and is involved in the approval or marketing of the 50 highest grossing prescription drugs on the market. And the company is profitable. Enough on the fundamentals. For the technicals I first looked at the weekly chart of Q as follows: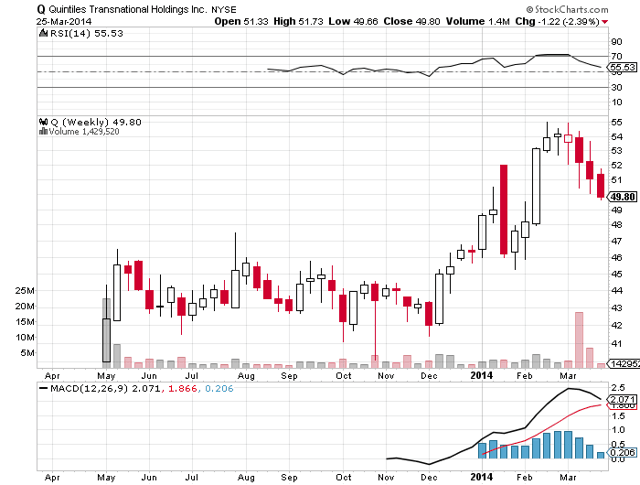 You can see that this stock has only traded since May 2013. We are now in the fourth week of a correction and this has only occurred once before, in August 2013. Thus if I buy this stock this week, I should get a pop in the next week or two to let me out with a $2 profit or so. Now we can look at the daily chart of Q: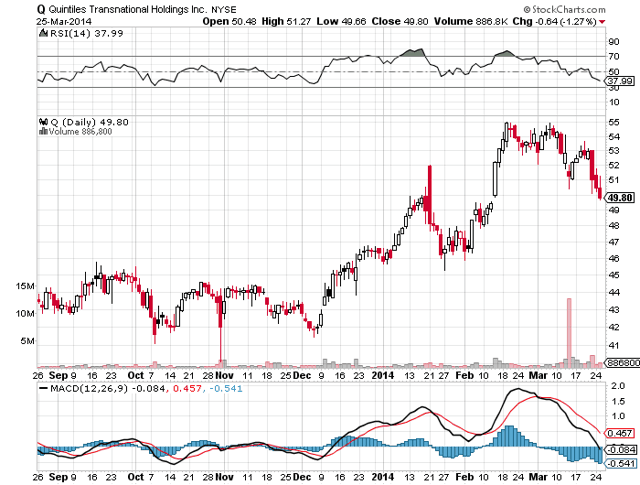 We recently dropped $4.59 from $55 to $50.41 before rallying back to $53.67. A similar $4.59 drop would give us a bottom at $49.08. There is also an unfilled gap from $49.44 to $50.00 dating back to the middle of February, which could lend some support. There is further support at $48 and strong support at $46.50. We are now in a 5 day downtrend and in the past this stock usually bottomed on the sixth trading day. That would mean a bottom and possible reversal up on Wednesday, March 26, 2014, preferably in the low to mid $49s. When we do bottom this stock could easily pop back $3 in just two or three days. If I am totally wrong about bouncing off $49 support (which I don't think I am) and the stock keeps falling to major support of $46.50, a $3 rally from there will let me out at break even on my high priced shares and I can make a nice profit on the shares I bought at $48.50, $47.50 and at $46.50. I plan to purchase Q shares in the $49.25 to $49.50 area on Wednesday and add every $1 lower down to $46.50, until I get a $3 rally. I do not plan to be in the trade even a week.
Halozyme Therapeutics Inc. (NASDAQ:HALO) Is Giving A Buy Signal
Halozyme (HALO) is a stock that I mentioned in my weekend article found here. I mentioned buying the stock between $12.50 and $13 in the article and I did just that on Monday, 3/24/14. Thanks to a news announcement of a successful cellulite treatment study by HALO, it popped into the $13.40s in the premarket and I sold out in the $13.20s. I bought again on dips all the way down to a large buy at $12.20, near the lows of the day. I am again long overnight in hopes of a premarket pop, and/or rally during the regular trading session. Here is a look at the daily chart of HALO: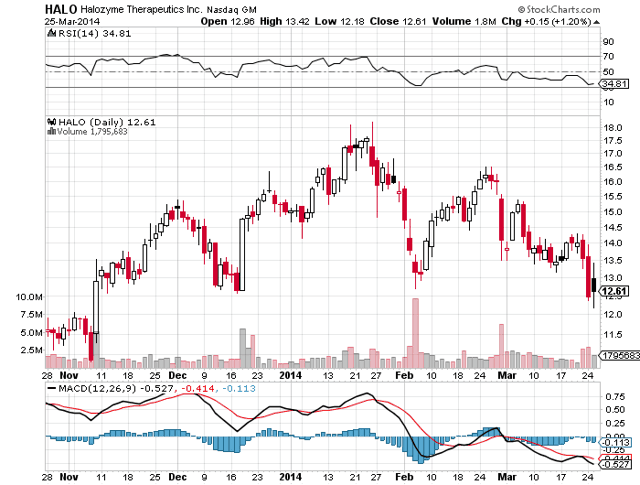 The last two candles on the above chart formed a bullish homing pigeon formation, as indicated at Americanbulls.com, click here. (Note: I also trade GDX/NUGT and they both formed a similar bullish homing pigeon pattern today as well). Anyway, if HALO rallies on Wednesday, the stock will be a confirmed buy at Americanbulls.com. When it bottoms, expect a $3.50 to $4.00 rally in short order. If for any reason the stock drops instead of rising, there is significant support at $11 and I expect that price will hold and from there the $3.50 to $4.00 rally should quickly commence.
The stock bottomed at $4, $5 and $6 about a year ago, and then in August 2013, from a $6.51 low, the stock made an impressive rally to $18.18 in late January 2014. That was a rally of $11.67. Since that $18.18 high was hit, HALO has fallen back $6, to a low today of $12.18. We have corrected 51.4% of the up move in the last two months. The Fibonacci 50% retracement level of $12.34 was hit today. The next Fibonacci support level at the 61.8% retracement level would come in at $10.97, right at the next major support level of $11. I am hopeful that we have already seen the low today, but I will buy again at the $11 support level if the stock should keep falling a bit more. Again, I expect a one to two week rebound of at least $3.50 when the low is made. Hopefully we saw the low today.
Disclaimer:
The thoughts and opinions in this article, along with all stock talk posts made by Robert Edwards, are my own. I am merely giving my interpretation of market moves as I see them. I am sharing what I am doing in my own trading. Sometimes I am correct, while other times I am wrong. They are not trading recommendations, but just another opinion that one may consider as one does their own due diligence.
Disclosure: I am long HALO.