I just watched Elon Musk be interviewed on 60 minutes. If you did not catch the interview, you can see it here. The man has a golden touch. You can't invest in SpaceX because the IPO has not come out yet, but you can invest in Tesla and Solar City. The stock price of each has corrected recently so this could be a good time to look at both of the stocks.
Solar City Has Corrected 35% Off The High
(click to enlarge)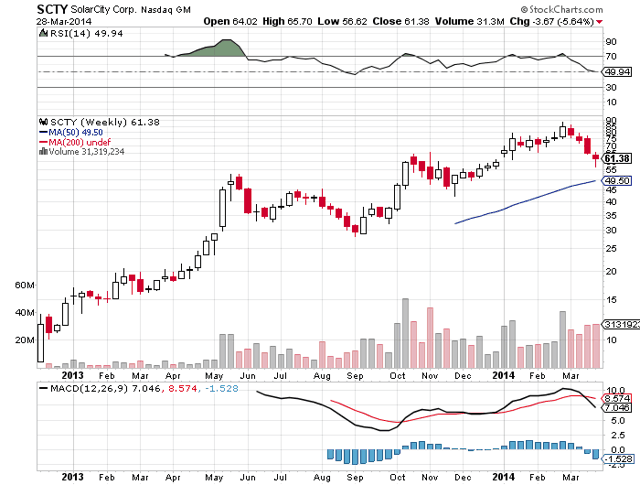 Click to enlarge
The above weekly chart of Solar City shows a stock that is moving up in an upward trajectory. However, the last 4 weeks it has been in a downtrend trend from a high of $88.35 to a low of $56.62. This is the third significant correction SCTY has had since it came public in December 2012. Carter Worth on Options Action, click here, points out that we have just completed our third 35% correction in SCTY and it is a buy. However, the middle correction can be divided into two corrections, so we actually have four corrections of about 35% and not three. The first correction from $52.77 down to $32.66 is a correction of 38.1% that occurred in May/June 2013. That correction lasted 5 weeks. Then it made a lower high of $45.60 in August 2013, and fell $17.29 to $28.31 just 5 weeks later, a drop of 37.9%. Then in October 2013, SCTY topped at $64.50 and then 5 weeks later hit a low of $42.38, a drop of 34.3%. However about halfway along the way, SCTY made a marginal new high at $65.30, a drop of 35.1% to the $42.38 low.
Now the recent high of $88.35 has so far resulted in a drop in 4 weeks to a low of $56.62, a drop of 35.9%, right in line with previous drops. We don't have to drop any further than what we already have, as we have already met our correction objectives.
Tesla Motors (NASDAQ:TSLA) Likes To Correct For About Seven Weeks When It Corrects
(click to enlarge)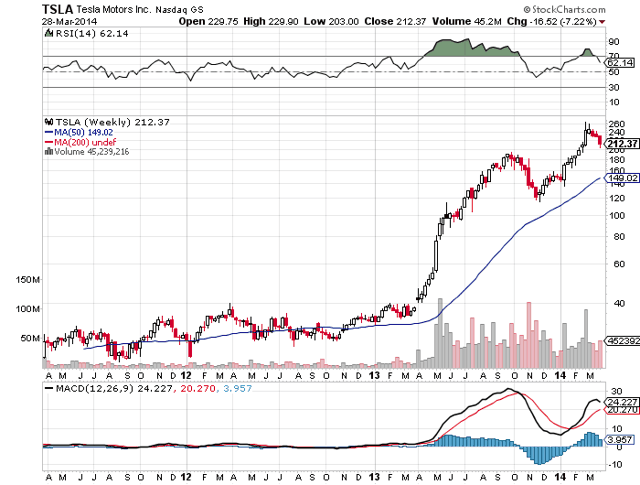 Click to enlarge
In July 2011, TSLA corrected down for 7 weeks. In early December 2011, TSLA topped out at $35.00 and corrected down for 6 weeks to $22.64. In March 2012, TSLA topped at $39.95 and dropped 7 weeks to $26.83. In July 2012, TSLA topped at $36.00 and dropped to $25.52 within 3 weeks, but remained in a downtrend for 4 more weeks to again make the 7 weeks of correction, but ended at a higher level than the bottom. In September 2012, TSLA made a minor high at $32.78, and fell for 6 weeks to about $27, and then made a minor pop in the 7th week before moving up big after that. Once TSLA broke through resistance above $40 in April 2013, it did not correct again until it reached a high of $194.50 in September 2013. We corrected about 8 weeks on that correction to $116.10, a drop of 40.3%. If we would not drop a similar amount from the recent February high of $265.00, TSLA could hit a low of $158. A Fibonacci 38.2% correction from $265, would give you a low of $163.77. So far in 4 weeks, TSLA closed at $212.37, and last week's low was $203. We could fall another $40 or so over the next 3 weeks to complete a normal 7 week correction.
One strategy might be to sell out of the money weekly puts to collect the premium or get exercised and purchase the stock at a slight discount. Or better yet, buy the stock on a dip and then sell in the money weekly calls, in hopes the stock gets called away, and to pocket the premium of the calls. Over the next 3 weeks, I will probably scalp in TSLA by buying a few shares just to get a feel for the market, while I wait for the 7 week mark to get a longer term position. I don't know the ultimate high TSLA reaches this year or sometime in the future. But I am confident that it is a lot higher than $265.00, and buying TSLA in the $165 to $190 range, if one can accomplish that, should be richly rewarded.
Disclaimer:
The thoughts and opinions in this article, along with all stock talk posts made by Robert Edwards, are my own. I am merely giving my interpretation of market moves as I see them. I am sharing what I am doing in my own trading. Sometimes I am correct, while other times I am wrong. They are not trading recommendations, but just another opinion that one may consider as one does their own due diligence.
Disclosure: I have no positions in any stocks mentioned, but may initiate a long position in TSLA, SCTY over the next 72 hours.