HALO Needs To Close Above $13.04 To Confirm Bottom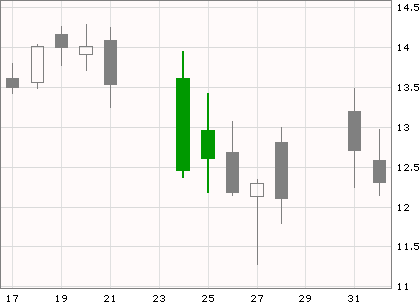 The above chart comes from Americanbulls.com, click here. Halozyme Therapeutics (NASDAQ:HALO) needs to close in the top half of the first candle body, shown in green on the chart. I calculated the halfway point as $13.04. So a close above $13.04 will get Americanbulls.com out of cash and back into HALO. If we can then trade above this week's high of $13.49, our upside target should be hit $3.75 to $4 above the recent $11.29 low, so we should hit $15 in short order once $13.50 resistance is breached. I will continue to accumulate shares on dips and will keep enjoying the premarket and early trading pops to take profits, as long as the stock wants to continue to provide this type of profit potential.
GDX/NUGT Formed Bullish Harami Cross Patterns Today
Again, if you punch in the symbols at Americanbulls.com, you will find that the gold mining ETF (NYSEARCA:GDX) and the leveraged bullish gold mining ETF (NYSEARCA:NUGT), both formed bullish harami cross candlestick patterns today. An up close tomorrow that is above the opening price, will confirm a bottom and buy signal, according to the rules of trading at Americanbulls.com. If gold would just cooperate. June gold futures broke under support at $1280, leaving the 61.8% retracement level of the recent rally from $1181 to $1392 at $1265 as the next support level. Surely we are within 1% of the low and will get a short term bounce in the near term.
KING Digital Entertainment (BATS:KING) Bounces Right On Cue
I was surprised the new IPO King Digital Entertainment (KING) was so poorly received. I guess the company just makes too much money and has too low of a P/E ratio at 11.29, even after today's large gain back to $19.75. Losing money and trading at 500 to 1000 times sales, and Wallstreet probably would have loved the stock. When I researched the stock, I was convinced the game maker was much more than a Candy Crush one-hit-wonder. It appears new games are rolling out every 3 to 6 months so as sales start to taper off on old games, new games should take their place. KING is the "king" of addiction gaming. This company is not Zynga and should not be compared to it. I bought KING the last couple days in the low to mid 18s and enjoyed a nice pop today to $19.75. Motley Fool does not like KING, click here and here, but I figured the stock was a steal at 20% below the IPO price and should trade at the IPO price of $22.50 at least one time, hopefully within the first couple weeks, and should reach some kind of a high, maybe $30 within the first 6 weeks. Now, although I identified a bullish harami pattern on 3/31/14 and loaded up on the stock, and caught a nice Marubozu bullish candle today, click here, after a morning pop and hopefully strong Wednesday, KING will find more resistance as it approaches its 5-day high of $21.39, and major resistance trading above the $22.50 IPO price. Lots of people will cash in near $22.50 breakeven and it may be a long while before that price can be breached. Still, I like the stock under $18.75, but you have to be more careful when buying in above $19.00. When it corrects back down I will definitely be accumulating shares again.
BITA Broke Out To The Upside Today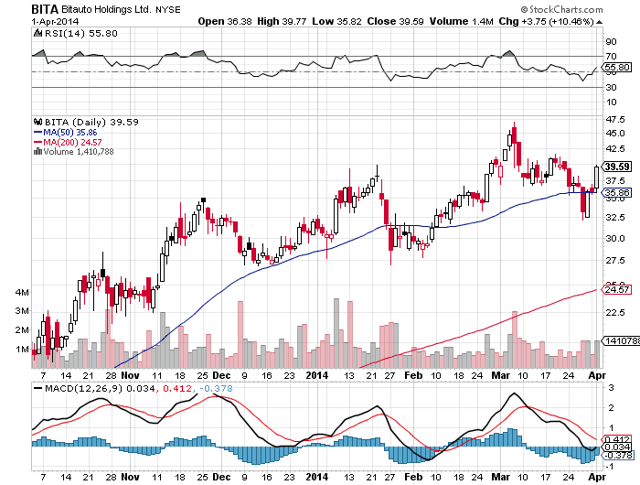 Until I was reminded by cindywu4 late today, I had not looked at BITA all day and missed the breakout move that can be seen on the above daily chart. If you draw a line off the downtrending highs of $47 and $41.50, that line was broken decisively with today's up move. Also the MACD is about to turn positive. I bought BITA today at $39.20 for a scalp and later decided to carry shares to the next day as it would appear this stock could quickly move to $41 possibly before rolling over or consolidating more. I will be taking some profits on a higher opening but will try to stick with this stock for an eventual retest of the highs.
Tesla Motors (NASDAQ:TSLA) Formed Bullish One White Soldier Candle Today
Go to americanbulls.com to see how TSLA formed a bullish one white soldier pattern today, click here. A higher close tomorrow that is above the opening price, will confirm a buy. Over the weekend I advised my son to buy shares at $210 and then sell in the money weekly $210 strike calls expiring this Friday to lock in the profit when TSLA trades above $215. He ended up buying shares at $207.10 and sold $207.50 calls when we traded to $213, locking in over $6,000 profit, buying 800 shares and selling 8 calls. If TSLA closes Friday above $207.50 ($216.97 close today), he will make nearly $8 a share, or just under 4%, in less than a week. He hopes to buy shares and sell in the money weekly calls to lock in the gains, or sell weekly puts in TSLA for income going forward. He got a good start this week.
Petrobras (NYSE:PBR) Is Looking Toppy, But I Want To Buy The Next DIP
Go to Americanbulls.com again, you will find that PBR formed a bearish hanging man pattern Monday, and should correct shortly. However, I plan to buy that dip. I can run some numbers once we roll over, to predict where a good buy zone is. However, the gap area from $12.00 to $12.30 would be a great place to reload on this stock. I plan to begin scalping lightly at $12.75 but get serious in the low $12s and back up the truck in the high $11s. If you read my recent PBR articles, I am looking for $15 in this stock before we make a major top. Right now, we are overbought and I prefer to not chase the stock above $13.
Cliffs Natural Resources (NYSE:CLF) Confirmed The Bearish Doji Star Pattern
On Friday, 3/28/14, I advised traders to take profits in the $20.20s in CLF and to wait to buy again at least $1 lower. I thought CLF would drop due to being removed from the S&P after the close on 3/31/14. It looks like some weakness is finally coming in today and we might get a move back towards $18.50 to $19.00 by the end of this week. If we do, I might sell some $19.00 puts again, and may scalp some shares from the long side. On today's lower trade, I was successful in buying dips and making several 15 to 20 cent scalps buying and selling 400 shares at a time, and made over $200 which I consider worth the trouble.
Summary:
I can earn $1,000 on a good day scalping, but buying stocks on the close that I feel have a good chance of making a morning pop, is where I make my greatest gains. I spend the last hour of trading accumulating inventory to dump in the premarket of the following day. There is an art at finding the right kind of stock, and then having it in the right setup for a pop. Most weeks there are two days where I catch a lucky eye-popping return. Two days I make small gains, and one day is a wash or we open down and I have to work my way out of the trade. The key is to diversify, to buy more shares on weak days and less shares when the day is stronger. The weaker the day has been, the greater chance we get a relief rally on the opening. Also keep cash to average down. Also don't go crazy unless you have outsized gains already in the stock to pad your account if you catch a downdraft. This is definitely a game for professionals, or for those who are truly committed. I am still learning, and getting better by the day.
Disclosure: I am long HALO, NUGT, BITA, KING, TRTC.