Weibo (NASDAQ:WB) Had An Auspicious Trading Debut
On Thursday, 4/17/14, Weibo Corporation (WB) came to the market at $17.00 and began its first (partial) day of trading. After opening at a weaker than expected $16.27, it soon hit a high of $24.48, a pop of 50%. It then fell back to earth, closing at $20.24, a $3.24 (19%) increase from the $17 IPO price. WB is the Chinese counterpart of Twitter (NYSE:TWTR). Prior to coming public, it was 77.6% owned by SINA Corporation (NASDAQ:SINA) and 19.3% by the soon to come public Allibaba. When Allibaba comes public, it will likely pop the stock of WB. Also WB could easily be taken out by either Allibaba, SINA, or some other entity. I would expect a buyout to occur within the next 1 to 2 years. You can check out the fundamentals elsewhere on Seeking Alpha. I just find it interesting as a trading vehicle and will concentrate in this article, only on the technical picture. Here is a an intraday chart of the first trading day in WB:
(click to enlarge)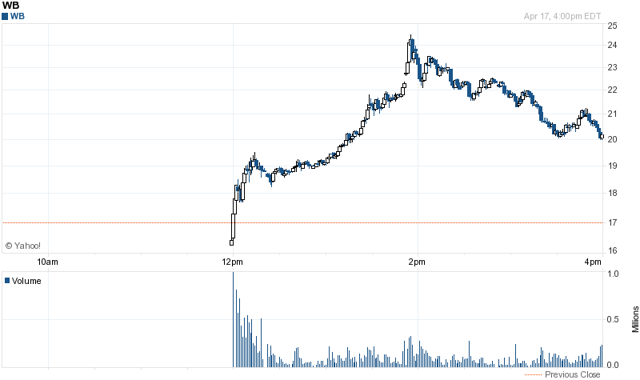 Click to enlarge
I regret that I did not have my order in to buy on the opening on Thursday, but I did jump in when it began surging above $17.50. After rallying above $19, it fell back to $18.25, where I had a large buy order sitting. Unfortunately someone else got filled at that price but it was not me. I was forced to add on strength as the stock traveled above $20 and then $21. I figured the stock should have difficulty trading above $21.50 to $22 so I took my profits above $21, and was not surprised WB topped out momentarily at $21.80. I wanted to go short there but lacked the nerve. I did place the trade in my head, but when the stock did not fall much, I announced to my son who was visiting, if short, I would have covered at $21.50. That would have been wise, since the stock marginally took out the $21.80 resistance, then soon exploded above $22. When that occurred, I told my son that this is very frothy action and should not last. I was afraid to go long above $22 as I did not want to hang shares that I would be losing on at the close. My son mentioned that he saw on the Yahoo Chat room that someone was predicting a move to $25 on the first day of trading. I stated that it would surely stop short of $25. It topped at $24.48. As it was breaking below $24, I again announced that I was placing a stop to get short the stock on a break of $24, but again it was only in my imagination and I was not placing a real order in the market. As the stock fell back below $21.80, I announced that I was covering my imaginary $24 short position, and then decided to play the stock again using real money. I bought 50 shares at $21.65 and then added 50 shares every 20 to 30 cents lower. In the low $20s, I bought a few hundred shares to average down my price to just below $20.70. When the stock traded back above $21, I sold out of my position as high as $21.14. I then bought shares on the dip back below $20.75. This time I got lucky and caught some shares at $20.01, making my average price going into the close, $20.39. The stock closed at $20.24.
In the aftermarket I sold out of much of my position at $20.50, $20.60 and $20.64. I anticipate that the stock will trade in the $17 to $25 range next week. For the first month, I would expect the stock to trade in the $15 to $30 range. Just as $21.80 was initial resistance on the first day of trading, that should again be short-term resistance on Monday. Just as $18.25 was support on the first pullback off the highs on Thursday, $18.25 should be support. I plan to buy shares on weakness under $20, and will scale trade my buys every 50 cents or so. I will get aggressive if allowed to buy in the $17 to $18 area. On strength, I will unload shares as this is a trade and not a long-term holding. I expect the aftermarket and premarket to be strong with retail customers anxious to buy. I will try to get inventory prior to the close each day to sell to them.
Twitter (TWTR) Should Be The Guide For Weibo (WB)
Since WB is the Chinese TWTR, I would expect TWTR and WB to be positively correlated, meaning they should rise and fall somewhat together. Lets take a look at the TWTR chart for clues to what we might expect from WB going forward:
(click to enlarge)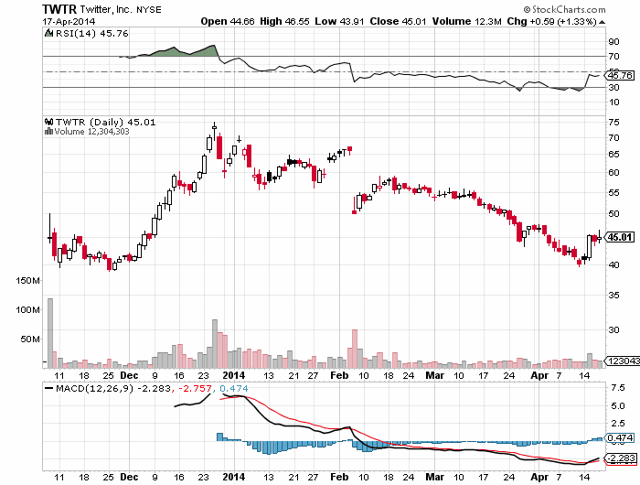 Click to enlarge
The above daily chart shows where TWTR has traded since coming public in early November 2013. On claims that TWTR was vastly overpriced, TWTR dropped about 10 to 12% below the first day's closing price over the first couple weeks. If WB does something similar, it would trade primarily in the $18 to $20 range. I will be watching to see if WB trades in that or another range, possibly a bit higher. Once the range is established, then we might move substantially higher.
TWTR Is Finally Perking Up
After being in a near death spiral, TWTR has now bottomed as predicted, just below $40 where it has shown to have major support. I am looking for a move to $49.50 in the near term and was happy to see that the stock could trade to $46.55 on Friday. After making the high of the day, I was able to pick up shares at $44.62, nearly $2 off the high. With earnings coming out in another week, options volatility is tremendously high, projecting a very large move post earnings. The last earnings announcement caused a drop from $65.97 to a gap lower of $50.61 the next day. It hit a low post earnings of $49.99, but bounced back to $58.98 just a week later.
Considering A Strategy To Take Advantage Of Extremely Elevated Option Premiums In TWTR Due To Upcoming Earnings
When TWTR announces earnings after the market close on 4/29/14, I expect an exaggerated move. However, this time, the move will more likely be to the upside since the big share lockup ends just a week post earnings. The company will surely offer a share buyback program or some other perk to support the stock during this time of uncertainty, especially with the recent selloff back to prices near all time lows. Because of earnings, the call options have tremendous premium locked up in them, and if the post earnings move turns out to be much more muted, call premiums might drop in a hurry, making a covered call strategy quite profitable. I would be curious as to what others would suggest.
Disclaimer:
The thoughts and opinions in this article, along with all stock talk posts made by Robert Edwards, are my own. I am merely giving my interpretation of market moves as I see them. I am sharing what I am doing in my own trading. Sometimes I am correct, while other times I am wrong. They are not trading recommendations, but just another opinion that one may consider as one does their own due diligence.
Disclosure: I am long WB, TWTR.