My last article suggested selling puts in Cliffs Natural Resources (NYSE:CLF) click here, going into earnings that were announced after the close on Thursday, 4/24/14. Consensus earnings expectations were lowered from a 3 cent gain, to an 11 cent loss, and finally a 15 cent loss. The number that came out was a loss of 54 cents, which would have been about a dime worse but for a one time revenue event that helped the bottom line. In my article I mentioned how I was short the April 25th expiration $18.50 strike CLF puts sold the previous week, and this week I shorted some $18 & $17.50 puts to average down my price in case I was exercised. With a post earnings Friday close of $18.00 in CLF, the $18 and $17.50 puts expired worthless, allowing the seller to keep all of the premiums received. Even the $18.50 puts were fine when one figured in the premiums received. However, I did not stick around to get those earnings. You see, when CLF had a short-covering rally above the $18.50 strike on Thursday just before earnings were announced, I elected to take profits on not only the $18.50 puts, but on the lower strike puts as well. I decided I would do better trading the actual stock. That was an understatement. Here is the play by play account:
After the market closed on Thursday, there was some delay but eventually the stock started falling in price. I would not get to find out what the earnings were for another 5 minutes, but I knew they were bad, based on the price action. I started buying the stock in the $17.70s, which was over $1 lower than the $18.76 close. I bought more in the $17.40s, again in the teens, and then got real lucky and caught a large buy order at $17.04. Briefly there was a bid just under $17.00, but right on cue, the stock found support at $17.00 and immediately started rallying. I felt really good when I checked my average price and it was $17.22. On a pop back towards $18.00, I sold out in the $17.80s and $17.90s. Then came a quick selloff back towards $17.75, but my $17.65 and $17.51 buy orders were not hit. CLF then shot up to and exceeded $18.00. At that point something remarkable happened. A large order buy came in. The bid had a number in the 60 range, meaning it was for 60, one hundred share lots (6000 shares). That is not a big order for trading during the day, but it is a big order for the aftermarket. The number then increased to something like 126 which I took as significant. I immediately placed a limit buy order at $18.01 and caught some shares. I would soon sell half those shares at $18.18 but caught more shares at $18.01 and again at $18.00. Eventually, the large bid sitting at $18.00 was taken out and we traded down to $17.96 as is expected. However, I had a strong indication that $18.00 would be defended by "the big boys" on Friday, and all dips under $18.00 should be a buy! I decided to keep my $18.00 & $18.01 priced shares overnight. I was already expecting to see traders try to defend the $18 price level in CLF, as they had stubbornly bought prior to earnings, every time the $18 level was approached.
Then in the premarket on Friday, buying came into the stock. You can't believe how shocked I was to wake up and see a bid of $18.54 in CLF. I immediately sold all shares I could at $18.54 and would get out of all of my shares in the $18.50s. The stock soon sold off closer to $18.00. As the market traded in the day session, I bought every time CLF traded below $18.00 and took profits on rallies above $18.00, with one rally hitting $18.50. Anyone who wanted out of their $18.50 puts could have bought back at a profit on that rally.
Thursday's close of $18.76 was the first up close in 11 days, and the stock was extremely oversold, limiting the downward pressure seen on Friday, even with the bad earnings result. Bad earnings were already priced in. During the day I backed up the truck and loaded up in CLF at $17.77 and again at $17.62. On Stock Talk, I predicted that "the big boys" would pin the stock at $18.00, $18.50 or $19.00 but most likely $18.00. Fifty minutes before the close, a "stopper" appeared as expected, when the stock traded up to $18.01. Every time buying knocked out the "ask" at $18.01, more shares were added to the ask at $18.01. The number was not always high on the ask, but hundreds and eventually thousands of shares were being filled there. It was apparent the "stopper(s) was(were) placing orders in "stealth mode" that does not reveal ones true size. When you see a 50 show up on the ask, and 100 lots get filled and it does not budge, followed by dozens and dozens of more shares, it is quite apparent that a big ask order was sitting at $18.01. Looking at volume figures on the one minute charts, one can count the exact number of shares getting filled at $18.01. It is not uncommon for a million or two million shares to be sold at that level to keep a stock from rallying. Eventually the trade catching on, or at least gives up trying to budge the stock price more than a dime above or below the strike price being pinned. There is as much buying a penny or two below $18 as there is selling above $18. I am sure "the big boys" were buying CLF in the $17.70s and $17.80s prior to the last hour of trading, to get inventory to sell out at $18.01 so they would not have to get short the stock. Also, if the stock starts to fall below $18.00, they will buy as many shares as is needed to support the stock, and gain more inventory to sell at $18.01 again. The relentless selling is a signal to all traders to back off the buying as the stock was supposed to be pinned at $18.00. There was a fakeout or two on Friday in CLF, late in the day, when the stock was allowed to trade towards $18.10, but that is just to relieve some buying pressure. Selling quickly reappears to knock the stock back to $18.00. As weekly options volumes increase as traders get more comfortable making weekly bets long (buying calls) and short (buying puts), expect more pinning to occur in stocks as the option sellers want to maximize their profits. Traders like myself will pick up on the practice and try to exploit it as well. Our buying and selling helps the pinning process. My confidence in the pinning action that I expected to occur at $18.00, allowed me the confidence to back up the truck and buy in the $17.77 and $17.62 area earlier. "The big boys" ultimately succeeded in getting their closing price, as they nearly always do. On the close, I liquidated nearly all of my shares as the game was over. It would not be prudent to carry that many shares over the weekend. With options expiration out of the way and weekly options not expiring again for another week, the stock would be able to trade freely again come Monday. I would not be surprised to see a retest of $17.50 or even $17.00 on Monday. But if it does, you can believe that I will be buying that dip! I don't know how low they will carry this stock, but I doubt very much that we will close under $17.00 and may not see another close under $18.00, without first having a significant short-covering rally to at least $21.00. (A side note: it is tradition to call big money "the big boys". Women please take no offense. I am sure a women can be as ruthless as any man in playing "the game" to maximize profits. I am all into equal opportunity).
With the stock market selling off in the momentum names, CLF should be an excellent buy candidate for those looking for a place to hide out in, if we should continue to correct in the overall market. Friday's low of $17.46 is just above the major bottom hit on 3/10/14 at $17.40. We are at major support. Just take a look at the weekly chart of CLF going back 2 years.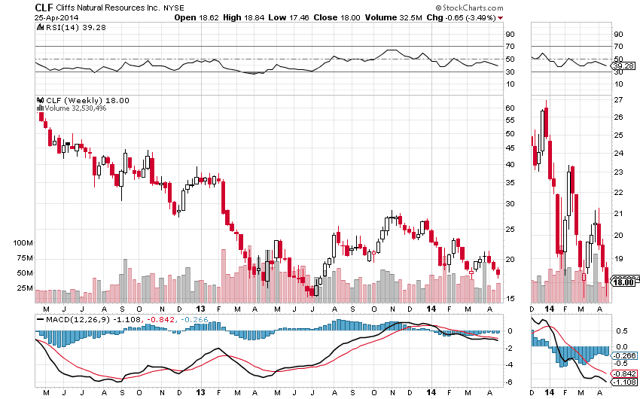 One can see how we are close to major support of $17.00 and not far off the major low of $15.40 hit in July 2013. We have been down three weeks in a row in CLF, and in the past CLF has sometimes fallen for 4 or 5 weeks or a bit longer, but those additional weeks usually have nice substantial short covering days mixed in, that allow for partial liquidation on rallies to be able to scale in buy lower to average down ones price.
I don't think they will be able to do it, but if the bears were able to knock CLF below $17.00, any dip below $17 should be extremely short lived. If this stock goes much lower, it could become the best "Buy Of The Century" candidate since equally hated Green Mountain Coffee Roasters (NASDAQ:GMCR) bottomed in the $15s prior to moving strongly above $100. As I mentioned on Friday's Stock Talk, the roulette wheel has come up on red just too many times, and it is now time to bet on black. Black came up only one time out of the last 12 spins of the roulette wheel, with CLF closing unchanged or lower 11 out of the last 12 days. A significant short-covering rally should begin sometime next week, if not on Monday. This could be fun!
P.S. By the way, I still like selling weekly and monthly puts in CLF and may do so in addition to day trading the stock. Although earnings have passed, put premiums should remain elevated based on the extreme negative sentiment associated with CLF. Buying CLF under $18 reminds me of buying Petrobras (NYSE:PBR) under $11 recently. You did not know where the bottom was in PBR (except for me as I predicted the low by 1 to 3 cents) but a pop to $14 was right around the corner. You don't know how stupidly cheap the bears will make CLF before it bottoms, but a buyer should soon be richly rewarded when CLF pops 30% if not 50% off the bottom. I expect CLF will bottom in the next 6 trading days or less, and then begin a rally of $4.50 to $5.00 off the bottom. The near term bottom should occur, even if the stock fails to propel itself out of the several year death spiral it is caught in.
Eventually the economy will improve in the U.S. and China, lifting prices of iron ore and metallurgical coal out of the abyss, and CLF will form a bottom that is not retested for years. Bears making up the outrageously large short interest in CLF, you have been warned! That multiyear low could have even been formed on Friday's low of $17.46.
P.S.S. Check out this great put selling article written by George Acs, click here. Selling puts in CLF is mentioned in the comments section.
Disclosure: I am long CLF.