Facebook (NASDAQ:FB) Has Corrected Into Support From $52 To $55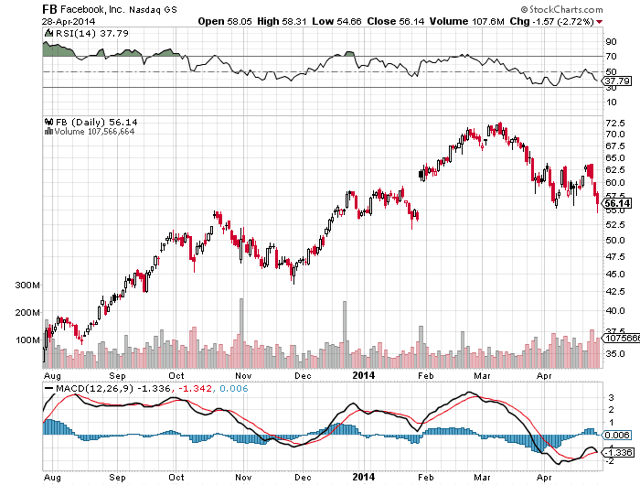 Looking at the daily chart of Facebook (FB) starting from the left side of the page, one will notice that the stock rallied nicely until it hit resistance of $51 and then $55 in October 2013. After a consolidation period of nearly 6 weeks, FB rallied to a new high of $58 in December 2013. Another 6 week consolidation then ensued, where FB traded between $52 to $58 before exploding to new highs towards $62 on 1/30/14, right after blowout earnings were announced. The gap from $53.53 to $62 has yet to be completely filled. With those great 4th quarter earnings announced in January 2014, Facebook continued to rally until topping out at $72.59. From that high nearly 9 weeks ago, FB has stayed above $55 until today when it hit $54.66. But even today the stock rallied to close at $56.14, safely above $55. With $55 providing solid support for over a month, and the additional support being the bottom of the gap at $53.53, it would appear that we are in an excellent support zone to buy some FB stock for anyone so inclined. There is even more support at the $52.50 to $53 area, if the gap is eventually filled. The MACD shown at the bottom of the chart, turned up, going into the 4/23/14 earnings report. Even though the results were fabulous, this time FB fell for three days post earnings. Regardless of what Twitter does after it reports tomorrow, 4/29/14, I feel Facebook should still bottom this week. I would consider any movement in FB below $55 a gift.
Any Bearish Reaction To Twitter Earnings Should Probably Be Bought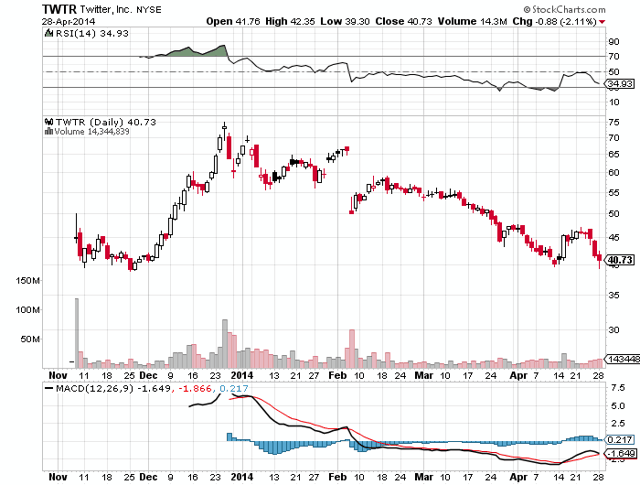 Unlike Facebook, when Twitter (NYSE:TWTR) announced their 4th quarter 2013 earnings back in February, the stock gapped down rather than up. From a pre-report close of $65.97, the stock opened $15.36 lower at $50.61, leaving a large gap that was has never been completely filled. When the stock rallied to as high as $58.98, TWTR filled only 54.5% of the gap, just over halfway. The stock has now been down 10 of the last 11 weeks, and has slipped again today, the first day of the 12th week. I don't know what earnings will bring after the close tomorrow, but surely much of any bearish news has been factored in with the recent move down to the $40 support area. If TWTR does gap down after earnings, I plan to buy into that weakness to play for another filling of the gap. The expectations were high back in February and those hopes were dashed. However this time the expectations are much lower, and I don't believe TWTR will have too much of a bearish reaction, if it does fall post earnings. I will be flat going into the TWTR earnings report, but I am hopeful the stock trades well post earnings, as the company has a great incentive to try and support the stock with the expiration of the lockup next week. From whatever low TWTR hits post earnings, I expect to see a rally of $8 to $12 within the next few weeks, regardless of the earnings, based merely on the fact the stock has traded so weakly going into earnings. If the earnings report is pathetically bad, TWTR could quickly drop to $35 where I expect it would find support, for a move back towards last weeks high around $47. If $37 holds the bottom, TWTR could rally soon towards $49.50. If TWTR would gap up on an excellent earnings report, it could reach $52.50 or higher in the short term.
In looking at several momentum stock charts this past weekend, like Tesla Motors (NASDAQ:TSLA), I concluded that the momentum stocks should form a significant bottom between Monday 4/28/14, and Monday 5/05/14. After watching today's action, I am more convinced than ever that a tradable bottom should be found within the week. Facebook and Twitter are both highly regarded momentum stocks that should bottom shortly.
Angie's List (NASDAQ:ANGI) Appears To Be A Screaming Buy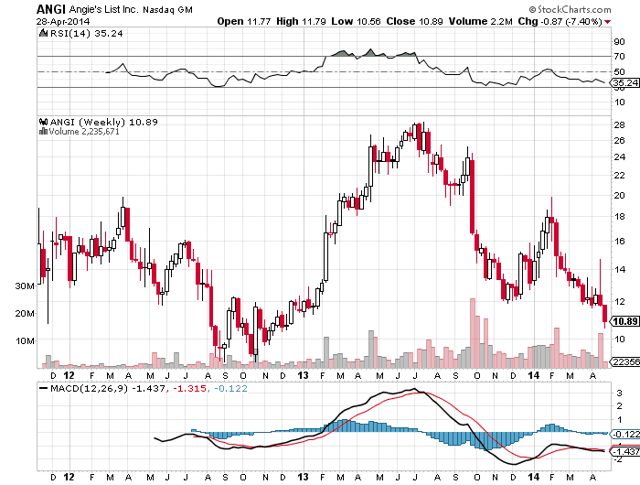 The last bar of the above weekly chart of Angie's List (ANGI) only includes one day of price action (today's) rather than the normal five. But I wanted to show the weekly chart going back to when ANGI began trading in November 2011. I was bullish going into earnings that were reported on 4/23/14, check out my last article here, where I recommended buying the stock around $12. That trade would have worked out fine since the stock closed at $12.82 going into the 4/23 earnings report. ANGI blew out earnings expectations just like TWTR, and gapped up to $14.54 on the opening last Thursday. However, it quickly topped out at $14.65 and fell throughout the day. By the close the stock was barely up and settled near the lows. Then on Friday selling continued and ANGI closed below $12. Then today ANGI hit a new 52 week low of $10.56. With the blowout earnings report, it is surprising that ANGI would fall back below $12, let alone make a new 52 week low just 3 days later. I am lost for words. I was bullish at $12 and below a month ago, and even more so today, despite the current selloff.
The indiscriminate selling going on now in the social media stocks is surely fund related, and ignores improving fundamentals. If I was a conspiracy theorist (which I am not), I would call the move a shining example of market manipulation. A week ago, Jim Cramer from Mad Money fame, talked about investment banks having the ability to circumvent the lockup rules, by making a basket of like stocks that Twitter holders can short to protect themselves from the expected weakness coming up when the share lockup ends. Could this be what happened? ANGI would be on that "sell list", and being a smaller company, it could easily be overwhelmed by TWTR related sell orders as the number of TWTR shares being released in the lockup is monstrous. If I am correct then the current selloff is not justified, and should turn around soon. I have to say that I was caught off guard this time by the relentless selling, but I will not be caught off guard again.
Weibo (NASDAQ:WB) Has Had A Morning Pop Every Day Since It Started Trading Seven Days Ago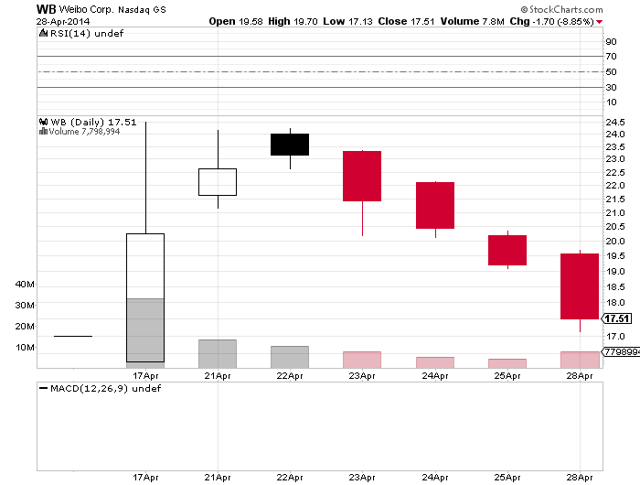 I carried this stock home with me every day from the first day it started trading. Every day I have bought or added to my position in the Chinese Twitter stock Weibo (WB) on the close, only to sell out at a profit in the next day's premarket. If the stock was popping at higher prices, it should pop even more from lower prices. China stocks have been weak across the board recently, to include SINA (major owner of WB) and NQ. With four straight down closes in Weibo (WB), one would think that this stock would stabilize soon.
This Is The 8th Week Of A Down Trend In The Social Media ETF (NASDAQ:SOCL) So It Should Bottom This Week If History Is A Guide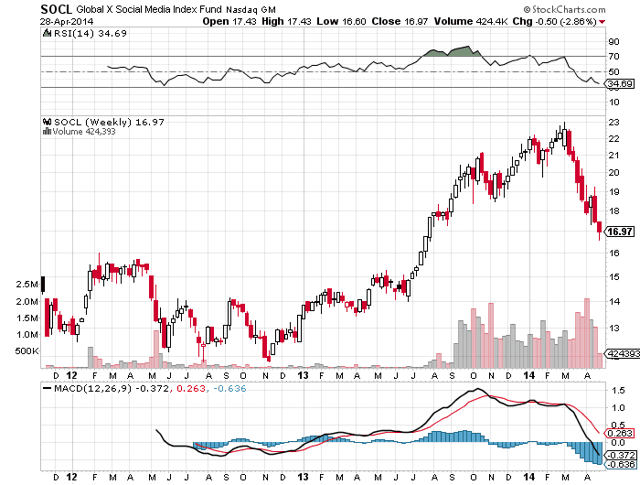 The above weekly chart of the Social Media Stock ETF (SOCL) is shown above, going back to its beginning in November 2011. If you look at the beginning of the chart, on the left hand side, it made its first major bottom in its 8th week of trading, at $12.50. After rallying to $16, it then went sideways for a couple months before starting a selloff that bottomed again in the 8th week at $12.16. From the next high of $14 hit a month later, SOCL had another 8 week downturn to $11.84. After a 2 week rally to $14.13, it then fell for 9 weeks to its all-time low of $11.81. After a 3 month rally to $14.49, SOCL completed a 7 week downturn to the mid-$13s. Another one month rally to just above $15, it then bottomed again on the 8th week of a downturn, at $14.00 in June 2013. From that major low the ETF would continue moving up to its all-time high of $23.00 the first week of March, 2014. Counting from that high, this week is the 8th week, and exactly when one would expect to see a bottom again. The last bar only includes one day of action (today) rather than the usual 5 days, as I am writing this on a Monday.
Conclusion:
You can see that both in time and in price, we are due for a bottom in the social media space this week.
Disclaimer:
The thoughts and opinions in this article, along with all stock talk posts made by Robert Edwards, are my own. I am merely giving my interpretation of market moves as I see them. I am sharing what I am doing in my own trading. Sometimes I am correct, while other times I am wrong. They are not trading recommendations, but just another opinion that one may consider as one does their own due diligence.
Disclosure: I am long ANGI, WB.