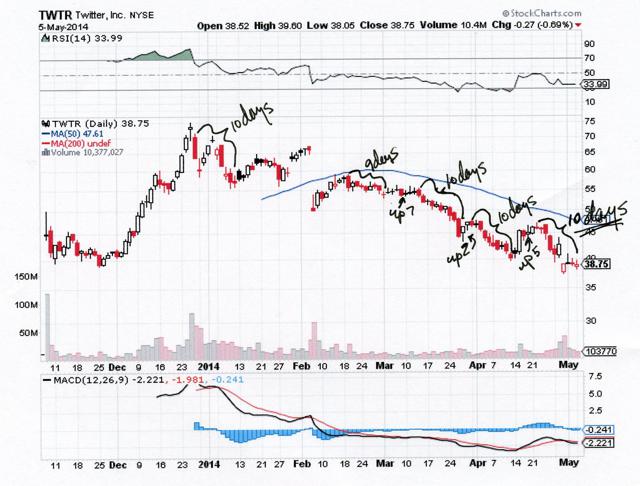 There are dozens of articles written about how Twitter (NYSE:TWTR) will fall precipitously the moment the big share lockup ends on Tuesday, May 6, 2014. The prospectus tells us that 474.7 million, or 87.1% of the outstanding shares are being unlocked tomorrow. Scary thought right? Nope, not scary at all.
I agree with Eric Hippeau, click here, that the end of the lockup is a non-event. We have had months to prepare for this day, and the share lockup ending is well known. TWTR has been shorted in anticipation of the shares being added to the market. The share price has fallen to such a level that if major selling does occur, large funds will be willing to pick up the shares. The market feels that it has now fallen to a level that will balance any share sell orders with equal buy orders. You see, TWTR has already fallen greatly, in anticipation of the event. You buy the rumor and sell the fact. In this case, they sold off TWTR on the rumor of the big share unlock, so one should buy on the actually news. The market is pretty well poised for the worst. Things should only get better from here.
The insiders have already reported they will not immediately sell, and that takes care of nearly 40% of the lockup right there. And why would others want to immediately sell into the current weakness? To skirt the rules against selling early, I firmly believe that a basket of social media stocks found in the social media ETF (NASDAQ:SOCL) have already been shorted, causing the current weakness found in Facebook (NASDAQ:FB) and others. When TWTR can now be sold directly, I would assume that the shorts in Facebook and other social media stocks will be lifted, as the Twitter substitute shorting is no longer necessary. And as the shorts are lifted through buying across the board in the social media stocks, it should pull up all the players, including Twitter.
When investors in TWTR were surprised by poor earnings on February 5th, the stock sold off hard and then rebounded over the next 8 trading days. When TWTR surprised with better than expected earnings last week, the stock bounced off the bottom but has not been able to rally for these past four trading days, most likely due to worries over the share lockup ending. Whatever weakness is seen in the first hour of trading on Tuesday, May 6, 2014, I expect TWTR will stabilize and begin rallying on relief that selling was less than feared. We should finally get the rally that should have started in earnest last week, but for the May 6th lockup ending.
Looking at the daily chart of Twitter, shown at the beginning of this article, since making a high of $74.73, one can count out ten trading days where TWTR made a tradable low. Then after the February earnings report that caused a hard plunge and partial retracement lasting about 8 trading days, TWTR then fell 9 days, rallied for 7 days, fell for 10 days, rallied 2 days, fell for 10 days, rallied for 5 days, and has now fallen for 10 days again. We are due for a small bounce of 2 to 8 days even if TWTR is going to continue to move lower.
I seriously doubt many long-term original investors will want to twitter away their shares at a price under $40. Since making a high of $74.73, the price has already been cut nearly in half. I would think that most would want to achieve a price closer to $50, if not $60, before selling. For those unable to get into the original public offering, this is a great chance to get into a stock that was once a Wall Street darling.
Facebook was despised when it came public, due to its botched IPO overpricing. Yet it bottomed on its big share lockup termination and then rallied strongly. Twitter had a great IPO and was loved....until traders began concentrating on the May 6th share lockup termination. Without the lockup, TWTR would have surely traded much, much higher. It may have already made a new high. It may have even traded to $100. Maybe not. I would venture to say that without the share lockup termination of May 6th, TWTR surely would have stayed above $50.00, where it bottomed on the disappointing earnings report of February 5, 2014. My advice is take advantage of any gift you get in the next couple days. Don't expect the weakness to last very long, if we get much of any weakness at all!
Disclaimer:
The thoughts and opinions in this article, along with all stock talk posts made by Robert Edwards, are my own. I am merely giving my interpretation of market moves as I see them. I am sharing what I am doing in my own trading. Sometimes I am correct, while other times I am wrong. They are not trading recommendations, but just another opinion that one may consider as one does their own due diligence.
Disclosure: I am long TWTR.