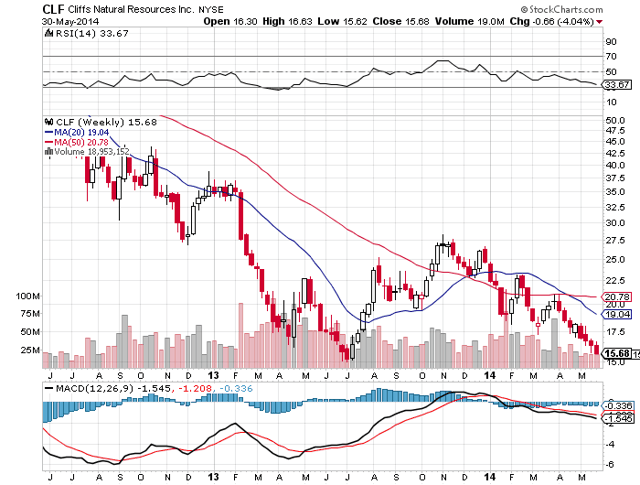 Everything you need to know about Cliffs Natural Resources (NYSE:CLF), can be found in the technicals. I have read the various recent articles written at Motley Fool and Seeking Alpha, just to be sure there is no imminent bankruptcy. Beyond that, the fundamentals are pretty meaningless as all the bad news (by definition) is contained in the stock price action, and based on what I see, if anything, the bad news has been overly priced in.
If you look at the above weekly chart of CLF, you will see that closing this week at $15.68, CLF is very near the multi-year low of $14.99 made on July 5, 2013. Back in July 2013, CLF dropped for 8 weeks from $22.95, down to that $14.99 bottom. Well, we have now fallen for a similar 8 weeks, from an April 2014 high of $21.05, to today's low of $15.62. We are close to the area where CLF was able to rebound in the past. That previous rebound was from $14.99 in July 2013, to a high of $28.37 in early November 2013. On the selloff from that high, CLF fell 4 weeks, rallied 2 weeks, fell 5 weeks, rallied 2 weeks, fell 4 weeks, rallied 3 weeks, and now has dropped 7 of the last 8 weeks. The fact the current selloff has lasted 7 months, it is getting very, very extended. After 6 to 7 months is usually the time you want to look to go the other way and start your buying campaign in a falling knife stock.
In 7 months, CLF has fallen from $28.37 down to $15.62, compared with the 6 month drop in 2013 from $38.83 to the $14.99 low. The recent drop is not as severe in dollar amounts or even in percentage terms. Also the 2014 downward momentum is much less than what occurred in 2013. This is called positive divergence. Even if the stock makes a new low, the MACD will not do so, giving a buy signal!
Another metric I like to look at, is how much positive retracement occurs the next week, during a selloff like the one we just had that has lasted 8 weeks so far. Looking at the last 8 bars of the weekly chart shown above, the first week had a low of $19.19, followed by a high of $19.66 the following week, a retracement of just 47 cents. The 2nd week low was $18.30, with a retracement of 36 cents to $18.66 in the 3rd week. That 3rd week had a low of $17.30 followed by a rally in the 4th week to $18.18, a retracement of 88 cents. That week's low of $16.96, was followed by a retracement of $1.24 the following week. The next retracements were $1.11, 52 cents, and 87 cents, bringing us up to date. The average retracement is 78 cents. Thus, the low of $15.62 hit this week, means next week we should rally anywhere from 36 cents, to $1.24, to a price of $15.98 to $16.88, even if CLF continues the downtrend. Adding the average of 78 cents to $15.62, you get $16.40. Buying in the $15.60s, and getting out in the $16.40s, is a gain of over 5% within a week. No wonder I doubled my CLF position on the close, with share purchased at $15.69, added to my other shares from $15.96, for an average of about $15.83. On a rally next week to $16 or above, I will sell half my shares, so I will have capital to add, in case the weakness continues. Based on the fact we have had an 8 week selloff, it is more likely that we begin a 2-3 week rally beginning next week, vs. more of the same.
When playing a falling knife stock like CLF, it is important to be a scale trading buyer. One adds a few shares every 20 to 25 cents lower, and then cuts the position in half whenever one can profitably do so, to raise capital for the next selloff. One needs to hold back capital so that there are funds available to buy CLF, on a selloff to as low as $10. Diversify into several other stocks, and there should be plenty of funds to add to CLF down the road, if needed. But even with the best of planning, you will surely sometimes run out of funds. Happens to me even today. What I do is begin selling part of my shares at a loss, whenever CLF hits resistance during the day and begins to roll over to the downside. Then I buy the shares back when the weakness stops, lowering my average price in the process. Scalping 10 to 25 cents this way on a few hundred shares, will be quite significant in a short amount of time.
Should $15 give way as support, I see CLF finding excellent support at $12.50 and again at $10, and I will be scale down buying for as low as CLF wants to drop. When hitting these extreme lows, one can expect a $3 to $5 pop off the lows which should make the position quite profitable. Thus, the lower CLF falls, the more money one can and should make. Done properly, one is happy that CLF is getting weaker and weaker as it will mean more money to be made on the explosion off the bottom. Rather than getting stopped out, or getting so depressed that you sell out at a major loss at the bottom, you hold for that $3 to $5 rally and get out at a profit!
No one knows exactly where the bottom is, and timing the exact week the bottom is made is even more difficult. Thus, I am adamantly opposed to buying puts or calls in CLF for a trade. The sentiment is so negative in CLF right now, that the puts have very high implied volatilities. There is a lot of "air pumped in the balloon" on the puts. SELL OUT OF THE MONEY PUTS and be happy when you get the shares assigned to you, if the stock keeps falling. As soon as you get the shares assigned, then turn around and sell out of the money weekly calls to lower your purchase price further. But buying either puts or calls on CLF is pure folly in my opinion. I have bought falling knife stocks for longer than many of you have lived. Trust me when I say there are only two ways to make money in a falling knife stock: 1) Be a scale trading buyer, and 2) Selling out of the money puts. Enough said. Now we can look at the daily chart: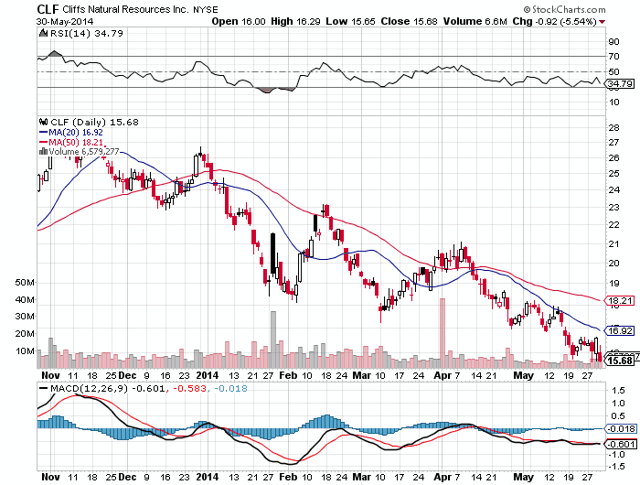 Back in January 2014, we bounced over $3 off of support at $18.53. In February 2014, we bounced $4 off of support at $18.13. In March 2014, we bounced $3.80 off of support at $17.24. The April 2014 low of $16.96, only resulted in a one week rally of $1.26. The May low of $15.62 was scored on the last trading day of the month, so it is too soon to consider how big of a pop we get from here. However, we are due for a large rally of $3 or more in the near future.
Disclaimer:
The thoughts and opinions in this article, along with all stock talk posts made by Robert Edwards, are my own. I am merely giving my interpretation of market moves as I see them. I am sharing what I am doing in my own trading. Sometimes I am correct, while other times I am wrong. They are not trading recommendations, but just another opinion that one may consider as one does their own due diligence.
Disclosure: I am long CLF.