Right now, prognosticators divining the future price of gold, are nearly equally split between the two camps. First you have the bears, who see gold rolling over and shortly testing the lows around $1250 and eventually falling to $1200 on the way to $1000. Then you have the bulls, who see a quick rally to $1350 or $1375 with a small dip before gold heads to $1425 and $1500. Who is right?
For some time, I have been short-term bearish and long-term bullish. I called victory and exited my long positions, when August gold finally hit $1325, after bottoming at $1240, click here. The gold rally did indeed pause briefly, dipping to $1305.40, but dips continued to get bought, causing long tails on the daily candlesticks as shown on the following chart: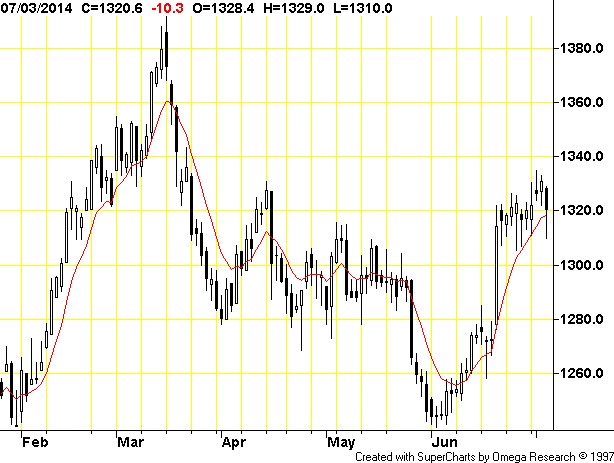 When you get long wicks at the top of the candles, that is bearish as high prices are rejected. What we are presently experiencing is long tails at the bottom of the candles, which is bullish action, with low prices being rejected. At no time in the last couple weeks, has gold closed near the lows. Even Thursday, July 3rd, with the strong employment numbers being released, gold quickly bottomed at $1310, and spent the remainder of the day rallying and closed just above $1320. As soon as the report came out and the early bottom was made, I correctly determined that we had likely seen the low for the day, and recommended buying the triple leveraged bullish gold mining ETFs of NUGT and JNUG on daytrades, as I felt gold would spend the remainder of the day rallying off the lows. Although gold did close down just over $10 for the day, August gold managed to close above $1320, which leads me to believe we will likely have to rally towards $1342 or $1350 before rolling over, with a very slim chance we briefly visit $1375. Once gold rolls over, one would anticipate a drop of $60 to $80. If the retest into the lows is successful, we should then hit our seasonal low which typically occurs in the summer, and begin a rally back towards the mid to high $1300s, with a small chance we get to $1500 by Christmas.
Platinum and Palladium Are Pulling Gold Up, Kicking and Screaming!
What has been keeping gold from dropping? I believe it is the bullish fundamentals of Platinum and Palladium, and to some extent, even Silver. These other metals are rallying strongly, and pulling gold up for the ride. Barclays came out Thursday, click here, lowering their 2014 price forecast for Platinum based on recent weakness, but noting that the Platinum price should average $1650 in 2015. The fundamentals of Platinum as well as Palladium are quite constructive for prices. Back on June 22nd, I published an instablog, click here, where I noted the outperformance of Platinum & Palladium to Gold. I explained that I was bullish the Platinum Group metals and was going to begin buying Palladium. That trade has worked out quite well, as you can see from the daily chart of September Palladium: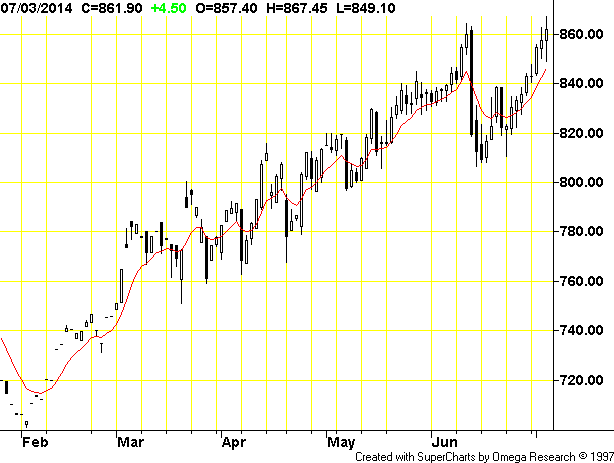 Whereas Gold has been moving basically sideways, Palladium has been moving up with higher closes for the past 9 days, including the bullish hammer scored at the bottom. If we fall next week in Gold, it will only be because Platinum and Palladium are now pushing against significant resistance and are consolidating. If the "P" metals go sideways to slightly lower, maybe then gold will fall back. If they continue moving up, they will no doubt pull gold with them.
Now we need to take a look at the October Platinum daily chart: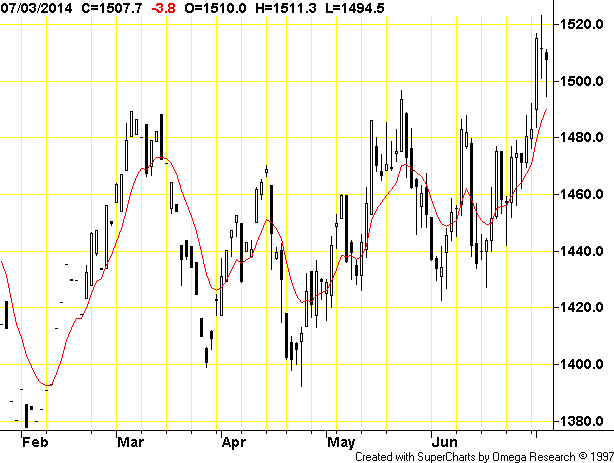 October Platinum hit a high of $1523 this week, before closing out the week at $1507.70. October Platinum is trading at a $187.10 premium to August Gold. In that same June 22nd article, I noted how the Platinum premium had corrected from $220 down to $140. It is now expanding again. If Platinum continues to move higher, Gold will rally with it, but just not as much.
For now, one should go long the strongest members of the metals group: Platinum, Palladium, and even Silver. They can be played by buying PPLT to play Platinum, PALL to play Palladium, and SLV to trade Silver. The first two look scary expensive on the charts, but they are bound to get even scarier. I prefer to play the futures market as it is the purest play.
Monthly Chart Of Gold Is Bullish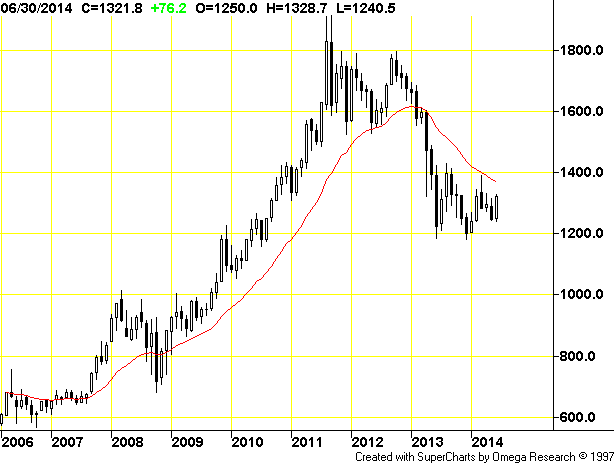 The above chart is current with the last bullish candle marking the rally in June 2014. Now that we are into July 2014, you might wonder where we might trade over the next couple months. Just looking at the action of recent years, back in 2013, gold bottomed at the end of June and then rallied strongly over $200 for the months of July and August. After topping out just above $1400, gold fell the last 4 months of the year, retesting the lows of $1200. In 2012, gold bottomed in late May, just as it did this year. Then gold rallied strongly in June 2012, went sideways but ended up slightly higher in July 2012, and then rallied strongly in August and September 2012. From the May 2012 low of $1528.50, an early October top of $1794.80 was scored, a rally of $266.30 (17.4%).
Then of course there is the year of 2011. After falling slightly in May & June of 2011, July began the big 2 month rally from $1500 to $1900+. It is very difficult in recent years, being short gold or even the gold miners, once the month of July rolls around.
Gold Pattern Of 2014 Could Follow The Pattern Of 2012
I believe the current year (2014) could follow a similar pattern as 2012. We bottomed both years in May, and had a strong rally in June. If the same pattern holds, one would expect to see a retracement of August 2014 Gold futures, in early July, back towards $1260, before closing out the month trading in the $1340s. In the months of August & September 2014, one would expect to see gold move to $1455 if we rally a similar 17.4% as 2012, figuring from the recent $1240 bottom.
The fundamentals of gold are not presently strong enough to support a price of $1455 or higher, but that could change almost overnight. If Platinum moves up towards $1800 or $1900, it could easily pull Gold up towards $1500. Palladium should also rally strongly, towards $1000 and as high as $1200 or higher by the end of 2014, or the Spring of 2015.
Time May Be Running Out For Those Playing The Bearish Miner ETFs of DUST & JDST
Those holding the bearish triple leveraged gold mining ETFs of DUST (large miners) and JDST (junior miners), could get a reprieve over the next 2-3 weeks if Platinum and Palladium quit going up long enough to allow Gold to correct back under $1300. However, by the end of July 2014, I suspect one will only want to favor the bullish triple leveraged ETFs of NUGT (large miners) and JNUG (junior miners). Now is not the time to panic, even if August Gold rallies to $1375 in the next few days, as there is a very good chance we have to retest $1300 and will likely trade down to $1285 or even $1260. And the higher we go now, the greater we could fall on the next correction down. However, one needs to play NUGT and JNUG to capture profits on all future bullish moves in the miners, utilizing excess cash.
From $1320 in August Gold where we are now, the downside risk is probably $35 to $60. The upside potential is $60, $120 or even $180. The trade continues to be heavily short, so a huge short-covering rally could cause August Gold to rally much higher than anyone imagines possible.
Disclaimer:
The thoughts and opinions in this article, along with all stock talk posts made by Robert Edwards, are my own. I am merely giving my interpretation of market moves as I see them. I am sharing what I am doing in my own trading. Sometimes I am correct, while other times I am wrong. They are not trading recommendations, but just another opinion that one may consider as one does their own due diligence.