September Copper Should Bottom About 3 Cents Lower At $3.15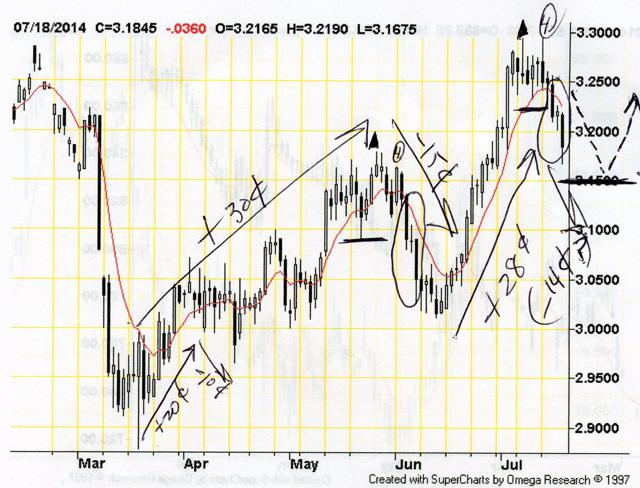 The above daily chart of September Copper futures shows a major low struck in the middle of March 2014, at about $2.88. From that low copper rallied about 20 cents and then fell back 10 cents (a 50% correction). Eventually September Copper continued higher and would rally about 30 cents off the $2.88 low, to just under $3.18. I marked that high day with a black triangle on the chart. From this high, again we got about a 50% correction of the entire move, when September Copper bottomed at a shade under $3.02.
Looking closer to that correction from the $3.17s to about $3.02, you will notice that the 4th day following the top was a secondary peak, and this bar is marked with a "4" on the chart. I then circled on the chart, days 6, 7, & 8. I circled these days as they appear quite similar to the last 3 days we just experienced, which I also circled on the chart. From the $3.02 low, September Copper recently rallied about 28 cents to just under $3.30. I now expect to see another 50% correction back to the $3.15 or $3.16 level where I want to go long. In this recent rally, I again marked the top with a black triangle on the chart. And again we got a secondary high on the 4th day following the initial top, but this time we traded to a marginal new high. The secondary top is again marked with a "4" on the chart. Days 6, 7, and 8, are circled and look almost exactly like the previous circled pattern of days 6, 7 and 8.
If we continue the previous bottoming pattern, I would expect for September Copper to bottom within the next 2-3 cents from Friday's close in the $3.18s. Like before when we bottomed around $3.02, I would expect 3-4 days of sideways action where copper fails to make progress to the downside.
Gold Remains Stuck In A Tight Range!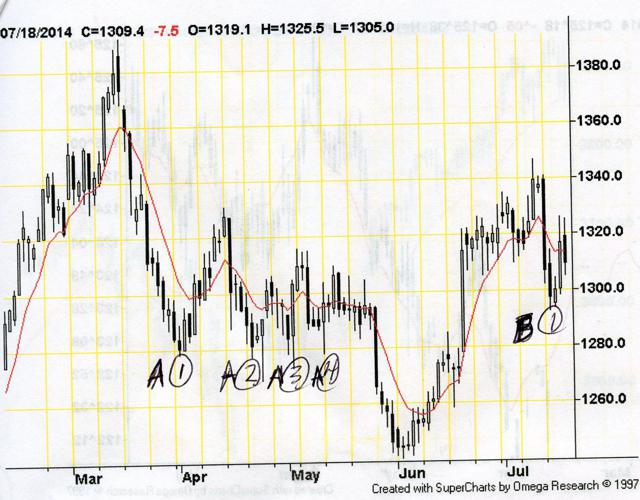 Please excuse my crooked chart. Despite the gyrations of this past week, August Gold continues moving in a large sideways range. For many reasons I feel that pattern will continue going forward. There are few if any fundamental reasons for gold to move higher. However, political tensions abound in the world and should keep a bid under gold, preventing gold from going much lower for now.
On the above daily chart of August Gold, I have marked four bottom spikes in the $1280 range as "A1", "A2", "A3" and "A4". After going sideways for several weeks, the wedge pattern in August Gold was ultimately resolved by moving to the downside, where it bottomed at $1240. After a recent rally lasting 6 weeks, August Gold now bottomed this last week at $1292, marked as "B1". If this is the first spike low, I would now look for 2 or 3 more spike lows in August Gold in the $1280 to $1290 range, which I will mark later as "B2", "B3" etc.
I like buying gold futures or going long the mining ETFs of GDX & GDXJ, or leveraged bullish ETFs of NUGT & JNUG when August Gold trades below $1295. I also like selling gold futures to go short, or buying the bearish leveraged mining ETFs of DUST or JDST, when August Gold trades above $1320. I see August Gold trading back and forth in the $1280 to $1330 range for the foreseeable future. Thus the Lefty teeter/totter approach balancing purchases of NUGT against DUST and JNUG against JDST are advised. The way it is looking now, if there is range expansion outside of the range I just mentioned, it would probably be to the downside.
Charts Of The Four Triple Leveraged Gold Mining ETFs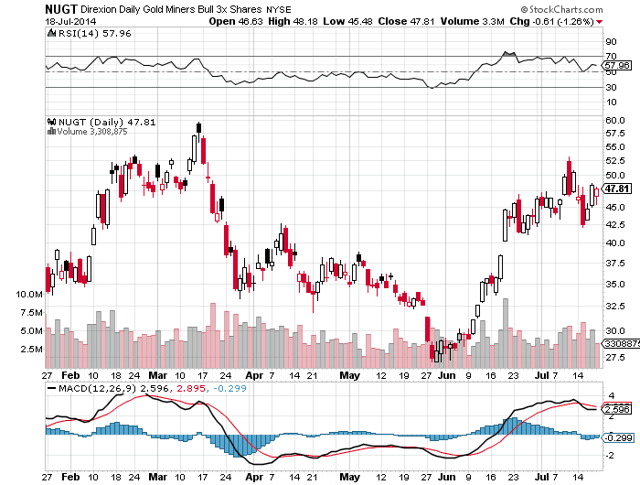 Late Friday, a week ago, I suggested one not own the triple leveraged gold mining ETF (NYSEARCA:NUGT) above $50, but instead buy it on a dip between $42 to $47. With a low of last week of $42.16 and closing above $47 on Friday, I would say my advice was right on! For the next few weeks, I would look to buy NUGT on dips, especially down to $40 and a bit below, into the gap area created on June 19th. If August Gold futures get bought up on a dip to $1280, NUGT should not trade below $39.50 in the foreseeable future. On the topside, if August Gold rallied to $1330 to $1340, then NUGT should have difficulty moving higher than $53 to $55.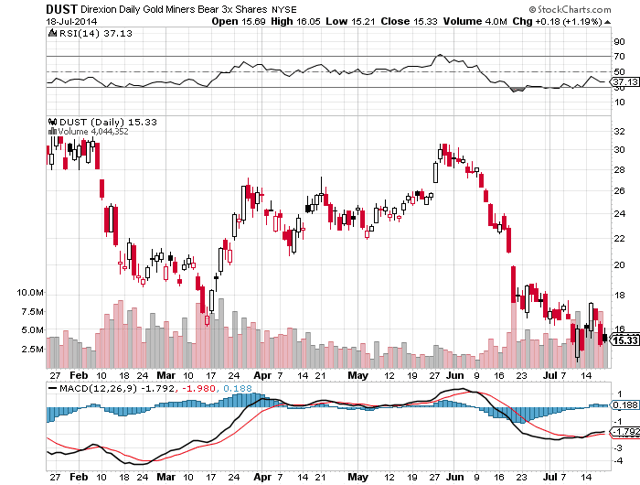 The triple leveraged bearish gold miner ETF (NYSEARCA:DUST) should have a lot of support in the $13.50 to $14 area, but resistance at $18 to $19. When gold dips to support towards $1280 to $1290 and starts to rally, that is a good time to sell out of your DUST and JDST. I like to sell out of up to 100% of all DUST that I have a profit in, and 25% to 50% of the shares I am losing on, in order to reposition by buying back cheaper on the next rally. Likewise, when August gold rallies towards $1330 and higher, I would be taking advantage of the cheap prices to buy more DUST and JDST.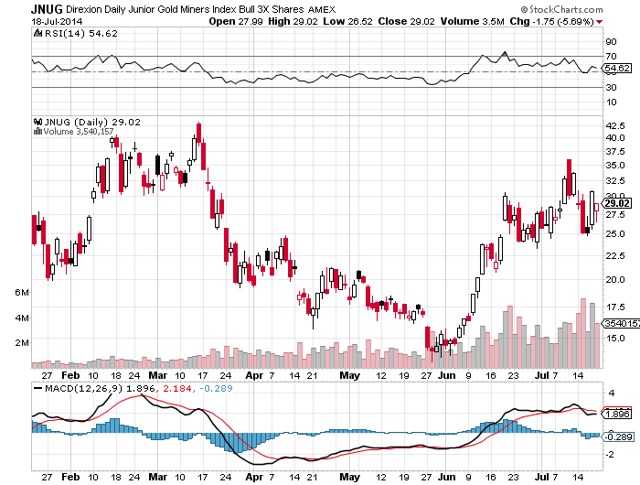 Although I prefer the Large Miner bullish leveraged ETF (NUGT) over the Junior Miner bullish leveraged ETF (NYSEARCA:JNUG), I see JNUG having value especially if purchased at $25 and lower.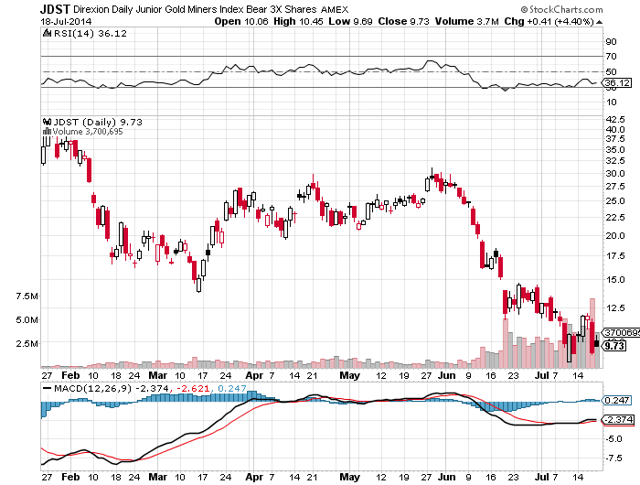 JDST is my least favorite of the four ETFs and is slowly going from toxic to radioactive. It is the one leveraged ETF that I see underperforming over the next year, especially if gold ever gets its act together and moves soundly above $1400. At that point many traders would lose most if not nearly all of their money invested in JDST. The slippage in JDST is much, much worse than what one would experience in DUST, and I favor selling 100% of one's position on a JDST rally if and when August Gold falls to the $1280 to $1290 support area, and to only buy DUST back in the future when gold rallies.
True day traders and short-term swing traders who do not hold JDST more than a couple days, should be fine, but long-term holders of a few weeks or more could be extremely disappointed in their purchase of JDST. Caveat Emptor!
Disclaimer:
The thoughts and opinions in this article, along with all stock talk posts made by Robert Edwards, are my own. I am merely giving my interpretation of market moves as I see them. I am sharing what I am doing in my own trading. Sometimes I am correct, while other times I am wrong. They are not trading recommendations, but just another opinion that one may consider as one does their own due diligence.